The San Diego Ghost Tours are based on some of the paranormal things Michael has found here in Old Town San Diego. Please join him for San Diego's most haunted and ONLY Ghost Tour!
2754Calhoun Street, San Diego, California, 92110
This attraction is miles from your location. MAP IT NOW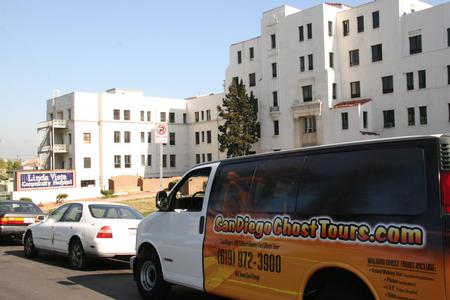 Q. Will I see a Ghost? A. Maybe, That would be up to you and the Ghost. Q. Michael, do you dress up in a costume? A. NO, I wear street clothes. Q. Is your tour real or made up? A. I offer the only real tour based on things that I have found while Ghost Hunting here in Old Town. Q. Do you really have a photo of a Ghost? A. Yes, and on the walking tour I will show it to you. Q. Can I pay at the start of the tour? A. On the walking tours,YES.
WHERE WE MEET Walking Ghost Tour We meet at the Water Fountain that in front of Fiesta De Reyes , Old Town San Diego State Historic Park 2754 Calhoun St. San Diego, CA 92110 THIS ADDRESS IS IN THE STATE PARK.. YOU CAN NOT DRIVE INTO THE STATE PARK YOU CAN DRIVE CLOSE TO THIS ADDRESS AND THEN YOU NEED TO WALK INTO THE STATE PARK Just Show up tour leaves at 9pm and pay at the Start of the Tour In the middle of the State Park in Old Town there is a large grass area. On one of the corners of the grass there is a water fountain that is where we meet. Ghost Tours.....Days and Times 9pm Walking Tours Thur, Fri, Sat and Sun No Reservations Just show up 15mins before 11pm After Hours Walking Ghost Tour Thur, Fri, Sat and Sun Please visit website or call 619-972-3900 for hours, dates and prices of all the San Diego Ghost Tours!
2754Calhoun Street, San Diego, California, 92110