The Ghosts of Lincoln Bus Tours

This Halloween, board a bus and drive by some of the alleged haunted houses and buildings of Lincoln at night with a tour guide telling stories of ghosts and what people saw. You DO NOT want to miss this ghosty tour!!
118 North 14th Street, Lincoln, Nebraska, 68508
This attraction is miles from your location. MAP IT NOW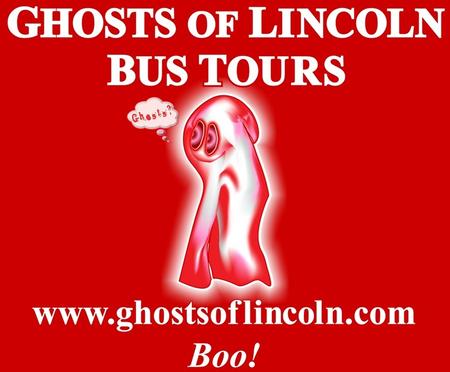 Features: 50 passenger bus with A/C, professional driver, and Scott (storyteller and host)....and Ghost stories ! Lots of fun ! The Ghosts of Lincoln bus tours have been conducted for many years. It's an annual tradition for many of our participants ! Part of our success is hearing from you regarding your own ghost - use the contact page to send your story and information. It could be part of the next tour ! Family friendly tours; children are welcome with at least one parent or guardian. Absolutely no alcohol on the bus; anyone appearing to be intoxicated will be asked to leave the bus with no refund of ticket. Please - no babies or toddlers on the bus. - The Ghosts of Lincoln bus tours offered to the public by advance ticket sales and to companies and private groups. The tours are family friendly and take place in October from 7 - 9:30 pm or anytime of the year for your private group or company. All ticket sales are final and only good for the date purchased. The Ghosts of Lincoln bus holds 50 people by advance ticket sales, and boards at the Indian Village Shopping Center parking lot, 13th & Arapahoe, Lincoln, NE, starting at 6:45 pm. The bus leaves promptly at 7 pm, and returns to the parking lot at approximately 9:30 pm. We take a half-way break at a local restaurant or coffee shop to allow people to use the bathrooms (no bathrooms on the bus) and purchase a snack at their own expense. See http://scottcolborn.com for information on the Exploring Unexplained Phenomena radio program hosted by Scott Colborn; one of the world's longest-running paranormal talk radio programs in the world (since 1984)! Saturdays 10 am - 12 noon Central Time on KZUM Radio, 89.3 FM and worldwide via http://www.kzum.org . Free archives of the EUP program at http://www.eupradio.net . Ticket launch day: Monday August 25th, 2014, 10 am - 4 pm. Tour dates: 12 nights in October. Mondays (10/6, 10/13, 10/20/, 10/27) Tuesdays (10/7, 10/14, 10/21, 10/28) Wednesdays (10/8, 10/15, 10/22, 10/29).
118 North 14th Street, Lincoln, Nebraska, 68508