Terrorworld Haunted Attraction

Terror World Haunted Attraction Is Minneapolis's newest premier haunted attraction.With 35,000 sqft of pure terror our professionally designed themed haunted attraction and trained actors will scare even the bravest souls! Our old abandoned haunted mansion has been sitting for years and is ready to come alive this fall! Our evil freaks will leave your heart in your stomach! You will go through almost ever emotion that the human mind can handle before you are out of the EXTREME IN YOUR FACE EXPERIENCE with pure evil lurking around every corner and hallway!!! Terrorworld Haunted Attraction is a experience that you will NOT find anywhere in the state of Minnespota! We have several different themed areas and rooms but we do not consider ourselves a "Haunted Complex" under ONE roof like other haunts do in the area...That would be FALSE advertising and that's not what we are about. We deliver what we advertise! This is Minnesota's MOST EXTREME haunted attraction!!! CAUTION: If you have heart problems, pregnant, have seizures or any other medical condition we recommend you to not enter. If you are easily offended or just cannot stand pure evil and fear in your face then this is NOT the attraction for you!!! No kids under the age of 14 are not allowed in Terrorworld Haunted Attraction!
3300 5th St Ne, Minneapolis, Minnesota, 55418
This attraction is miles from your location. MAP IT NOW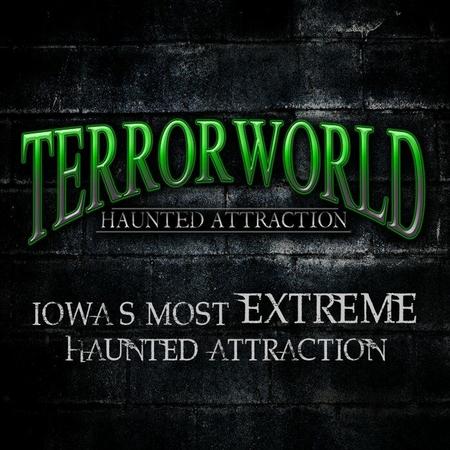 Not only Is Terrorworld Haunted Attraction Iowa's newest PREMIER and MOST EXTREME Haunted Attraction but we are working very hard to bring all of our customers a experience that they have never had before. This is not your typical scream in the dark haunted attraction like most of you are used to around here. Our movie quality scenes and sets will speak for itself. Our professional trained actors will almost make you're heart stop. Terrorworld is doing something that NO haunt in the state of Minnesota has EVER done. So who brings all the fun and pure terror to Minnesota??? Terrorworld Haunted Attraction does!!!
General Admission Tickets are $25.00 and Fast Passes are $35.00 and our Get In NOW VIP Package is $50.00

Terrorworld Haunted Attraction will be open throughout the month of October and November. We are open from 7pm to 11pm on Thursdays and Sundays. On Fridays and Saturdays we are open from 7pm to 12am
3300 5th St Ne, Minneapolis, Minnesota, 55418
Terrorworld Haunted Attraction is a very graphic and to some very offensive haunted attraction. If you suffer from heart problems, seizures, epilepsy or pregnant we STRONGLY suggest that you do not enter attraction!!! This haunted attraction is very graphic and in you're face scares throughout the whole attraction. Kids under the age of 14 is not allowed in Terrorworld Haunted Attraction! Anyone under the influence of drugs or alcohol may not enter if we feel you are a danger to our actors or yourself. No weapons of any kind are allowed in the attraction or on the property. We have a walk through metal detector and several cameras outside, and throughout the attraction inside so you are on camera at all times so if you vandalize anything in the attraction or outside of the attraction you will be arrested immediately! Terrorworld has a full time police officer on duty at all operating hours and will arrest you if you hit, harm or even threaten our staff or actors at anytime. We are here to put on a amazing production and have a great time and we hope you do as well. Terrorworld Haunted Attraction wants to make this a very safe environment for you and us. There are NO REFUNDS! NO EXCEPTIONS!