Haunted Overload named the #1 Haunted Attraction for 2015 by HauntWorld magazine and the winner of ABC's 2014 Great Halloween Fright Fight blends astounding handmade sets, gigantic monsters and spellbinding characters with spectacular sound and lighting to create a twisted, terrifying Halloween experience like no other. It has been voted one of the top 20 most influential haunted attractions of all time by HauntWorld magazine and has been featured on the Weather Channel, NH Chronicle, NECN and others. Haunted Overload is located at DeMeritt Hill Farm on Route 155 in Lee, NH.
20 Orchard Way (Rt 155), Lee, NH, Maine, 03861
This attraction is miles from your location. MAP IT NOW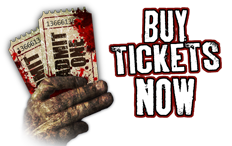 34 foot ghost, 25 foot witch, 20 foot grim reaper 150+ lighted pumpkins, live actors, and more! Haunted Overload is simply one of the most creative and unique haunted attractions in New England. Now located on the DeMeritt Hill Farm on Route 155 in Lee NH. The show has twice been voted one of the top 13 haunted attractions in the country. Focusing on quality, we are committed to giving the customer the ultimate Halloween experience at an affordable price. Nowhere else can you see huge monsters looming over the crowd, some as tall as 34 feet. The authentic farm location provides the perfect backdrop for the hundreds of lighted pumpkins and movie quality sets. Most of the one of a kind props are designed and created by founder Eric Lowther. The haunt is changed and expanded each year to give the patron something new and exciting to experience. The night time haunt, while artistically done is extremely scary and parental discretion is advised for younger or sensitive children. We are also open many days during daylight hours with no actors for the whole family to enjoy the stunning detail of the haunt at their own pace. Check the schedule page for dates and times of the daylight walkthroughs. Each event will be held rain, snow, sleet or any other New England weather condition so please dress appropriately.
View Calendar
Terrifying full show in Red - Lights Out event in Blue Fright Night Lite (for the faint of heart) shown in Green
20 Orchard Way (Rt 155), Lee, NH, Maine, 03861


No post found.