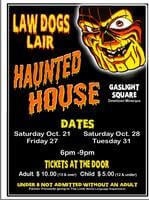 ABOUT "LawDogs Haunted Lair"
LawDogs Lair is back for its 4th year. I Double Dog Dare You to come walk through this 10,000 square foot indoor haunted house. This year the "Charity of Choice" is the LUHS World Language Dept. Portion proceeds help fund local kids traveling abroad to study language and culture. New this year, the sideshow, "Final Ride". Crawl in and lay down in our Real Coffin, to immerse your self in the smells, sounds, and motion of this deadly experience. Come see what it would feel like to be hauled away in van, thrown into the ground, and buried alive. Clowns...yes we have them...zombies.....check !...Crazy Chainsaw Guy...most definitely. You will be chased, hunted down, and taken dead or alive. Watch for a student-made trailer on YouTube, and updated posts on Facebook.....Even our Scare staff say the Haunt is Creepier than Last year!

Haunted Houses

Suitable for all guests and families (HALLOWEEN FUN)
Join our email list to receive discount offers and updates.
415Oneida Street, Minocqua, Wisconsin, 54548