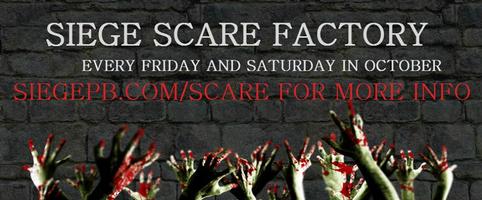 ABOUT "The Siege Scare Factory"
PAINT THE DEAD RIDE INFORMATION Avoid the lines this year and book your time slot today! — You are doing the shooting, NO ONE is shooting at you. This is a NO IMPACT EVENT! — Family Friendly, ALL AGES WELCOME — Battle Carts fit 10 riders per ride and depart every 15 minutes — All advanced bookings will include 1 game of Psycho Clown Lasertag, 25 shots on the Double Tap Shooting Gallery, and The Paint the Dead Ride. — We request that all advanced booking riders arrive at least 30 minutes early for check in. — There is a $2.00 advanced booking fee per rider. Final payment made during check in. — Each Rider starts with 140 paintballs and can get a reload for $5.00 PSYCHO CIRCUS LASERTAG Challenge your friends and family in a game of lasertag all while being set on by Giggles and his psycho clown family! Creepy clowns, smoke, and flashing lights surround you as you battle the opposite team in this unique lasertag experience. DOUBLE TAP SHOOTING GALLERY Put your skills to the test and take aim at a set of terrifying targets in our Double Tap Shooting Gallery. Each admission includes 25 shots as a warm up to the Paint The Dead Ride.
S108 W28220 Maple Ave., Mukwonago, Wisconsin, 53149
2623639735

Haunted Hayrides

Suitable for all guests and families (HALLOWEEN FUN)
Join our email list to receive discount offers and updates.
Book Now and skip the lines! Go to www.siegepb.com/scare for more informaion! - Hours Every Friday and Saturday in October from 7pm till Midnight
The Siege Scare Factory PHOTOS
S108 W28220 Maple Ave., Mukwonago, Wisconsin, 53149