The Industry Leader for information about Haunted Houses, Escap Rooms, Hayrides, Corn Mazes and More!
Login| Forgot Password | Add Event/Create Acount
Haunted House in Salt Lake City Utah Nightmare on 13th
Salt Lake City, Utah - Nightmare On 13th Haunted House
By Hauntworld Magazine

TO FIND MORE HAUNTED HOUSES IN UTAH CLICK HERE ... https://www.hauntworld.com/utah_haunted_houses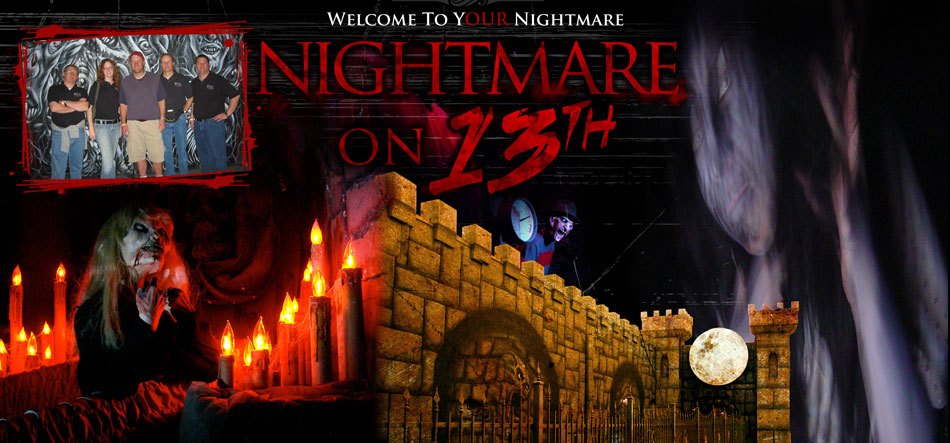 ---

THE BEGINNING

When Mike Henrie and Troy Barber were ditching out on school in the early 80's to go skiing, little did they know over 25 years later they would be ditching out of regular jobs to run one of the most successful haunted attractions in the country. Mike and Troy, both natives of Northern Utah met each other in 1982 during there junior year in High School. They stayed good friends over the next 8 years that found them serving missions for their church, getting married and in the summer of 1990 both graduating from college during the same week. Not long after graduation, they decided to go into business together, but they needed to locate a business. Through a classified ad, Troy and Mike bought what amounted to a couple of storage units full of junk and start what was then The Institute of Terror Haunted House.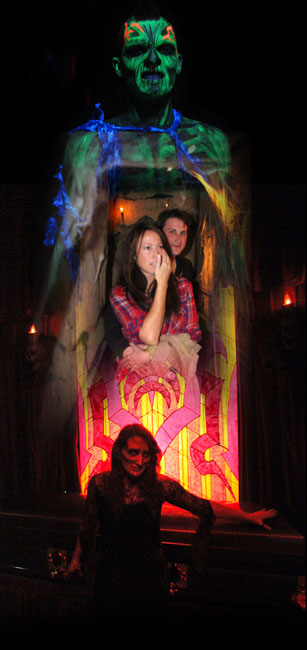 The first season was quite an eye opener into the work and ingenuity it took to run a haunted house, Mike and Troy did it all from building the attraction, promotions and operations with a lot of help from their wives and families. It was high on promotion and in a spooky old abandoned school. The IOT had performed above expectations that year and had launched Troy and Mike into what over the years would become one of the top rated Haunted Attractions in the nation.

In 1993 after three successful seasons the decision to put every dime into buying the building proved to be a wise move. By owning their building, Mike and Troy could spend all year working on the Haunted House. This enabled them to separate themselves from the competition.


THE NEXT LEVEL

After having bought the building, they were now positioned for the right combination of ideas to achieve the next level. The next real turning point for the Institute of Terror came on a trip to Chicago in the fall of 1996 to attend the Halloween, Costume and Party show. Here Mike and Troy realized that they were under priced nationally and that a raise in the price of admission could pay for a substantial investment in the show. They firmly believed that with each price increase should come a perceived higher value to the customer. That show opened their eyes to the possibilities before them. They felt like they had just been rescued from being deserted on an island for the last six years. So on the back of a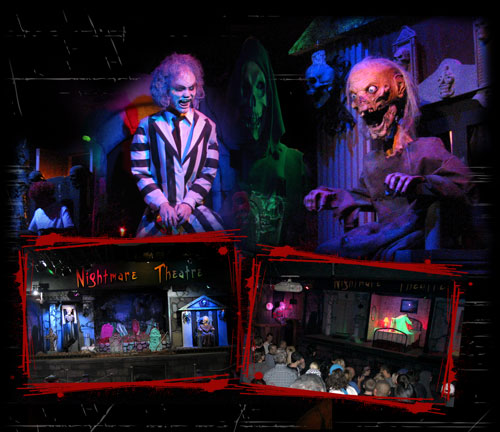 napkin at a local restaurant in Chicago the first sketches of what would become Terror Theatre (now known as Nightmare Theatre) were drawn. They also planned a large room with a snack bar at the end of the Haunted House where customers could collect themselves (known as the club) and ticket booths, all done in sheetrock and carpeting. They hired Val Chadwick Bagley a famous cartoon artist, who illustrated the nationally syndicated comic strip "Goblin", to help them create the design around the major remodel. Val has been designing eerie scenes for them ever since and oversees most of the creative side of the Haunted Attraction. It did not take Troy and Mike long to re-coup their substantial investment.


NATIONS #1 PRE-SHOW

Nightmare Theatre is what separates this attraction from every other. It is regarded as the best Pre-Show in the country. A ten minute computer controlled animatronics show has been thrilling Utah Haunted House goers for the last Fifteen years. The first Theatre show was a combination of animatronics and live actors. The next fourteen seasons brought a completely automated show presentation sometimes implementing one stage actor. Every two or three years a complete new show was created. This is challenging because the customers would enter and exit the Theatre at different times during the show. Therefore the Theatre has no designated beginning and ending which means all of the 1 to 2 minute sketches have to be independent of each other. Some of the sketches have included witch trials, executions, séances, ghosts appearing, and many more. Each show is narrated by a well known Animatronic Character. The advanced technology that runs the Theatre as well as much of the Haunted house prompted Troy and Mike to hire a local Theatre Technician Michael Klint to run the technical aspects of the haunt.

CUTTING EDGE

The main Haunted House has also been updated. Dozens of automations and pneumatics have been used throughout the show, being careful to still have plenty of actors and keeping them effective. The show encompasses detailed sets and rich sound which establish the mood in each area. Great attention has been paid to the way the customer feels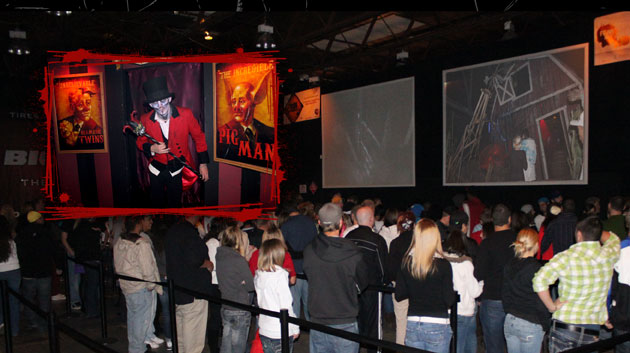 in each area and they are affected through all of their senses. The implementation of animatronics, lighting effects, lasers, and show controls are used in many areas of the Haunted House. Throughout the entire year a large portion of the Haunt is changed each season. The design team is constantly seeking new ideas and effects.


NAME CHANGE

Having both graduated with business and marketing degrees in college, Mike and Troy have relied on this knowledge to keep costs in line and run the haunt like a business. They have recognized their individual talents and divided tasks based on their strengths. They have hired good people and trusted them to do their jobs. They have many long time employees who oversee much of the hiring, make-up, costuming etc. After the 2001 season the decision was made to change their name from the Institute of Terror to Nightmare on 13th. Having a well known location on 13th street in SLC this name change seemed like a perfect fit. The nine seasons since the name change have been the most successful of their 21 total seasons.


THE XTREME

In 2003, Nightmare on 13th unveiled a second attraction called "The Xtreme". For an extra $3.00 patrons could up the ante so to speak by entering an attraction designed with a smaller throughput and more interactive features. Here the thoughts were to create an attraction that we could put into use many room ideas that we couldn't do with the much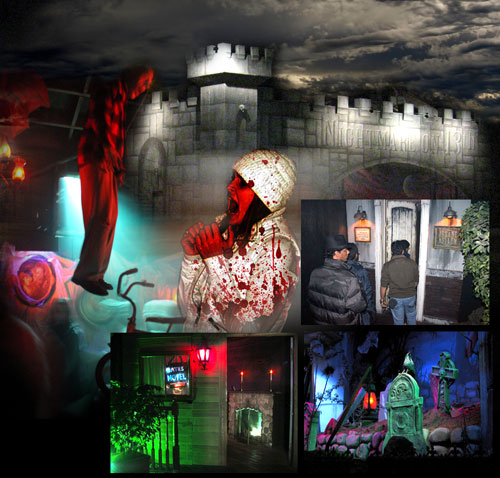 higher throughput of our main haunt. We designed it with darker and narrower hallways with things that affect you in every room. We wanted to put you into the show instead of you watching the show by using water and a more creative use of air. Some of the rooms are the body bag maze, parachute hall, electrified sewer pipe, and star maze. This attraction, now in its ninth season, has proven to be a success in providing a different experience to the customer.


FUTURE NIGHTMARES

This industry has certainly changed in the last 21 years with the advent of automations, animatronics and professional props. It's not just black panels and actors anymore, the public will not accept that. Troy and Mike have always been good at anticipating the need of the future and have tried to make sure they are positioned to be prepared to meet it. The Nightmare on 13th will haunt well into the future as long as there are Nightmares to be dreamed……..




HAUNT FACTS:
NAME OF HAUNT: Nightmare on 13th
LOCATION: Salt Lake City, Utah
NUMBER OF ATTRACTIONS: 3
TOTAL SQUARE FOOTAGE: 36,000 - 2 Levels
ANNUAL ATTENDANCE: 60,000
ADMISSION: $20
NUMBER OF YEARS IN OPERATION: 21
WEBSITE ADDRESS: www.nightmareon13th.com


---
All images, content and information contained on this website is © 2023 Hauntworld, Inc.. • All Rights Reserved