Haunted Houses During Christmas - Find Haunted Christmas Attractions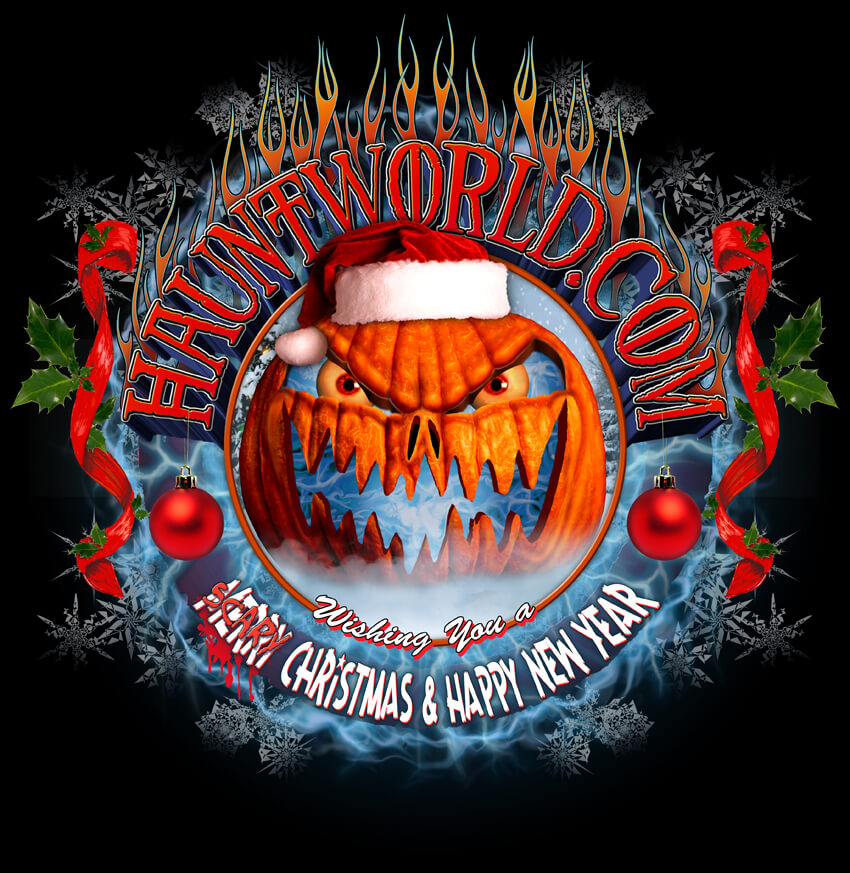 As you know Hauntworld.com is the WORLDS biggest directory for all things SCARY - SPOOKY - CREEPY and HAUNTED! Now many haunted houses are opening for Christmas tweaking their shows and adding a Christmas theme to their already scary attraction. We are providing an article and story about haunted houses open during the Christmas season. All of these attractions can be found on our haunted house directory. Look at the state they are located then search that state for that haunt then visit their website. Happy Christmas from Hauntworld.com
The doors are open, but will they come? That's the question haunted attraction operators are asking about the potential for guests during the upcoming holidays. Christmas is an annual festival celebrating the birth of Jesus Christ. It's a time for family and friends to gather and exchange gifts and merriment, but is it a good time to scare the hell out of people? That's what at least 36 haunted attractions around the country are about to find out.
Kelly Collins, ScareAtorium Columbus has noticed for many years that movie theatres, bowling centers and family entertainment centers are packed with customers on Christmas day and the weekend afterwards. College students come home, parents are off work and kids are out of school. People are looking for entertainment. Seven movies are scheduled for release this coming Christmas day, because studios know that people will be looking for entertain during the holidays. So, why not haunted attractions?
Kelly and his crew have decorated the ScareAtorium and created holiday characters with a special theme; Happy HorrorDays, an Xmas Nightmare. Guests will be greeted by Scary Claws, Bad Santa, Krampus and a collection of Evil Elves. We've spent several weeks adding festive decorations throughout both attractions; the Northland Asylum and RIP's Funhouse in 3D. New scripts have been written and costumes were purchased just for the weekend of December 26, 27 & 28. Holding the event after Christmas means we aren't competing with Christmas shopping or parties.
Now we're hopeful for fair weather; last year we had average weather on Friday and the crowds were great, but on Saturday, a snow storm hit with 4 – 6 inches of snow and business was really slow. We're hosting a major promotion with a local radio station with the hopes we can encourage guests to visit with their family and friends during the long holiday weekend.
Listed below are the haunts currently promoting holiday attractions in the US. Special thanks to Charles Bremer at Designing Fear for the list of haunts (listed below in no particular order):
The ScareAtorium, Columbus, Oh, Happy HorrorDays, An Xmas Nightmare
Fright Manor, Indianapolis, IN, Slay Bells
Castle Blood, Monessen, PA, A Spooky Little Christmas
Moxley Manor, Bedford, TX, NightScare Before Christmas
Cutting Edge Haunted House, Fort Worth, TX, Nightscare Before Christmas
Brighton Asylum, Passaic, NJ, Santa's Slay
Dark Hour Haunted House, Plano, TX, Wreck the Halls
Misery Haunted House, Little Chute, WI, Fright Before Christmas
Kim's Krypt, Essex, MD, Kim's Kryptmas
St Albans Scream-A-Torium, St Albans, VA, The Fright Before Christmas
Scream Acres Ct, Covington, KY, Holiday Horrors
Lombard Haunted House, Lombard, IL, Frightmare Before AxeMas
Factory of Fear, Moline, IL, Frightmare Before Christmas
The Sanctuary, Oklahoma City, OK, Santa's Slay House
Death Yard Haunted Attractions, Nashville, TN, Horrific Haunted Holiday
The Massacre Haunted House, Montgomery, IL, Christmas Nightmare
District of the Dead, Buffalo, NY, Holiday Horror
Fright Kingdom, Nashua, NH, The Fright Before Christmas
Fallsburg Haunted House, Fallsburg, KY, Yuletide Horror
Macabre Haunt, Antioch, IL, Nightmare After Christmas
Haunted Calgary, Salem, MA, Christmas Nightmares
Great Horror Campout, Sherman Oaks, CA, Great Horror Holiday
Spooktrail, Quinton, AL, A Haunted Christmas Maze
Final Fear, Hamburg, NY, Holiday Horror
Frightmare Manor, Knoxville, TN, The Frightmare Before Christmas
Hallowed Grounds Mill, Hildebran, NC, Merry Krampus
The Asylum Haunted Attraction, Chetopa, KS, Silent Night
Necromanor Haunted House, Bossier City, LA, Krampus Kristmas
Haunted Barn, Charleston, WV, Wreck the Halls
Nightmare at 3008, Fultondale, AL, Nightmare Before Christmas
Psycho Path, Ellisville, MS, A Very Scary Christmas
Fear Overload Screampark, Sacramento, CA, Santa's Scream Fest
Terror in the Trees, Chillicothe, OH, Dash for Cash
Chamber of Horrors, Hauppauge, NY, A Very Scary Xmas
The Morgue Haunted House, De Pere, WI, Christmas at the Morgue
Scared City Haunted House, Jonesboro, AR, A Christmas Haunt