The Darkness Transworld Haunt Show Tradeshow Tour - Tickets On Sale

The biggest haunted house tour of the year is The Darkness Haunt Tour during the Transworld Halloween and Haunted House tradeshow. The Darkness will open for the haunted house tradeshow for the sixth year straight for the haunted house industry. Each year The Darkness is totally renovated to showcase cutting edge scenic design, special fx, and never before scene animations. Several of the biggest companies in the haunt industry are creating one of a kind props and animations for the tour such as Unit 70, Gore Galore and Ghost Ride Productions. Halloween Productions the WORLDS biggest supplier of complete haunted houses is desiging, rebuilding and theming The Darkness for this once a year event.
This year The Darkneess will include several all-new scenes and several renovated or upgraded rooms. The Darkness features two floors of fright plus Terror Visions 3D and the Monster Museum. The Darkness will see several new scenes and upgrades on the first floor including one major new room called the 'Worm Cave'. HPI is doing more foam carving work to create a natural looking cave which contains man eating worms. Additionally the downstairs area will see major upgrades throughout the main floor including new spider room, new animations and more. Upstairs will see the biggest renovations including an attic room filled with new CGI FX and creatures crawling on the walls and ceiling. HPI is also building a haunted library which will feature SEVEN CGI FX, a never before attemped falling wall, and the most amazing detail work ever attempted inside The Darkness.
Terror Visions will also feature a new scene replacing the old Magic room with a new Scary Puppet Show and much more. Additionally digital actor activated sound scares will be added throughout The Darkness to create more scares. The Darkness will also feature an entire cast of outdoor monsters, sliders and creatures to scare while you wait.
The Darkness will host two events first on Thursday night with a special behind the scenes tour and Saturday with LIVE ACTORS!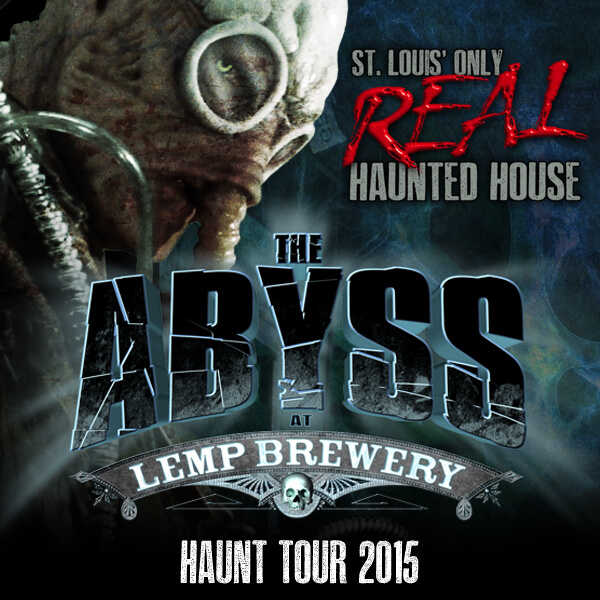 The Abyss Haunted House inside the OLD LEMP BREWERY will also open for the tour on Friday night. The Abyss is a new concept where guests are plunged deep underground inside real caves and caverns in complete darkness. Get your tickets today at
www.thedarkness.com
Join the TOUR FACEBOOK PAGE for daily updates
CLICK HERE
or Subscribe to the YOUTUBE PAGE for video updates
CLICK HERE
Check out the video from LAST YEARS TOUR and see what the industry thought of the Darkness tour. Get your tickes today because tickets are cheaper in January.