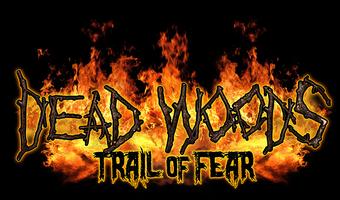 ABOUT "DEAD WOODS Trail of Fear"
DEAD WOODS Trail of Fear, like all our other attractions is going to terrify you this year!! We are proud to present two attractions for 2015: THE ROTTING DEAD The Rotting Dead is the first attraction of its kind with an interactive storyline bridging TWO DIFFERENT HAUNTED ATTRACTIONS IN TWO DIFFERENT CITIES! A mysterious virus is spreading all over the earth and the infection is here...NOW!! Millions of people have died and there has been un-confirmed reports of a safety zone called "HAVEN" near Luther, OK. The infection has made its way into the heartland and if reports are true "HAVEN" may be the last hope for life as we know it... Once infected, Rotters seek out the uninfected and attack. Will you survive the journey to Haven without becoming infected? VISIT THE SISTER ATTRACTION AT THUNDERBIRD TRAIL OF FEAR! CARNIVAL EPSILON Carnival Epsilon exists to subvert expectations and remake the ordinary into the extraordinary. Carnival Epsilon is one of the last active traveling sideshows touring the United States, striving to keep alive the rich history of audience interaction and live performances which the sideshow tradition embodies. Their Interactive show includes numerous acts including: •Fire Eating/ Fire Breathing •Grinder •Sword Swallowing •Human Blockhead •Human Crazy straw •Bed of Screws •Bed of Blades •Chainsaw Apple Carving •Pierced Weightlifting •Glass Eating •Machete Staircase •Strong-man (strong-woman) acts •Escape Artistry •and much MUCH more *Not all acts are performed every show. Showtimes nightly are 8:00 pm, 9:00 pm & 10:00 pm. The last two weeks of October there may be an 11:00 pm and 12:00 am show depending on attendance. Please visit www.TrailofFear.com for more information
20100 NE 178th St, Luther, Oklahoma, 73054
(844) 332-FEAR

Haunted Houses

Suitable for all guests and families (HALLOWEEN FUN)
Join our email list to receive discount offers and updates.
Ticket And Price Information
Please visit www.trailoffear.com for complete information - Please visit www.trailoffear.com for ticket information

Box Office is open from 6:30pm - 10:00pm. Please show up in time to get your tickets!
20100 NE 178th St, Luther, Oklahoma, 73054