2019 Mill Pond Haunted Hayride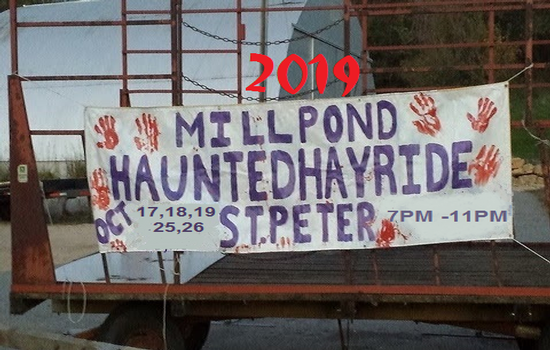 ABOUT " 2019 Mill Pond Haunted Hayride"
This is a Haunted Trail so be prepared to see Scary things , and things that are just not right. Approx 25 scenes consisting of a 25 to 30 Minute 1.5 mile Haunted Hayride Through the Haunted Meadows, Marshes and Heavily Wooded shadows of the towering cottonwood trees ,abandon campsites of the Mill Pond in Riverside Park. Handicap Accessible The #MillPondHauntedHayride was Started in Sept of 2015 as a fundraiser by The Nicollet County Trails Association Snowmobile Club due to State cuts in funding and lack of snow as a way to help fund Grooming and Maintenance of area trails in and around St Peter and all of Nicollet County. Since 2016 the NCTA has donated some proceeds from the Mill Pond Haunted Hayride to other non profit groups in the area for Volunteering with their group at the Mill Pond Haunted Hayride.Each year more groups get involved and more Non Profit groups Benefit from our Hayride. Nicollet County Trails Association is not a county or state run Snowmobile Club this is run by Volunteers who pay a membership to take care of the trails.The NCTA is registered as a non profit club and entails of approx 120 club members maintaining approx 165 miles of snowmobile trails in southern Minnesota in Nicollet County. Each year the NCTA club hosts two radar runs usually in January and a memorial fun run snowmobile ride in February also as fundraisers. Thank You in advance for attending! Hope to Scare you soon.
311South Front Street, Saint Peter, Minnesota, 56082
507-469-0768

Haunted Hayrides

Suitable for All Guests and Families (MILD SCARES AND HALLOWEEN FUN)
Join our email list to receive discount offers and updates.
Ticket And Price Information
Adults 14 and up $10 Children ages 6 to 13 $5 Under 5 free

Oct 17,18,19,25,26 2018 7 PM TO 11PM
2019 Mill Pond Haunted Hayride VIDEOS
2019 Mill Pond Haunted Hayride PHOTOS
311South Front Street, Saint Peter, Minnesota, 56082