Just west of St. Louis is the rugged region along the Meramec River, where scores of ghost hunters and thrill seekers have been looking for ZOMBIE ROAD for several generations!
Ridge Road, Grover, Missouri, 63021
This attraction is miles from your location. MAP IT NOW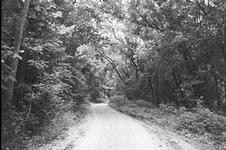 During the day, the scariest thing you're likely to find on the Rock Hollow Trail are cyclists zooming around blind curves in this thickly wooded corner of west St. Louis County. It's at night, so the stories go, that the 2.3-mile path earns its unofficial moniker: "Zombie Road." Legends that have been passed around for years tell of spectral American Indians and Confederate rebels, packs of child ghosts, and the tortured souls of working men killed in industrial accidents. It's a perfect stew of creepy stories and tall tales — especially around Halloween — to attract the curious and spur online message boards, YouTube videos and even a cable TV documentary. Lately, though, the talk often is about who is fearless enough to ignore other kinds of warning signs — the ones that say hiking the trail after dark is punishable by fines of up to $1,000 and up to 90 days in the clink. Indeed, there are other figures lurking on Zombie Road: St. Louis County police officers.
Ridge Road, Grover, Missouri, 63021