Pick of the Patch Pumpkins

Pick of the Patch Pumpkins is a popular destination for the unique and thrilling experience that each of its locations offer! We provide our customers with a large variety of pumpkins to choose from (check our website abctreefarms.net for more information), as well as an array of entertainment for your children aged 2-12. This includes; GIANT slides, bounce houses, inflatable obstacle courses, pumpkin accessories, retail stores, snacks, beverages and MUCH more! Customers in large groups can also book a discounted, interactive experience at our Pumpkin Patch for Birthday's, School groups, Non-Profit organizations, and Mommy and Me programs! We put the fun in this typically frightening holiday, so come check out all we have to offer at one of our locations this season!
1832 Hillsdale Avenue, San Jose, California, 95124
This attraction is miles from your location. MAP IT NOW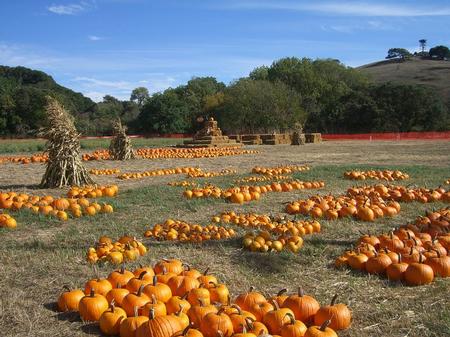 Pick of the Patch Pumpkins is a family owned and operated business associated with ABC Tree Farms, which has been serving the San Francisco Bay Area since 1980! Our founder, Jerome Klima Sr., thrived off the spirit of the holiday season; he thought it was only fair to share his celebration with everyone! Therefore, he established Pick of the Patch Pumpkins to bring only the best pumpkins and Halloween spirit to the San Francisco Bay Area. After building a great foundation, Jerome Klima Sr. passed the business down to his son, Jerome Klima Jr., who has developed the company into a multi-faceted entertainment hub for kids. Thus, Pick of the Patch Pumpkins has burgeoned to over 20 locations throughout the San Francisco Bay area and Southern California, and continues to flourish thanks to all our wonderful customers!


With 18 pumpkin patches serving the San Francisco Bay Area, Pick of the Patch Pumpkins has something for everyone. We offer a wide variety of inflatable amusement rides including bounce houses, slides and obstacle courses for the kids as well as different types of pumpkins, pumpkin carving kits, photograph and game areas and much much more. Come visit a lot nearest you today and check out our website at www.abctreefarms.net for more information. - 10/1-10/31

9:30 a.m. to 9 p.m.

Admission is free. Inflatables are charged by time for children ages 2-12

All Ages

ABC Tree Farms & Pick of the Patch Pumpkins ABC Tree Farms, LLC 1832 Hillsdale Avenue Santa Clara, 95124
1832 Hillsdale Avenue, San Jose, California, 95124