Find the Scariest Haunted Houses in ILLINOIS also make sure to Join our Facebook Page

Click Here

or Join our Haunted House Forums to discuss the scariest haunted houses in ILLINOIS

Click Here

. Also subscribe to Hauntworld Magazine

Click Here

.

Illinois Haunted Houses have grown over the years to feature some really amazing haunted houses some of which have been featured on Travel Channel. Several years ago when we visited haunted houses in the Chicago, Illinois the haunted houses in southern Illinois seemed to be around every corner especially in the Chicago, Illinois area haunted houses are very popular form of entertainment and more haunted houses in Illinois can be found at Hauntworld.com. On Hauntworld.com you will find every type of haunted houses in Illinois from a haunted hayride, haunted house, Halloween Attractions, ghost tours, to paranormal ghost hunting. Read all about the best and scariest haunted houses in the state of Illinois here at Hauntworld.com. Illinois has some of the biggest haunted houses in cities like Chicago, Rockford, Peoria, Springfield, Champaign and Carbondale, Illinois.
When looking for a scary or the best haunted house in Illinois look no further than the area of Chicago, Rockford, Peoria, Springfield, Champaign, Illinois because this is an absolute hotbed for haunted houses which would also include the Carbondale area. Illinois has more haunted houses than almost any other state in America, and not only do they have several haunts but they have some of the best found anywhere. Illinois has many cities with great haunted houses especially Illinois area which has more of the top rated haunts than any other city in America.
Do you want to know what we feel are the best haunted houses in Illinois? Do you want to know the Scariest Haunted Houses in Illinois? You will find Illinois haunted houses here at Hauntworld.com We want you to share your experiences on our Facebook page.
Statesville Haunted Prison & City Of The Dead – Chicago, Illinois
By Hauntworld Magazine
TO FIND MORE HAUNTED HOUSES IN ILLINOIS CLICK HERE ... https://www.hauntworld.com/illinois-haunted-houses
Find The Scariest Haunted House in Chicago Near you? If you have a fear of going to prison then beware Stateville Haunted Prison and City of the Dead located in Chicago Illinois is about to make you scream!
Illinois' Haunted Houses are some of the scariest and best in America! Hauntworld.com rates and reviews the best and Scariest haunted houses, haunted attractions, and Halloween events in America! Statesville Haunted Prison is located in Crest Hill, Illinois which is technically Chicago Illinois. Please share this page and leave your reviews of one of America's best and scariest Haunted Houses. When you find yourself in Illinois go to Statesville.
To learn more about Illinois' Statesville Haunted Prison visit their websit below:
---

Professional athletes and self-proclaimed "tough guys" have run out screaming, unable to make it through Statesville Haunted Prison ®. Others, upon exit, quickly shake their heads "no way" to entering its evil little sister, City of The Dead.

"To simply say that Statesville Haunted Prison & City of the Dead are great haunted houses, is a disservice in the worst possible way. The passion and expertise infused into this haunted attraction on every level elevates it to a tier of haunt experience shared only by the top haunts in the nation and theme park events like Universal Studios' Halloween Horror Nights."

One hears horror stories of what can happen inside the walls of prison, but this petrifying prison sentence truly tests the strength of men's minds. There is no escaping the oppressive and horrifying walls of Statesville Haunted Prison.
---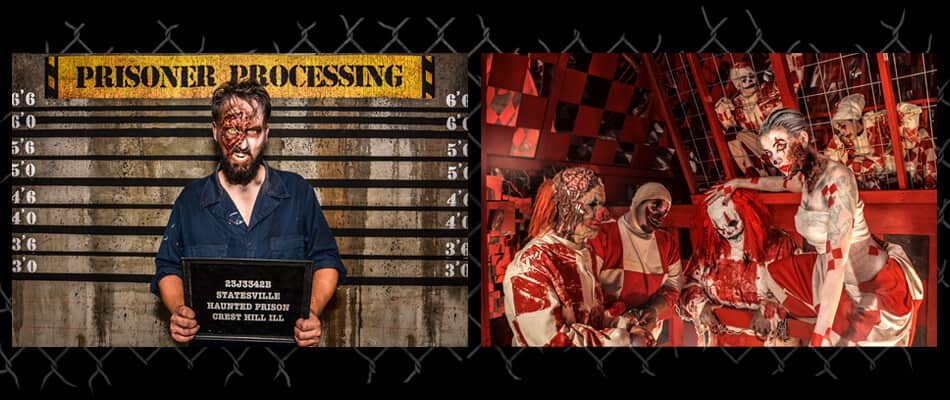 Located in the shadow of Stateville Correctional Center, a former maximum-security state prison in Chicago's southwestern suburbs, Statesville Haunted Prison is the opposite of calm and order – The prisoners have rioted, the guards have fled and now a ghoulish darkness has seized control of this mythical maximum-security Prison. More than 100 gruesome criminals deemed "too evil to die" seem perpetually trapped in their cells, while others linger in hallways, the boiler room, and even the bathroom shower. Watch where you put your hands! Altogether, here are 40 horrifying rooms in this haunted house that will leave you quivering and trembling with fear.

"This haunt is extreme with a capital EXTREME! You are treated like a prisoner. The guards are rough and show no mercy…We left scared and exhilarated."

It all began when Paul Siegel decided that they needed to add an attraction to Siegel's Cottonwood Farm for Halloween. The Farm had long hosted Pumpkin Fest, daily FALL fun for the whole family, but he felt they needed a way to close out the season ending on Halloween. The family introduced a haunted hayrack ride. While popular, Mother Nature is hard to predict. Paul knew they needed to create an indoor experience that people could enjoy no matter rain or shine.



In 1980, "The Blues Brothers" movie was released and fans from across the country would stop by Paul Siegel's third-generation farm to ask directions to Statesville Correctional Center, where the film starts with Jake Elwood (John Belushi) walking out of prison. However, the idea for Statesville as a haunted house didn't strike Siegel until the early 90's, and would grow, over the years, into THE destination for thrill seekers from across northern Illinois and Wisconsin to Indiana.

From a marketing perspective, it was pure genius. Adding an "s" to the name drew more people looking for the iconic prison the film made famous, in turn generating tremendous awareness and attendance at Statesville Haunted Prison.

What makes for a great haunted house? The twisted, morbid, wicked mind and sense of humor of Paul Siegel, the owner and mastermind of the truly macabre experience that is Statesville Haunted Prison® and City of the Dead in Lockport, IL.Its decades- long reign makes it the longest running, and most acclaimed, haunted house in Chicagoland. It is the granddaddy of horror in Illinois, and its legendary status is well known by the brave, who voluntarily "incarcerate" themselves with more than 150 of the most ghoulish actors in the area.

"Statesville's scariness lies in its ability to make everything look real. The haunted prison uses this realism to make its maze and different rooms just so cinematic in a way that makes each and every guest feel as if they're in their own horror film."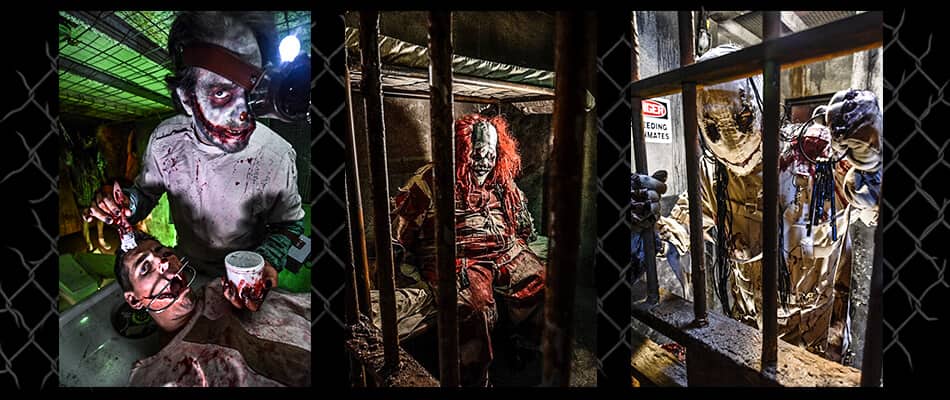 Each year, Warden Siegel, with the help of the next generation of Siegels, changes at least 30% of the attraction to give annual visitors the newest, most unpredictable, scare experience available in Illinois. With cutting edge effects and an unrivaled attention to detail, Statesville offers an aggressive, interactive haunt experience designed for adult audiences, and not intended for children or the weak.

"The production values at this attraction are jaw dropping. The sets are film quality, and you are fully immersed. The combined size of both haunts is only 15,000 sq ft, but feels immeasurably larger."

Statesville Haunted Prison has been named one of Illinois' best haunted houses for 16 years. It has been named the "Best Haunted House in Chicagoland" for 14 of the past 16 years by Haunted House Chicago, ranked a "Must See Top 25 Haunted Attractions in America" by Haunted Attraction Magazine, received the highest rankings available in both Time Out Chicago and Red Eye, and was featured as the Craziest Haunted House on the Travel Channel's "Halloween Craziest" in 2013.If that isn't enough for you, after an hour of fighting your way out of the mighty walls of Statesville, the truly brave go for another dose of fear by descending into the burial pit of City of The Dead. In this subterranean nightmare of caves and mine shafts, you will find the mass graves of Statesville's past inmates. Here, in the depths of this unholy tomb, the Gatekeeper has risen from the dead and the zombies are on the march. You must make it back to the surface, through live snakes, rats, cockroaches and spiders, before you become a permanent resident.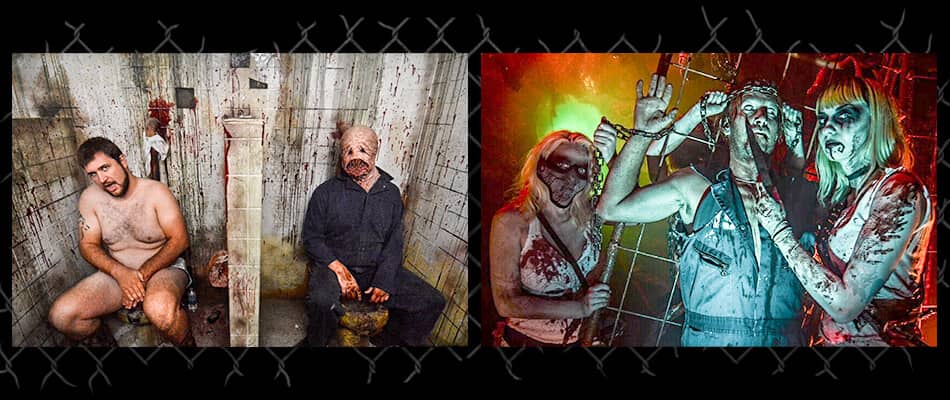 "We feel that our success is due to one simple philosophy," said Paul Siegel. "We love our fans and we work all year long to give them the very best haunted house experience of their lives."

"Statesville Haunted Prison is exactly what a haunted prison should be: dark, dank and scary enough to make you jump, while stalking your nightmares for the next few weeks…While an extra pair of underwear is not mandatory, it's certainly strongly encouraged."


Statesville Haunted Prison and City of the Dead in Lockport, IL are a must for thrill seekers willing to risk it all for one night locked up in….Hell. This horrific haunted house experience will truly give you the thrill of being alive and grateful to breathe the fresh night air on the other side IF you survive Statesville Haunted Prison.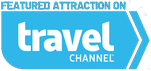 TO FIND MORE HAUNTED HOUSES IN ILLINOIS CLICK HERE ... https://www.hauntworld.com/illinois-haunted-houses
---
Aurora Illinois' - Basement of the Dead Featuring Shattered 3D
By Hauntworld Magazine
TO FIND MORE
HAUNTED HOUSES IN CHICAGO
Chicago Illinois Haunted Houses are some of the scariest and best in America! Hauntworld.com rates and review the best and Scariest haunted houses, haunted attractions, and Halloween events in America! Basement of the Dead is located in Aurora, Illinois and has one of the scariest haunted houses in America! Prepare to scream! Sit back and prepare to scream through our review of Basement of the Dead. This Halloween you can't miss the scariest and best haunted attraction in the entire state of Illinois, Basement of the Dead. Basement of the Dead in Aurora Illinois which is just outside of Chicago Illinois is simply put one of the best haunted houses in the country. Their attraction features some of the scariest actors, crazies scenes, and amazing set design, plus one of the industries best 3D haunted houses.Now sit back and read all about the best haunted house in the Chicago Illinois area The Basement of the Dead.
To learn more about Illinois' Basement of the Dead visit their websit below:
www.42fear.com
TO FIND MORE HAUNTED HOUSES IN ILLINOIS
---
Basement of the Dead Haunted Attraction in Aurora Illinois is not the biggest attraction in Illinois, but many consider it to be the best and even scariest. Like most top haunts, the Basement of the Dead is run by a talented and passionate group of people who love the haunted house industry, and this group is actually family… a family who through hard work and faith in themselves turned their dream (or nightmare) into a reality.
---

Jason, David, Sara, Craig, and mother Patrice Seneker along with their aunt and uncle, Tressa and Todd Baraniak, began their haunting life at a home in Joliet Illinois. Every year, the whole family would start working in early August to transform Patrice's home into a terrifying house of horrors. In October, thousands of people braved their way through the yard and home. After four years of creating nightmares in a home haunt, they wanted more. David remembers, "That's when I knew we could be very successful at running a commercial haunted house. We were doing all that work for just the joy of scaring people. I knew if we could get the funds and find a place, it could work." But before the family became professional haunters a different business opportunity presented itself. The Seneker family learned that the mask division of Scarecrow (a company known for their realistic vampire fangs) was for sale. The family obtained the mask molds and began creating foam latex mask out of the basement of their home. The business, Arrival Mask Company, was successful, but the idea of running a professional haunt never left.

Todd never did stop looking for a good location to create a professional haunt. "There are many great haunts in the Chicagoland area and we didn't want to open a new haunt in some other haunt's backyard. It's not easy to find a good location, and then when you find one, the building owner does not want to give you a lease for just a few months to set up and run a seasonal haunted house." That's when Todd learned of an established haunt that was for sale in the area.

George Carpenter founded Basement of the Dead haunted house in 2000. Right away, Basement of the Dead won best new attraction of the year from a local Chicago haunted house review group. From there, George and his family successfully ran the Basement of the Dead for several years, but due to an illness, George put the Basement up for sale.


Todd said, "George was happy with the number of people he was putting through, and because of the illness there was not much change to the Basement in the last few years he owned it. It was a very strong foundation, and we felt with the right marketing strategies, renovation of the existing space, plus expansion into unused parts of the building that Basement of the Dead Haunted Attraction could become one of the top haunts in Illinois and in the Nation."

The haunt is located in the basement of a 100 year old building in downtown Aurora Illinois just 30 short miles outside Chicago. Immediately upon walking inside the building, it's clear this place would be frightening even if there was not a haunted attraction inside. The decrepit brick walls, old pipes and eerie creeks make for a perfect haunted setting…a very strong foundation indeed. So the family bought the business in 2010. Todd fondly recollects, "When we bought the haunt from George, he and his family helped make our transition into the haunt world seamless."

In 2013, the family's hopes were becoming reality. Attendance greatly increased, the haunt was named #1 Haunted Attraction in Illinois by the Chicago Tribune Newspaper, and it was also listed in the Top 30 Haunted Attractions in all of America by Hauntworld Magazine. The Basement of the Dead turned to Facebook and other social media to get the word out about their haunt. Todd explains, "We are very active on these sites. We post pictures and videos not just in October, but all year around. We feel it is good to keep the Basement of the Dead fresh in everyone's mind and to show them the work we are put in to make us #1 and keep us there. We also run contests on these sites and give prizes away to our fans".

The Basement also keeps their website www.4fear.com updated with new information throughout the year. By this Halloween season, the haunt will be 100% remolded from when it was purchased. The new rooms going into the Basement of the Dead are highly detailed, but not overly lit, providing that perfectly creepy atmosphere needed to achieve the utmost in scares. You can see where the Basement gets its soul. Silent Hill, The Hills Have Eyes, Saw, Texas Chainsaw Massacre and Insidious are definitely the horror movie inspirations, but not a carbon copy. David tells, "We believe that if you want to really scare someone, you need to help them forget that they are safe and that these are just a bunch of actors in masks and make-up. We do this by creating rooms that are so believable our customers get engrossed in the atmosphere. Then, the customers can't help but believe they are in real danger. For example, we want them to think they really could be locked in our broken down walk-in freezer with a humanoid pig freak."

They also spend much of their time training actors providing them with a good acting base. From there, the actors are creatively allowed to develop their individual characters. "We give them an idea and let the actor build their own character. We help them do this by putting a lot of thought into the costumes and masks & make-up FX. I am usually very surprised by the depth our actors take their character. This makes them much more believable and terrifying when a customer first encounters them. We are blessed with a very talented group of actors," says David.

Subtlety in lighting is truly an expertise found inside this haunted house. Lighting is perfect; it's delicately placed in some parts and purposely absent in others. We asked David to expound on their intent. "Just because you spent a lot of time and money on a room, does not mean you need a ton of light. We believe there is nothing scarier than the dark. All demons, monsters, and boogie men are born from the dark. We purposely harness that primal fear from the second you take foot down into the Basement."

In 2012, Shattered 3D was created. Shattered 3D is a black lit 3D clown themed haunted attraction. The art inside Shattered 3D Haunted House is beautiful and grotesquely sinister at the same time. From floor to ceiling you are engulfed with artwork that is eye popping. David reveals, "We had the space, and we wanted to do a new haunt. Specifically, we wanted to explore a different way to scare people. The Basement is dark and while we love the dark, we thought the logical thing to do was make a contrasting haunted house. We wanted the most eye-popping blacklight haunted house with the most creative artwork, but we also wanted every actor in Shattered 3D to wear a completely 3D costume and every prop fully painted in 3D. We made sure to build solid scares in every room so our actors could use the 3D to their advantage by blending in with the art."
They certainly accomplished just that, because last year not only was Basement recognized, but Shattered was too. One haunt reviewer reported, 'Shattered 3D is a great haunt on its own, the 3D makes it an incredible haunt.'
The Basement also did a revamp of the line entertainment. By adding two talented stilt walkers, two Stalkaround costumes, a chainsaw, a boom-stick, and a live DJ every night on stage that moves from inside the building out into the crowd. The DJ wears an unbuckled straight jacket along with a zippered, canvas mask while mixing classic rock and heavy metal along with modern beats. Jason told us a story about how his signature move (binding the hands and mouth of customers with Duct Tape) was born. "On my first night as DJ, I was so worried about not messing up the music that I forgot my main job is to scare. I heard one customer say to her friend 'he's not scary.' I knew I had to change her mind, so I looked around my stage for something I could use as a prop weapon to go and terrorize this girl. The only thing I could find was a roll of Duct Tape I used to anchor down some loose cables. The sound the tape makes when forcefully peeled off the roll can be terrifying in the right situation, because it can bring a connotation of being bound and abducted. I leaped down from the stage and ripped the tape out extremely close to the girl's ear. Once she got off the ground from collapsing in fear (and her friend stopped laughing at her), she came up to me and asked for a picture together. I brought her up on stage and put the tape over her mouth and wrist. The crowd went crazy and from there everyone wanted to be abducted by the DJ."
Hard workers all around, this family does not rest. They plot, plan and work for the opening of their haunt year round and this year is no different as they plan to allow customers to live out their zombie apocalypse fantasy. Full costumed zombie actors will roam the grounds while customers blast their way (with I-Combat laser tag guns) through the Basement of the Dead and Shattered 3D for the right to live another day. Todd states. "We always want to be pushing the envelope, to give another way for people to face their fears. That's why we started, we wanted to scare people, and what can be more frightening than having to fight flesh hungry zombies while trying to find a way out of a dark basement?"
In a world crazed for the preparation of a zombie apocalypse, I couldn't agree more, but whether zombies or mutants or clowns are your affliction, one thing is certain…When you come to the Basement of the Dead and Shattered 3D, you will get scared inside, outside, in the dark and in the light!
TO FIND MORE HAUNTED HOUSES IN ILLINOIS
Illinois Haunted Houses
Illinois Haunted House Tips
Illinois is brimming with continuous cornfields, newly constructed subdivisions, and the thriving metropolis known as Chicago (also commonly referred to as the Windy City) – but those aren't the only things you'll find in the Prairie State. Illinois has a rich and colorful history, chock full of old ghost tales and horror stories that stem from areas and places in the state believed to be haunted. And amid the endless farmlands and growing suburbs of Chicago, the state is also home to a number of chilling haunted houses, a favorite pastime of thrill-seekers. Headed to one of the infamous Illinois haunted houses soon? Check out these tips to ensure you have a fun and frightening time!

Weather
The weather in the Midwest during late fall is unpredictable and fickle at best. Temperatures during the day may be pleasant and mild while they plunge well below freezing at night. Precipitation, whether in the form of rain or snow is likely, so dress accordingly!

Attire
Speaking of clothing, make sure you wear clothes that are comfortable and allow you to freely move. Considering you will likely be doing a lot of walking (or perhaps running?), it's important that you wear shoes that are comfortable as well. Dress warm, especially if you will be outdoors at night – a jacket or coat will keep you warm but can easily be taken off if you get too warm.

Where to Go
While the state has a myriad of frightening haunted houses that can get your heart racing and adrenaline pumping, there are a few that stand out more than others, including The Darkness located near southern Illinois. Known as one of the best and scariest haunted houses in the country, The Darkness has been featured on the Travel Channel and a handful of other programs. Located in northern Illinois? Check out the Statesville Haunted Prison located in Crest Hill near Chicago. With its use of live actors, realistic Hollywood animations, and more, you're bound to get the fright of your life!