Find the Scariest Haunted Houses in NORTH CAROLINA also make sure to Join our Facebook Page

Click Here

or Join our Haunted House Forums to discuss the scariest haunted houses in NORTH CAROLINA

Click Here

. Also subscribe to Hauntworld Magazine

Click Here

.

North Carolina Haunted Houses have grown over the years to feature some really amazing haunted houses some of which have been featured on Travel Channel. Several years ago when we visited haunted houses in Charlotte, North Carolina the haunted houses in North Carolina seemed to be around every corner especially in the Charlotte, North Carolina area haunted houses are very popular form of entertainment and more haunted houses in North Carolina can be found at Hauntworld.com. On Hauntworld.com you will find every type of haunted houses in North Carolina from a haunted hayride, haunted house, Halloween Attractions, ghost tours, to paranormal ghost hunting. Read all about the best and scariest haunted houses in the state of North Carolina here at Hauntworld.com. North Carolina has some of the biggest haunted houses in cities like Charlotte, Raleigh, Greensboro, Durham, Fayetteville, Wilmington, Asheville, Rocky Mount, North Carolina.
When looking for a scary or the best haunted house in North Carolina look no further than the area of Raleigh, Greensboro and Fayetteville, North Carolina because this is an absolute hotbed for haunted houses which would also include the Charlotte area. North Carolina has more haunted houses than almost any other state in America, and not only do they have several haunts but they have some of the best found anywhere. North Carolina has many cities with great haunted houses especially North Carolina area which has more of the top rated haunts than any other city in America.
Do you want to know what we feel are the best haunted houses in Winston Salem? Do you want to know the Scariest Haunted Houses in Greensboro? You will find North Carolina haunted houses here at Hauntworld.com. We want you to share your experiences on our Facebook page.
North Carolina haunted houses are some of the scariest and best haunted houses in North Carolina and America. Hauntworld.com will help you find haunted houses in Greensboro, North Carolina, and more specifically Haunted Houses in Greensboro, North Carolina. On this page we will also help you find haunted houses in Winston-Salem, Durham, Releigh, and Greensboro haunted houses in North Carolina. As the editor of Hauntworld.com we attempt to visit, rate and review as many haunted houses in North Carolina as we can. We have seen some of the scariest haunted houses in North Carolina because we actually visited this area many years ago when we built and installed some attractions for amusement parks.

There are several major haunted houses in North Carolina including Spookywoods which also includes a major corn maze, hayride, zip lines, and even all sorts of Halloween fun for the kids including dino digs, mining and much more. Spookywoods in located in High Point North Carolina however there are many medium sized cities all located very close together such as Greensboro, North Carolina, Winston-Salem, North Carolina, Raleigh, North Carolina, and Durham, North Carolina, and all of these cities have several haunted houses.
North Carolina Haunted Houses typically are outside events and feature a corn maze, hayrides, or scary woods rather than the old closed down warehouse style haunted houses. For this reason many haunted houses in North Carolina are very unique from most other haunted houses around America. When visiting haunted houses in North Carolina make sure you use Hauntworld.com. Continue to check these pages as we will update with more reviews of the scariest and best haunted houses in North Carolina.
Find the best and scariest haunted houses, real haunts, Halloween attractions, Hayrides and more near or in the Greensboro area. Stories of hitchhickers have been a part of our culture for generations. From urban legends, to ghost stories to true real events, the ones with reliable witnesses and strange facts which cannot be disputed. The Greensboro Hitchhiker is said to be more than just na urban legend, more than just a tale. It is said to be the real truth, based of facts and the truth. It is said that ther is a ghost of a beautiful young girl since 1923. Her ghost will appear near Greensboro and stand next to Hwy. 70 in a white gown and wave desperately hoping someone will pick her up. If you do end up stopping and pick her up, she goes by the name of Lydia and will always aske to go to an address in High Point. She then will tell you about her evening she spent at a dance and how she his ready to get home. The story is told that a young woman died driving home in a deadly car wreck coming home from a dance.
There are several major haunted houses in North Carolina including Spookywoods which also includes a major corn maze, hayride, zip lines, and even all sorts of Halloween fun for the kids including dino digs, mining and much more. Spookywoods in located in High Point North Carolina however there are many medium sized cities all located very close together such as Greensboro, North Carolina, Winston-Salem, North Carolina, Raleigh, North Carolina, and Durham, North Carolina, and all of these cities have several haunted houses.
In additional there are many ghost tours, and other real haunted house places throughout North Carolina. Find the best haunted houses and more here at www.Hauntworld.com
Woods of Terror – Greensboro, North Carolina
By Hauntworld Magazine
TO FIND MORE HAUNTED HOUSES IN NORTH CAROLINA CLICK HERE ... https://www.hauntworld.com/north-carolina-haunted-houses
North Carolina's Haunted Houses are some of the scariest and best in America! Hauntworld.com rates and reviews the best and Scariest haunted houses, haunted attractions, and Halloween events in America! Woods of Terror is located in Greensboro, North Carolina. Please share this page and leave your reviews of one of America's best and scariest Haunted Houses. When you find yourself in Greensboro North Carolina go to Woods of Terror.
To learn more about Greensboro North Carolina's Woods of Terror visit their websit below. When you're trying to find the biggest, scariest, haunted houses you find them at Hauntworld.com
---

There's scary and then there's insane scary. Woods of Terror is insane scary and has been ever since it opened 27 years ago.
---
Woods of Terror, a haunted house production located on McLaurin Farm's 32 acres just off Church street in Greensboro, North Carolina, is the brainchild of Eddie McLaurin who designed and built all of the attractions. By day, Eddie is a mild mannered, 6-foot 4-inch haunt entrepreneur. By night he transforms into a 7-foot horror monster named Bone Daddy, with a red and black mohawk as well as a 6-foot python draped around his neck.

"Managing a staff of nearly 175 people, ordering supplies, handling finances, and constructing sets…that's the business side of things. Dressing up every night and scaring people is the fun side of things," said McLaurin.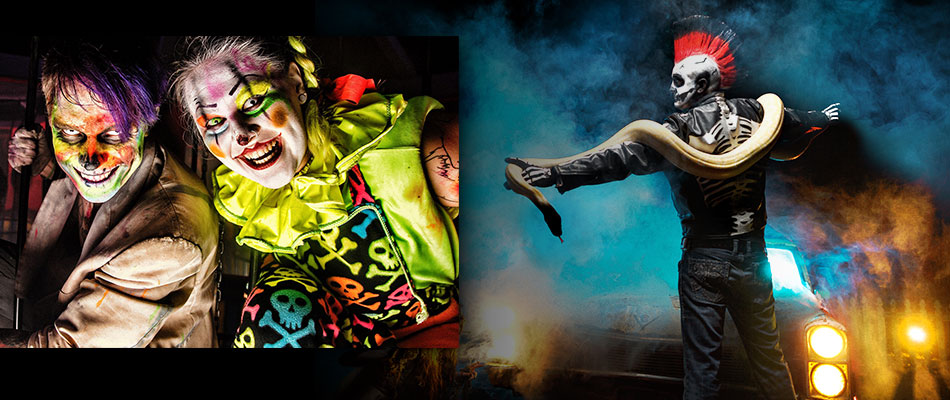 This past season Woods of Terror presented over a dozen frightening haunts:

"Arachnophobia" This haunted attraction features an assortment of live snakes, spiders, and other creepy crawlers.

"Creepersville" Fall is a time for harvest, but they won't be harvesting corn. The loathsome nightstalkers will be harvesting their favorite food…you!

"Industrial Nightmare" According to legend many years ago, a greedy company laid off scores of workers, and they still inhabit the shuttered plant. Every night they have a feast, and visitors are the main course.

"3-D Clown Town" This 3D haunted house is chuck full of scary clowns and childhood phobias, where guests go on a wild ride and wonder if the walls are really alive.

"The Blood House" Inside this haunted adventure, you'll find a building full of beautiful lady vampires, but don't be fooled. These creatures of the night are looking for a special donation.

"The Awakening" This extreme haunted house experience calls up wandering, hungry zombies who want to have you for dinner.

"Horror Movie Classics" No haunt would be complete without Jason, Michael and Freddy, and Woods of Terror puts them in the most surprising places, sure to scare you silly inside the Horror Movie Classics haunted house.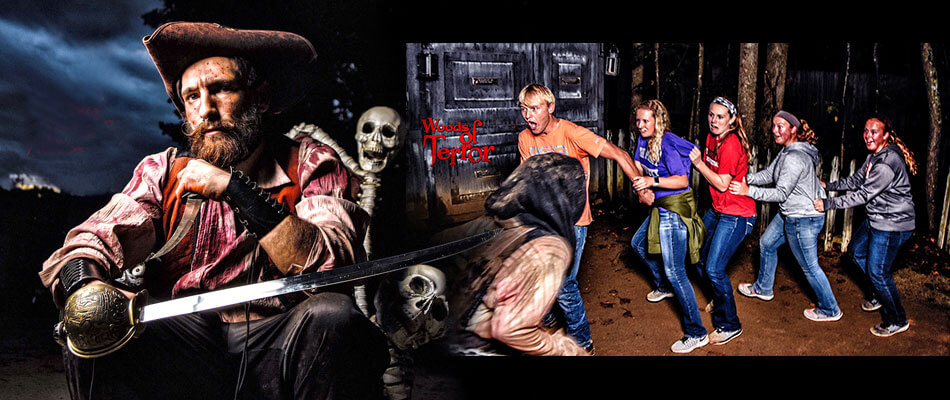 "Blackbeard's Revenge" is home to the famous and scariest pirate himself. Is he still alive after all these years? Are tales of his beheading just rumors? This ruthless haunt will play with your mind leaving you frightened, alone and wondering what's reality.

"Miners' Massacre" Once the site of a tragic accident, the evil dead now haunt every visitor who dares to enter.

"The Slaughter House" is another extreme haunt experience where the bloody meat cleaver becomes the least of your fears. Getting in is easy, but getting out…not so much.

"The Purge" The new founding fathers introduced an American tradition to build a better America by cleansing our nation. This is known as THE PURGE. Inside this haunt, you'll no longer fear the dead, you'll fear the living!

"Blackout Terror" creates fear of the unknown, whereby willing participants agree to don a black hood, then make their way through a completely dark house.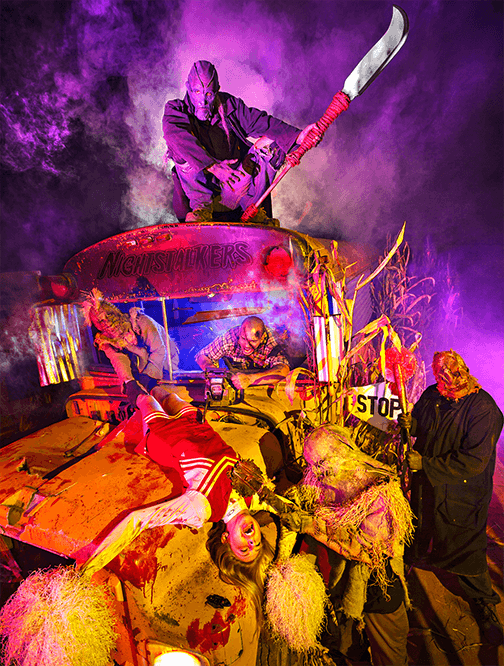 "Monster Midway" For this haunted midway, they start off every night with a parade of horrific monsters and then sing the National Anthem and end with fearsomely loud fireworks. While individual attractions may change from year to year, "Monster Midway" remains a perennial favorite and every night for the past 7 Halloween seasons, Woods of Terror has opened with this parade. Nearly 100 ghoulish monsters stomp the parade route, brave guests pose with them for photos, and the National Anthem is sung. "People just love our midway. It's a place for customers to shop in our Bootique, enjoy concessions, and stay for the music from our live DJ. It's fun and sort of sets the mood for the horrors to come", said McLaurin.

Don't let their midway fun fool you though. These haunts can be terrifying for children and adults alike. "Woods of Terror is so frightening that we rate our haunt as PG-13 and we do not offer child prices because we do not cater to children and no child under 5 will be admitted. In fact, I also tell adults who get scared easily not to come here, but that just makes them want to come here all that much more", says McLaurin with a sly grin.

With top notch entertainment and scary fun haunts, it's no wonder that year after year Woods of Terror is named one of the nation's leading haunted house hotspots and with thousands of visitors each night, Woods of Terror also has a significant impact on the area's economy. In addition, McLaurin Farms is host to a variety of annual fund raising events to benefit local charities. Even during the Christmas season, Woods of Terror morphs into the region's largest festival of lights.

McLaurin Farm has something going on all the time, from breast cancer awareness events to special parties for kids with multiple sclerosis. "It's a way for us to give back to others throughout the year," said McLaurin.
Question: Your farm location has been around for awhile...correct? Has that helped you or hindered you into transitioning it into an October ScreamPark?

Answer: Although the land has been in my family for 4 generations and passed down to me, I started the Woods of Terror from nothing 27 years ago. I had to take what was a cattle farm and turn into a haunted attraction.


Question: What do you attribute much of your success to? -AND- Who do you attribute much of your success to?

Answer: I don't know about the other guys, but my success is a result of hard work, and there's a long list of individuals who have helped me along the way. I have to start with Jesus because so many times when I was growing the haunt I was only one bad decision away from closing. So many incredible things have happened or have fallen into place that are unexplainable. You would not believe them if I I told you. Next would be family, starting with my grandparents who let me play out my entrepreneurship on their property. You could imagine their reaction when I told them my plans for a haunted attraction and how I planned to execute it. Next, my Dad: Although we do not agree on everything, he taught me to work hard and never quit. Also my Mom: She helps me to this day. My Girlfriend: She runs the day to day operations. And,the list goes on and on. My staff: I have a great maintenance man,great makeup artists, and some truly incredible actors. It takes a big team to make the dream work. And of course, it doesn't hurt to hire a great public relations/ marketing and media buyer.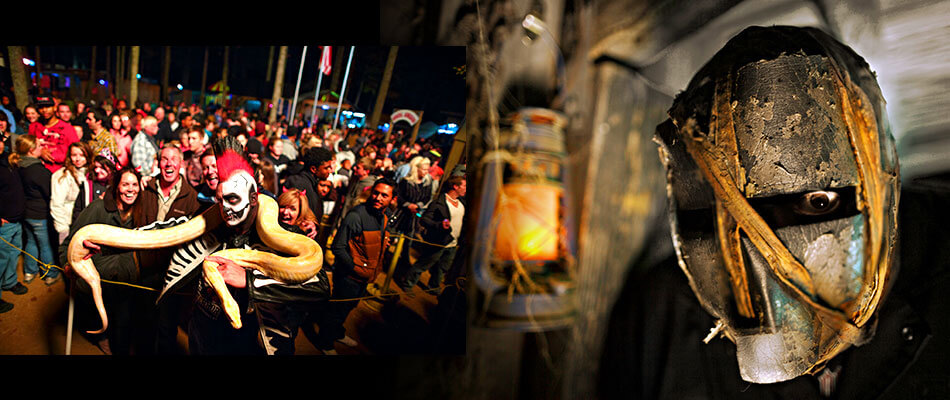 Question: Your haunt is well known in the haunted house community and throughout NC for giving back to the community. What specifically is your favorite or most memorable?

Answer: I have had several events, such as breast cancer awareness night, a trunk or treat for children with Muscular Dystrophy, a fund raiser for a local 14 year-old boy in our community who is battling cancer by supporting the "Do it for Johnny" Campaign to raise funds for medical bills. But my favorite way to give back is my scholarship program. Three years ago, I decided to give back to my staff so I launched a scholarship program for employees who "need a little extra help". Each scholarship is $ 1,000. My senior staff and I look for individuals who are deserving and are hardworking and dedicated to the Haunt World. The 1st year started with a 10-year veteran actor who was struggling to finish college. We also chose a 2-year actor fighting a medical battle but displayed courage and dedication by coming to work every night in spite of his illness. I have awarded these scholarships to individuals who are amputees who work harder than non- disabled employees and a staff member who is deaf. One year, a staff member who is wheel-chair bound needed assistance buying a new wheelchair. Basically, I give out two scholarships each year, one for a female employee and one for a male .

Question: Over many years, the haunted house industry seems to go through frequent trends sometimes as frequent as annually. Do you work with those ever changing trends or do you prefer to stay more traditional with your haunt events? and why?

Answer: People generally do not like change. However, I learned awhile ago that changing my haunted attraction is beneficial and profitable for me. I consistently change about one-third of my show each year and will continue to grow and improve every year. I like to think that I know my audience and I try and evolve the attractions to keep my customers coming back, because it is exciting and surprising and most of all fun to be scared! The trend of using Facebook and social media has absolutely helped my haunt. However, the trends of zombie paintball or paintball hayrides I avoided. It really just depends on what the trend is at the time. Some things water down my haunt, so I decide against them. I do one thing... I do Halloween and I do it right!


Question: What are your future plans for haunting North Carolina?

Answer: Just as I have done in the past 10 years, I will continue to bring in new things and exciting changes that have never been seen in a haunt before, and I will continue to train my staff so we provide the best actors in the Piedmont Triad which is a big part of Woods of Terror's success.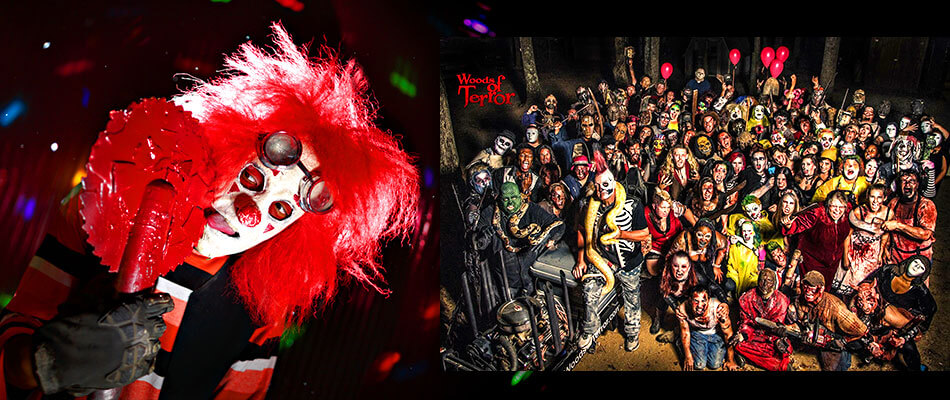 TO FIND MORE HAUNTED HOUSES IN NORTH CAROLINA
---
Kersey Valley Attractions is centrally-located in Archdale, North Carolina. Tony Wohlgemuth, founder of Kersey Valley Inc., was nine years old when his family moved to the 60 acre farm in 1979. Purposed as a Christmas tree farm, the property had several tobacco barns, a farm house and main residence. The farm was a popular place to spend summers camping in the barns. Tony and friends pulled power from the farm house by drop cord to one of the tobacco barns. Just after midnight on a hot summer night a chandelier fell, stopping just inches from the boys lying in sleeping bags underneath it. The end of the drop cord was caught by the window seal keeping the heavy iron light fixture inches away from hitting the boys. The frightening occurrence spawned a dare between friends to enter the old house and restore the power, insisting someone must go upstairs to satisfy the dare. One of the boys entered the house alone only to return moments later screaming that something was on his back. He managed to scare up a family of bats, one landing on his back. The incident shook the group of boys to the bone, creating an idea for a five room haunted house in the fall of 1985.
---
The House of Death came alive that year the last two weeks of October selling just over 1,000 tickets at $2 each. Marketing efforts were limited to hand-drawn flyers given out at the boys' high school. By the 4th year, popularity for the attraction meant a 4 hour wait in line. Tony knew it was time for a change and expanded the attraction with a walking trail in the woods. When Tony met his wife, Donna, in college; she encouraged him to focus on his degree and career. It became clear that a passion for the haunted attraction was undeniable. Donna joined Tony to build the haunt and operate the attraction as a business. Incredible growth followed. The haunt was expanded further, creating a unique pathway through a dense forest of (Christmas) trees. The name was changed to Kersey Valley haunted House & Forest the following year. Each group of 8 guests was guided through the attraction, limiting throughput to 125 people per hour. The next hurdle was increasing the throughput of the attraction to increase revenue. Tony and Donna attended the 1996 IAAPA Conference and gained newfound knowledge of an unguided concept. The entire (Christmas) tree area was redesigned, transforming rows of trees into areas that could accommodate walls and scenes to fit under the canopy of trees. The haunt was very spooky and the business was transformed into an unguided format. The same year a domain name was sought out for the website and www.spookywoods.com was the perfect fit! The new format reduced the wait to an hour or less and the throughput increased to over 800 people per hour. The additional income generated from the dramatic increase allowed a much larger budget for improvements to the attraction.

As the haunt continued to gain popularity, Tony and Donna planned to expand their seasonal business while both still worked full time. Tony suggested that a corn maze would be a great use of the 10-acres of farm land around the haunt and Maize Adventure was born marking the beginning of day time attraction offerings. Trial and error lead them to Maze Play in Idaho that offered the technology required to design and cut out the maze using GPS. Donna began researching day time field trip opportunities for school children. The marketing was sent to schools within a 50 mile radius. Those efforts began to pay off and soon the day time business was packing the farm with kids during the weekdays. The focus shifted to expansion of the day time business to keep schools coming back each year. Gem panning was discovered while on vacation in Tennessee. A vendor that creates gem panning attractions was found at the next IAAPA conference. A company from Canada was hired to build the attraction, expanding the educational opportunities to schools with an educational event on gems and fossils. An outdoor classroom was designed providing more educational experiences for students such as Planting Seeds of Knowledge and Bee-Educated field trips. As Maize Adventure gained popularity additional features were added, including a giant jumping air pillow. The jumping pillow was installed and became an instant hit with children.
The first pillow has just recently been replaced with two of the giant 40x70 pillows to reduce wait times for children to jump.
The Kersey Valley brand came alive when multiple attractions with distinct demographics were fully operational. The portal site www.kerseyvalley.com was created to cross promote all events and attractions. Each attraction and event maintains its own website also.


In 2010, Kersey Valley expanded into a year-round business with a 1.5 mile zip line tour across the farm. Kersey Valley reinvented the zip line experience with engineered Sky Towers and best-in-class equipment. The attraction is aviation themed boasting Coach and First Class ticketing options, Flight School, Sky Towers named after airport city codes and Flight Captains as zip line guides. The Sky Towers were strategically placed to enhance cross promotion between attractions. Opening year-round required permanent restroom facilities. Tumbleweed's, a state-of-the-art kitchen concession facility and restrooms were built. A surprise is harbored in the women's restroom; as guests approach the sink they activate a loud scream and ghost illusion in the mirror.
Kersey Valley Laser Tag, an outdoor tactical laser tag attraction, was added to the attraction line-up in 2012. The attraction draws a diverse demographic as the equipment can be programmed for a simple game of shoot and tag to detailed programming for corporate groups with team-building initiatives. Kersey Valley Laser Tag is a great option for birthday parties and bachelor parties looking for a unique celebration experience.

The humble beginnings of the haunted attraction business have allowed Kersey Valley to continue expanding and employ year-round staff. Kevin Burger is the Safety Coordinator and managed construction of the massive zip line and restroom and kitchen facility build. Kevin attended the Maize Adventure Corn Maze in 2000 with his church group, fell in love with the farm and never left. Elizabeth Penn is the driving force behind sponsor partnerships with local and national corporate partners. She wears many hats including promotional video coordination and design, special event planning such as Kersey Valley's Dark Circus and is an integral part of the haunted attraction. Chrissy Hughes is the Office Manager and master of the zip line reservation system. She is the voice of Kersey Valley, answering hundreds of call a week with a smile. Chrissy projects the fun attitude of Kersey Valley! Tom Roever, Scot Edwards, Kevin Burger and Darrel Justice are several master carpenters that comprise the build crew creating the incredible sets at Spookywoods. Steve Lee handles audio and lighting for the haunt. Joh Harp and Amber Michael are the year-round FX team and set designers. RJ Barber is the resident welder that can build anything the team dreams up. Tom Benedict, Tony Forest, Wendy Martin, Ben Medlin, Kathy Justice and Steve Wood keep the haunt running like clockwork. Tony comes up with the fun stuff and Donna keeps a close eye on the budget and pays for the fun stuff. It takes an army of dedicated and talented people to run Kersey Valley. The amazing staff is a result of the passion that Tony and Donna have to create stand out events and attractions; it's contagious and it shows.
The Christmas trees planted in 1980 saved the farm, becoming the backdrop to one of the most unique haunted attractions in the country. Looking ahead, Tony and Donna have a list of dreams from weekend events to an event venue barn, seating 300 guests.

If it's a Kersey Valley event or attraction you'll be right in the middle of the FUN STUFF!
To find pumpkin patches in your area go to www.HalloweenAttractions.com.
If you visit a haunted house in your area please come back and rate and review your experience.
A North Carolina Ghost Story
North Carolina is especially known for ghosts tales and legends that still frighten people today. The following is a story that has been shared orally for years and years to frighten listeners.

One night, a young man left Greensboro to drive to his old home in Lexington. The old and narrow road dipped through a dilapidated tunnel that lied beneath the one of the city's oldest train tracks. The young man knew the road quite well as he had driven it many times before. But there was something strange about this time he was driving. The fog was thick causing the young man to drive cautiously.

As the young man was about to reach the underpass underneath the oldest train tracks, he saw a bizarre white figure with an arm raised high in the air signaling distress. The young man slammed on his breaks and jumped out of the car to help this figure in distress.

It was a young girl wearing a long, flowy, white evening dress. Her eyes appeared to be troubled. She had dark, almost reddish bags under her eyes that glared at the young man. She looked like she needed some serious help.
The young man asked, "Can I help you, miss?"

"Yes," she said. "Take me home. Take me home now!! I live in High Point and I need to get there now."

He opened the car door for her, as a gentleman would, and she climbed inside.

As they drove off he said "I am so happy I came by. I didn't think anyone would be on this road so late at night. You could have been hurt!"
"Oh," the girl said. "I was at a dance. My date and I got into a huge fight. It was horrible. I made him stop the car and leave me here."
The car reached High Point and the girl motioned to the young man where here house was. He parked in front of the dark house, got out of the car and went to open the door for the girl. But there was no one there! He looked everywhere, but the girl was nowhere to be found.

He wanted to make sure she made it into the house safely so he ran to the front door and starting ringing the doorbell profusely. After a few rings, he saw a light turn on in the house. An older, white-haired woman opened the door.

He explained to her that he found the girl under the pass and brought to the house but could not find her.

"Yes, I know," said the woman. "That was my daughter. She was killed in a wreck at that tunnel five years ago tonight. Every year at this time, on this night, she signals a young man like you to pick her up and take her home. She's still not accepted her death."