Find the best haunted house vendors, suppliers, and haunted attraction supplies here using the biggest online directory of companies who create animations, zombies, monsters, props, to complete modular haunted houses. Are you looking for companies who supply special fx, to fog machines, and or companies who help you find haunted house insurance? You have found the best place on the web to find haunted house and Halloween attractions suppliers, supplies and vendors. Plus we help you find the best haunted house resources like magazines, how to dvd's to all the biggest haunted house Halloween tradeshows, events, seminars and haunted house tours. Our system is the most advanced directory on the web allowing our guest to search for what they need and leave feedback for each company they do business with. We strongly encourage everyone to visit their favorite vendor and leave positive feedback so new customers know they are a good company to do business with. Lastly we strongly encourage new buyers to do business with featured vendors to help ensure you will get the best products and services. If you own a haunted house make sure to list your haunted house at www.Hauntworld.com the webs biggest haunt directory and subscribe to HauntWorld Magazine at www.hauntedhousemagazine.com
DIRECTORY OF HAUNTED HOUSE SUPPLIES

Are you a vendor & want to list yourself in biggest directory of haunted house supplies,

click here

Existing vendor

login here

to manage your listing.
3-
UNIT 70
Columbus, Ohio


Views: 10677

TICKETLEAP
Uploaded By:

Lee George


Created Date:

06 March, 2015

TICKETLEAP
Uploaded By:

Lee George


Created Date:

06 March, 2015

TICKETLEAP
Uploaded By:

Lee George


Created Date:

06 March, 2015

TICKETLEAP
Uploaded By:

Lee George


Created Date:

06 March, 2015

TICKETLEAP
Uploaded By:

Lee George


Created Date:

06 March, 2015
Hauntworld Names the 15 Scariest Haunted Houses in America 2015
Sat, September 26, 2015

---
The fastest growing industry in America is the Halloween industry. We've seen it grow over the last ten years from a 1-billion dollar industry to a near 15-billion dollar industry. Halloween has grown to levels no one ever expected. Today, we see millions of home owners decorating their houses, turning their garages into haunted houses, changing their backyards into cemeteries and inviting people from around the neighborhood into their own personal HAUNTED HOUSE! Today tens of thousands of home owners buy zombies, monsters, tombstones, and crypts and even use specialized lighting to display and showcase their masterpiece. Many even create CGI FX in their windows. The days of Halloween being a kid's holiday all about trick-or-treating are OVER! Even moms are getting into the act buying Halloween themed decorations to make the interior of the house Halloween themed as well.
---

Now that Halloween 2015 is here it's time to find the best, the scariest, and the biggest over the top haunted houses and Halloween attractions in America. Prepare yourself for the biggest screaming season in Haunted history.

Haunted House owners and operators have created attractions that are so detailed they remove you from the realm of reality and plunge you into a haunted World you never knew you could experience. So finally, we present you some of the best traditional haunted houses, real haunted houses, haunted hayrides, corn mazes and more. If it's an attraction opening during the Halloween season, you'll find it here on www.hauntworld.com. Now sit back for the best 15 haunted houses in America for 2015.

Hauntworld.com was the first website and publication to produce a Top 10, Top 13 or Top 31 haunted house list to help America find attractions. Now many websites and publications produce such lists, but there is only ONE website that helps you find every haunted attraction in the nation... www.hauntworld.com. We invite you to find a haunted house near you and subscribe to our printed Haunted House Magazine www.HauntedHouseMagazine.com, plus join our Facebook Page or join our Haunted House Forums at forum.hauntworld.com/. Have the scariest Halloween ever with the help from your friends at www.hauntworld.com
---
---

1. Haunted Overload - Lee, New Hampshire - www.hauntedoverload.com: Haunted Overload is an original out door haunt in a class of its own. It blends astounding handmade sets, gigantic monsters and spellbinding costumes with spectacular sound and lighting to create the Ultimate Halloween Experience. The vibrant, organic design, set in an eerie dark New England forest, creates an assault of the senses for its patrons. Every year brings new terrors to life, as the crew work tirelessly to add to an already amazing attraction. Haunted Overload was also crowned America's scariest haunt by ABC's Great Halloween Fright Fight. The $50,000 first prize was donated in full to the Cocheco Valley Humane Society, a local animal rescue to whom the attraction annually donates a percentage of its profits. Haunted Overload is America's best haunted house because it embodies everything Halloween with its massive oversized props, unique creativity and simply put Haunted Overload just screams HALLOWEEN.

---
---

2. Headless Horseman's Hayrides and Haunted Houses - Ulster Park, New York - www.headlesshorseman.com: Headless Horseman Hayrides and Haunted Houses is a unique, immersive experience with a theme that changes each Halloween season. Ten attractions featuring: a theatrical one-mile hayride, corn maze, 7 haunted attractions which include: The Lunar Motel, Glutton's Diner & Slaughter House, Slither's Pet Shop, Dark Harvest Corn Maze, Night Shade Nursery & Greenhouse, Dr. Dark's Black Spider Sideshow, The Feeding, Dahlia Blood's Manor, with skilled stunt actors and a magic-illusion side show starring Ryan Dutcher. New for 2015 the creators of Headless Horseman Hayrides and Haunted Houses are proud to present a new concept of interactive, immersive entertainment. A real life escape experience "The Great Room Escape". Headless Horseman continually evolves with unusual monsters, amazing illusions, stunning special fx, unique and original costumes, makeup, animations and frightening detail created by our sister company American Made Monster Studios. Only the courageous will survive the intense encounters with the infamous Headless Horseman.

---
---

3. The 13th Gate - Baton Rouge Louisiana - www.13thgate.com: The 13th Gate is all about Extreme Ultra-Realism. The artists behind the massive dark attraction are experts at blurring the lines between horror and reality, and guests frequently wonder between screams whether what they are experiencing is real or not. The Attraction's level of detail, set design, and effects combined with their impressive actors and incredible makeup effects can only be compared to a Hollywood movie. The attraction features a real snake-infested Louisiana Swamp, nightly voodoo shows, claustrophobic cellars, hidden subterranean passages and even a prehistoric ice cave all seamlessly woven together and nothing short of masterful. The haunted house is constantly changing and growing from year to year so guests never know what to expect around the next terrifying corner. If that wasn't enough, adjacent to the 13th Gate is their secondary attraction, Necropolis Haunted Cemetery. This 40,000 sq. ft. outdoor New Orleans style cemetery has over 400 zombie-infested crypts and mausoleums that guests must explore. Upon entering the attraction, visitors are sent 13 steps down an open grave into dark underground catacombs where they must find an alternate escape up and out into the graveyard where the terror continues! 13th Gate Haunted House is one of the Scariest, most elaborate haunted houses in the country.

---
---

4. The Dent Schoolhouse - Cincinnati, Ohio - www.frightsite.com: The Dent Schoolhouse is one of the most tightly themed haunted attractions in the US and takes place in an actual haunted schoolhouse. Re-live the legend of a murderous Janitor who is said to still haunt the halls of the old schoolhouse. Jammed with Hollywood styles sets, animatronics, and award winning makeup, The Dent Schoolhouse has made it an easy choice one of the top haunts on Haunworld.com's list. It's like hopping into a real horror movie that you get to take part in. Amazing set design brings your childhood memories of going back to school to a whole new level of fear and beyond. Who would want to conjure up the fear of an old teacher, principle or gym teacher trying to take your soul to the underworld? Visit the Dent Schoolhouse and find out! What makes the Dent Schoolhouse so scary is the real old abandoned schoolhouse it doesn't get any more real or scary.
---
---

5. Netherworld - Atlanta, Georgia - www.fearworld.com: NETHERWORLD Haunted House is a self-guided, dark attraction known for its over-the-top special effects, intense make-up, elaborate costuming, skilled stunt actors, unique monsters, unusual themes and chilling detail! To put it simply NETHERWORLD is the total package - an extremely high quality immersive event that merges SCARY, FUN and COOL into a safe environment. More importantly NETHERWORLD is ever changing - coming up with new effects, scares, characters and story lines every Halloween season, while still retaining the Halloween feel that brings back guests year after year!

In 2015 Netherowrld presents two new terrifying haunts sure to melt your mind, THE ROTTING in which dark spirits released from the NETHERWORLD create a supernatural plague and VAULT 13 Unearthed, a secret base buried deep within the earth unsealed by an unknown force! New effects and features include a massive over the top elevator simulator, an attacking giant robot, A huge variety of new illusions and ghost effects, massive new giant monsters seen nowhere else, an alien lab with an animatronic elder thing, new stunts, new sets, armies of new costumes and creatures, an 18 foot tall multi-path arena, a completely re designed cue line and a series of massive new outdoor facades for starters!

---
---

6. 13th Floor - San Antonio, Texas - www.13thfloorchicago.com: This haunts creative and quality really sets us apart. 13th Floor features dynamic and interactive scares as well as continual improvements to the show including cutting edge tech and interacting animatronics. This Halloween season, your nightmares will become a reality, when the creators of the 13th Floor Haunted House return with one of the smartest, safest and most dynamic, theatrical, high-tech and bone-chilling attractions in San Antonio. Favorite icons from years past will roam the halls of the haunted house, accompanied with new terrifying faces from first-time attractions Burial Ground and Into the Void.

13th Floor feartures all new haunts in 2015 including 'Burial Ground' where a hotel manager whose basement has been tunneled out to make room for the remains of the outcast experiments and victims of those who reside in the upstairs mansion as part of the "secret society." If you're lucky enough to make it through the Burial Ground and find the secret passage, you'll make it Into the Void. There, you'll come face-to-face with the newest 13th floor icon, Prophet, in all his bald, slimy, and bloody glory.

---
---

7. Bennett's Curse - Baltimore, Maryland - www.bennettscurse.com: The legendary Bennett's Curse Haunted Attraction, now in their new location for 2015 in the shadows of M&T Bank Stadium Baltimore, MD is an assault to the senses. Over 40,000 scare feet awaits thrill seekers looking for the very best in Haunting entertainment! Known for its incredible array of giant monsters, skillfully themed shows, and an over the top team of movie quality costumed monsters, Bennett's Curse has reached a level only a handful of haunts can claim. This year, experience even more fear, with the addition of the all-new show "Legends of Halloween"! Four amazing shows at one location under one roof, come experience the best Haunted attraction in the Mid-Atlantic and one of the best in the world! Bennetts's Curse is one of the best haunted houses in America because of the unique monsters, giant animations, and over the top monsters who roam, lurking and seeking souls!

---
---

8. Erebus - Pontiac, Michigan - www.hauntedpontiac.com: Erebus is located in the heart of the haunted attraction capital of the world. This means competition is fierce, which forces Erebus to be unique and different. With staff working year-round Erebus Haunted Attraction's engineers create innovative designs showcasing state-of-the-art special effects. 95% of the props are designed and fabricated in-house... you won't see anything like this anywhere else! Erebus invades your comfort zone with creatures that will bite you, grab you, and land on top of you and even bury you alive! How long can you hold your breath?! New this year, the Dungeon of Dread filled with unnerving, tormented souls that are sure to make your blood run cold. And the Undead Dolls Quarter, where toys that once filled the dreams of children are now a living nightmare for adults! Edward and James Terebus have spent three and a half decades plotting terror that assaults all five of your mortal senses. Opened in 2000, they have fortified Erebus as their empire in Downtown Pontiac. Named after the Greek god of primordial darkness, Erebus is a four-story, half mile journey to the center of your worst fears. Fun fact: .since the Grand Opening, 7,092 people have chickened out (not made it all the way through) and 912 is the running total for wetters, pukers, and fainters according to the official Wimp-Out Scoreboard! Are you next?

---
---

9. The Bates Motel - Philadelphia, Pennsylvania - www.thebatesmotel.com: The Bates Motel celebrates 25 Years of Fear! This high action, haunted attraction theme park includes their famous, 25 minute, heart pounding, haunted hayride through the dark forests of Arasapha Farm, filled with high tech animatronics, 26 huge, Hollywood quality sets, 75 actors, and more pyrotechnics than a rock concert. The Cornfield haunted trail, takes you back in time as you walk through the tall corn, and enter ghost towns, graveyards, the slaughter house, and other full scale sets. With over 25 actors in full custom makeup and costumes, and long, dark corridors, this event is sure to send shivers up your spine. The cornerstone of this trilogy of terror is the Bates Motel. A huge Victorian mansion filled with computer controlled animatronics, digital sound and lighting, amazingly detailed rooms and top quality actors make this event one you will always remember. All three events boast custom digital soundtracks, computer controlled animatronics, DMX lighting and fog, and a host of professional actors. Consistently ranked as one of the best attractions in the country, The Bates Motel is one show you won't want to miss! Located only minutes from Philadelphia, Wilmington and the Main Line, it won't cost you an arm and leg to get there.
---
---

10. The Darkness - St. Louis, Missouri - www.scarefest.com: The Darkness is considered by some to be the very best haunted house in America because it features a combination of amazing special fx, animations, and incredible Hollywood set design. The Darkness features over the top one of a kind scream fx that impact an entire groups at the same time such as massive falling walls, moving floors, giant saws and more. The Darkness also features several stunt actors who fly across the top of the customers or leap down at them then disappear. The Darkness also features the World famous Terror Visions in 3D where crazed clowns lurk around every corner. The Darkness also has a massive outdoor scream zone, animated singing bands, large movie screens showing horror movies, and a monster museum filled with Hollywood memorabilia. The Darkness is also host to the entire haunted house industry each year for the annual Haunted House tradeshow, and serves as an inspiration to haunters across the World. More haunted house owners have toured The Darkness than any other haunted attraction in America. If you dare enter The Darkness prey you see daylight before your soul is consumed by the death which dwells inside its walls.

---
---

11. Cutting Edge Haunted House - Fort Worth, Texas - www.cuttingedgehauntedhouse.com: What if there was a show that was exciting, terrifying, electrifying, entertaining and chilling? A show that built your anticipation of excitement actually from the moment you began to approach it. The location seems like any other old building, its massive structure is dark and decrepit. But unlike most old buildings, this one has a profusion of search lights mounted on its roof as well as a colossal 50' Gargoyle holding vigil for almost two months out of the year. The expectation of The Cutting Edge Haunted House, "3X Guinness World Record Winner," starts your heart racing from miles away. You can feel the excitement building just pulling into the parking lot. Built in an old abandoned Meat Packing Plant in the lower east side of an area known as the "Hells Half Acre" district. The structure was built more than 100 years ago during Fort Worth's booming cattle era and still houses the original meat hooks and conveyor system used during the meat packing process. The image of the bldg alone is enough to make you shiver. As you arrive, the atmosphere is thick with music, entertainment and the anticipation of the dark and forboding journey waiting just beyond the Giant Skull Entrance. Bring your courage and someone to hold on to because you are about to brave an "experience you can only hope to forget". This adventure takes almost an hour to complete and has been referred to as "the longest adrenaline rush money can buy".
---
---

12. Kersey Valley Spookywoods - Greensboro, North Carolina - www.spookywoods.com: Kersey Valley Spookywoods celebrates 30 years in the business of fear in 2015. What started out as a small haunt has exploded into 60 acres of year round entertainment? Day time attractions include the massive corn maze with educational field trips for schools, jumping pillows, bungee trampolines, cow trains, tram rides, tree house village, dinosaur discovery pit and pumpkin patch. Spookywoods is more than just a haunted house with everything from ziplines to an all new 3 level high ropes challenge course. New for 2015 are the Escape rooms and a new 3 story Haunted Manor. The haunted manor sends guests into a 50,000 square foot haunted maze featuring monsters, ghouls and zombies. Over 150 original costumed characters reside in movie quality sets throughout Spookywoods just waiting to make you scream. Kersey Valley Spookywoods is one of America's best Screamparks because they offer everything from WORLD class SCREAMS to everything a family would want from a fall themed attraction.

---
---

13. House of Torment - Chicago, Illinois - www.thehouseoftormentchicago.com: The nationally recognized House of Torment comes to Chicago! House of Torment introduces a new brand of fear in Chicago this Halloween Season! One of the biggest, baddest haunted house experiences in the country is finally in Chicago to chill, thrill, and horrify you. This Hollywood­ quality haunt features terrifying monsters and tormented souls from the underworld that are ready to horrify Chicago this Halloween.The legendary House of Torment, a multi­layered psychological thriller, is more like a trip through a modern horror movie than just a haunted house ­ with detailed sets, iconic characters and chilling environments. As you make your way through this epic haunted house, don't be surprised if the sets and characters begin to seem more real than your most vivid nightmares. This Halloween SCREAMS blow through the Windy City who will survive?

---
---

14. Hex House - Tulsa, Oklahoma - www.tulsahexhouse.com: When you think of Oklahoma, you probably don't instantly think of haunted attractions, but Tulsa, Oklahoma happens to be the home of one of the nation's most intense hidden gems: The Hex House. The Hex House is based on a true story involving of one of Tulsa's most notorious residents: Carol Ann Smith. It's a true tale of mystery, murder, and the occult from Tulsa's dark past and a real sense of terror permeates every inch of every eerily lit corridor and ghastly room in Oklahoma's premier haunted attraction. The Hex House is truly an original, featuring unique set designs and one-of-a-kind scares manufactured in-house. The scares come in all forms and from all angles, providing a truly unnerving and frightening experience. A trip through Carol Ann Smith's "Hex House" is a horrifying descent into one of the darkest recesses of the human mind… and also one of the best haunted house experiences you can dare to take this Halloween season. If you like your haunts gritty, intense, unique, and loaded with fright, then the Hex House is certainly one you'll want to add to your bucket list. It will undoubtedly leave you… hexed.

---
---

15. Fear Experience - Cleveland, Ohio - www.thefearexperience.com: Cleveland has suffered thru the horrors of failure by its sports teams and now they are haunted by the Fear Experience one of America's best and certainly Cleveland, Ohio's biggest, best and scariest haunted house. The Fear Experience has grown way beyond just a haunt adding zombie laser tag, where the guests are allowed to hunt and kill zombies. The Fear Experience also features amazing set design, animations, and highly skilled professional actors who present an amazing interactive experience like nothing Cleveland has ever seen before. Every season Fear Experience expands their haunted house adding new attractions such as this year adding BioTeck Solutions a trip thru a genetic research lab filled with monsters.

Fear Experience also features other interactive haunts including Centralia County Fair an abandoned carnival, District 13, and The Estate a haunted mansion. Cleveland has something new to make them scream!





WATCH THE VIDEO OF THE TOP 15



7 Things to Do this Halloween Other than Trick or Treat
Tue, September 15, 2015
Beyond Trick-or-Treating: Fun Family Activities for Halloween Season Trick-or-treating may be the standard Halloween tradition for most American families, but the holiday has branched out extensively over the last decade. Today, Americans spend over one billion dollars visiting Halloween-the
Read More ...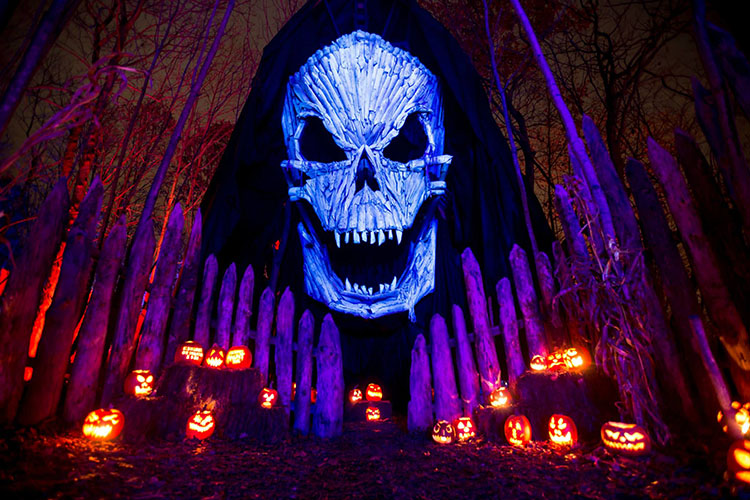 Beyond Trick-or-Treating: Fun Family Activities for Halloween Season
Trick-or-treating may be the standard Halloween tradition for most American families, but the holiday has branched out extensively over the last decade.
Today, Americans spend over one billion dollars visiting Halloween-themed attractions. Where are they going, and what are the best activities for your family? The experts at Hauntworld.com are offering some spooky answers in this ultimate fall to-do list.
Farm Fun
Many farms offer tons of fall activities ideal for families with young children, including picking the perfect carving pumpkin, finding your way out of a corn maze and drinking homemade apple cider. Other fun activities include pony rides, hay mazes, non-spooky hayrides, petting zoos and even shooting pumpkin cannons.
Ghost Tours
Ghost hunting television shows have really increased the popularity in finding haunts and eerie tours. Learn more about your local area's spooky history by taking family or out of town guests to haunted mansions, cemeteries, prisons and more.
Zombie Runs
What could be scarier than a 5K run? One with zombies of course! Zombie runs are a good time for the whole family, providing a fun reason to get kids and teens moving, using obstacle courses, contests, prizes and more as incentives.
Haunted Hayrides
Hayrides can be as sophisticated as a Hollywood movie, complete with fog machines and lights. Some have even adopted new twists. For example, on a zombie paintball hayride, guests go on a high adrenaline adventure, hunting and shooting zombies with paintballs. Haunted hayrides make guests and especially smaller kids feel safe as they ride in groups.
Home Haunts
Americans are now decorating their yards and homes into spooky graveyards with high tech lights, animations and more. Some homeowners take it further by also decorating their home's interiors and creating mazes in the garage or backyard. Finding a spooky home haunt or neighborhood near you can be a great Halloween activity to do if you're on a budget. For tips and tricks on haunting your own house, visit www.hauntedhousesupplies.com.
Escape Rooms
Escape rooms offer an immersive and interactive experience like none other. These Halloween-themed attractions involve working together to solve puzzles and riddles in order to escape a room in under an hour.
Haunted Houses
Haunted houses come in all shapes and sizes, ranging from three-dimensional black light attractions to haunted trails to major scream parks. Haunted houses also change regularly, so it may be very different from visit to visit. Today, most haunted attractions don't rely as much on blood and guts as they do on interactive special effects, sophisticated costumes, story lines and computer-generated imagery. To celebrate the scary side of Halloween, get the family together for an unforgettable night filled with fun and screams.
To find America's scariest haunted houses, trickiest corn mazes, spookiest zombie runs and every pumpkin patch, ghost tour and escape room near you, you can review a comprehensive directory of these attractions at
www.Hauntworld.com
.
While tradition never gets old, novel Halloween activities provide different thrills than a standard trick-or-treat trip around the block.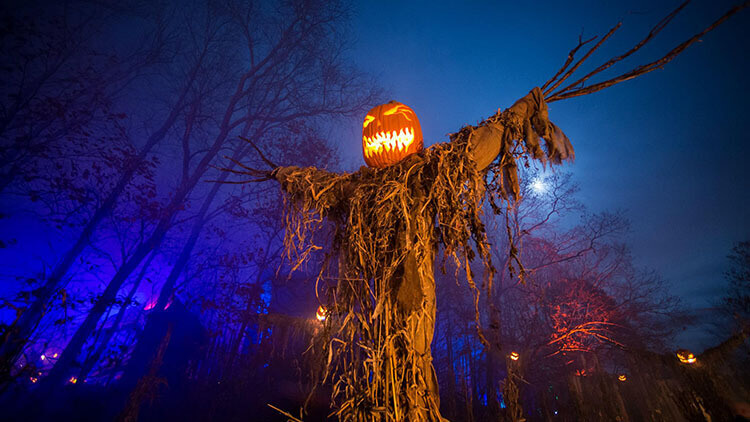 Photos Provided by Haunted Overload Haunted House
Houston, Texas Scariest Haunted House Review - Haunted Hotel
Sat, September 12, 2015
Beaumont, Texas - The Haunted Hotel By Hauntworld Magazine TO FIND MORE HAUNTED HOUSES IN TEXAS CLICK HERE ... http://www.hauntworld.com/texas_haunted_houses Texas Haunted Houses are some of the scariest and best in America! Hauntworld.com rates and review the best and Sca
Read More ...





Beaumont, Texas - The Haunted Hotel
By Hauntworld Magazine
TO FIND MORE HAUNTED HOUSES IN TEXAS CLICK HERE ... http://www.hauntworld.com/texas_haunted_houses
Texas Haunted Houses are some of the scariest and best in America! Hauntworld.com rates and review the best and Scariest haunted houses, haunted attractions, and Halloween events in America! The Haunted Hotel is located in Beaumont Texas, which is just outside of Houston Texas. The Haunted Hotel is one of the best and scariest haunted houses in Texas. Read the full review and story of the The Haunted Hotel in Beaumont, Texas. Please share this page and leave your reviews of one of Beaumont Texas best and scariest haunted houses. When you find yourself in the Houston, Texas area CHECK INTO The Haunted Hotel now read below our full review of the scariest haunted houses in Houston Texas.

To learn more about Texas' The Haunted Hotel visit their websit below:
Overcoming Adversity: How to Remain Strong as a Top Haunt Even After Tragedy Strikes The Haunted Hotel in Beaumont Tells All.
The Haunted Hotel in Beaumont Texas is one of the longest, continuously running haunted attractions in the country. This Halloween will be its 34th year in operation. It's a little known fact that the Haunted Hotel has inspired several of the major haunted attractions across the U.S. and has been noted as a trendsetter of several "special" events, most notable being The Haunted Hotel EXTREME. This little secret in Southeast Texas has become a frightful Halloween tradition that has span several generations of fans looking to get their thrills and screams every Fa
ll.
The origin of the Haunted Hotel began in 1982 inside the historic Rosemont Hotel in downtown Beaumont, TX. For 21 years they continued to grow and provide the community with a safe, but scary haunted experience. At the end of the 2003 season, they closed the doors to the attraction for the last time, or so they thought. Deteriorating conditions of the building forced them to leave the original location as the lease would not be renewed. Owner Eric Metts said, "It was hard leaving a place that we had called home for over two decades, and we literally thought that would be the end." But little did Metts realize how much the Haunted Hotel really meant to their fan base. There was an outpouring of support along with demands that the Haunted Hotel NOT close its doors on the community.

After several months of limbo, a new location was presented to Metts inside an entertainment complex, and the birth of the second chapter of the Haunted Hotel began. General Manager, Barry "Bear" Blaisdell, who has been involved with the Haunted Hotel since 1986 said, "It was amazing to see and hear how many people actually looked forward to the Haunted Hotel, and it was a miracle that we were even able to pull off the 2008 season at all." He quickly added, "But it wasn't exactly a perfect season." On September 13, 2008, the Haunted Hotel had an unexpected guest, a category 4 Hurricane named "Ike". After quick repairs, and some blood and sweat added to the mix, they managed to make it through the season and continued to scare everyone that walked through the doors for the next 8 years. As the Haunted Hotel continued to grow and was on track for a record season, the forces that be had other plans in mind.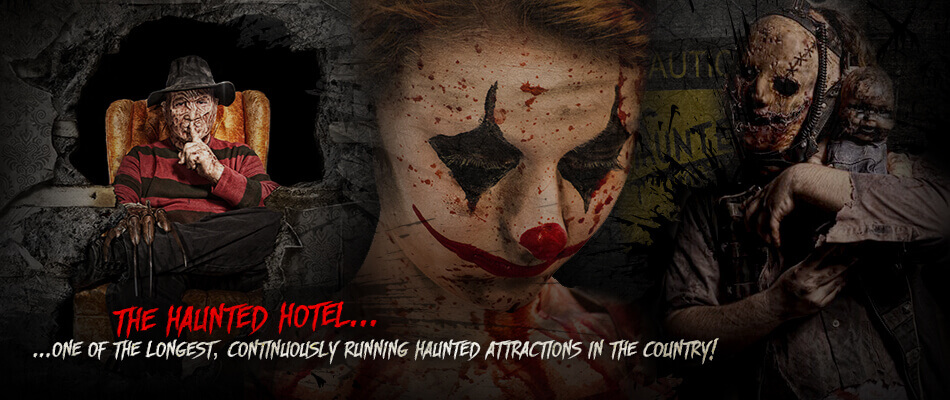 One week before Halloween 2015, the Haunted Hotel had an early morning fire that destroyed a majority of the attraction and forced Metts to shut down right before the main event. It was the first Halloween in 33 years that the doors of the Haunted Hotel weren't open to screams and laughter.

Most attraction owners would have taken the fire pretty hard. Metts, Blaisdell and the entire Haunted Hotel crew was no exception. Unfortunately, the black cloud wasn't quite through raining down bad luck on the Haunted Hotel. As a complete surprise to everyone, the owners of the entertainment complex unexpectedly decided to retire and close their business down, leaving them without a location once again. All signs pointed to the final end of the Haunted Hotel after a strong 33 years of serving the loyal fans from Southeast Texas and Southwest Louisiana. After scouting for several months and having no luck, Metts and Blaisdell accepted that The Haunted Hotel was officially done and had closed the doors for the final time. Ironically, there was already a special event scheduled called

"The Final Nightmare" on Nov. 1st to honor the horror icon Freddy Krueger. Blaisdell said, "It truly turned into a nightmare, but I'm used to being in control of them and this one I couldn't change."

There were numerous meetings, long nights and then a little luck... An opportunity arose that the duo just couldn't pass up. Metts was able to buy a building that he says, "…will allow us to grow and be a force to be reckoned with in the Haunted Attraction community. This new building is three stories tall, over 15,000 square feet and will be unlike anything people have seen or experienced in our area," said Metts with excitement.

"It's funny actually. Ever since we left downtown Beaumont, people said we needed to return downtown. They claimed the atmosphere was creepier and scariest there," Metts said. And, as fate would have it the building they bought is in fact back in downtown. Not only that, but the building is right next door to the original location, and they actually share the back wall of the old hotel. So after 11 years they've come full circle to return to downtown Beaumont.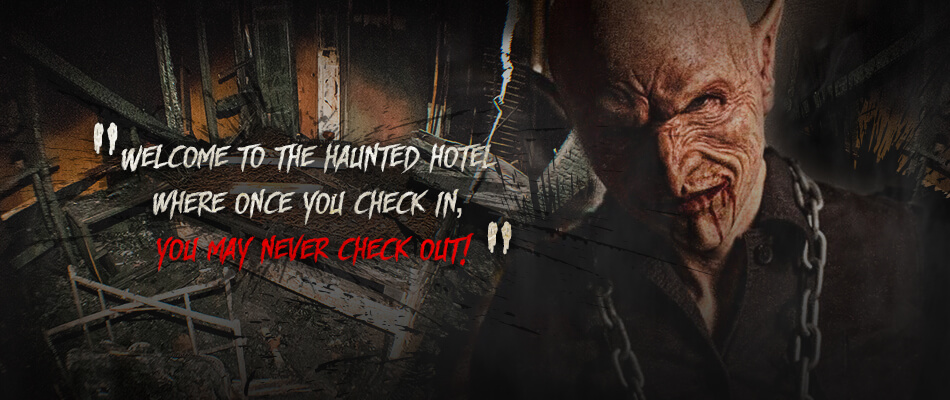 Blaisdell said, "It's crazy how the journey took us from here, threw us numerous obstacles, and left us right back where it all started." The Haunted Hotel is back at Crockett and Orleans once again for the biggest event to hit downtown in years. They are located at 447 Orleans St. in the historic city of Beaumont, Texas. Construction just began in April so only the first floor will be open to haunt-goers this year, but it's 5,000 square feet of raw fear and all new scenes.

"Smaller sure, but our haunt fans couldn't be more supportive and excited. It just goes to show that if you create a proper tradition of haunting and treat your customers to the scares they expect, you don't just end up with a great haunted house but an amazing fan base and heart-warming community support. We have THE BEST haunted house fans," said Metts. "Future plans are in the works to grow and spread the attraction to the other floors, but this season is sure to be the most talked about, and we want to share this experience with everyone. A bigger building means a bigger crew, more insane scenes, and new memories to share with new generations."

They have been working very hard to get this rolling and can't wait to show you what will be lurking in the shadows of their new haunted home. Welcome to the Haunted Hotel where once you check in, you may never check out!
Haunted House Halloween Season Is HERE Updates from Hauntworld
Sat, September 05, 2015
The Halloween Haunted House season is FINALLY HERE with haunted attractions, Halloween retail, family fall themed entertainment is opening across America. Hauntworld has added many new features and has added new types of Halloween entertainment listings such as zombie walks, zombie runs, zombi
Read More ...




The Halloween Haunted House season is FINALLY HERE with haunted attractions, Halloween retail, family fall themed entertainment is opening across America. Hauntworld has added many new features and has added new types of Halloween entertainment listings such as zombie walks, zombie runs, zombie laser tag, pumpkin festivals, escape room games, extreme haunts on top of haunted houses, hayrides, corn mazes, pumpkin patches and much more. Search our data base for ghost hunting to corn mazes to the biggest, best, and scariest haunted houses including real haunted houses.
We are also asking if you would JOIN OUR YOUTUBE HAUNTWORLD PAGE ...
CLICK HERE TO JOIN OUR NEW YOUTUBE PAGE
. If you subscribe to our YOUTUBE page we will be uploading hundreds of videos of the best, scariest and most unique haunted house videos. Also we ask this season that you rate and share your favorite Halloween attractions from our site please spread the word about the haunted houses you like and even the ones you don't. Each profile on our website allows you to rate and share them.
Prepare to Scream! Halloween is finally here!
TEXAS HAUNTED HOUSE SCREAM HOLLOW REVIEW
Wed, August 19, 2015
Austin, Texas - Scream Hollow Wicked Halloween Park By Eltan Machala & Zoe Bird TO FIND MORE HAUNTED HOUSES IN TEXAS CLICK HERE ... http://www.hauntworld.com/texas_haunted_houses Texas Haunted Houses are some of the scariest and best in America! Hauntworld.com rates an
Read More ...





Austin, Texas - Scream Hollow Wicked Halloween Park
By Eltan Machala & Zoe Bird
TO FIND MORE HAUNTED HOUSES IN TEXAS CLICK HERE ... http://www.hauntworld.com/texas_haunted_houses
Texas Haunted Houses are some of the scariest and best in America! Hauntworld.com rates and review the best and Scariest haunted houses, haunted attractions, and Halloween events in America! Scream Hollow is located in Austin Texas. Texas Haunted Houses have become big business over the last couple of years. Scream Hollow is one of the best and scariest haunted houses in Texas. Read the full review and story of the Scream Hollow in Austin, Texas. Scream Hollow Wicked Halloween Park is one of the most massive, scariest, biggest haunted attractions in the entire state of Texas. Hauntworld takes you behind the SCREAMS to see what makes this Haunted Halloween Attractions one of the ultimate haunted houses in Texas. Please share this page and leave your reviews of one of Austin Texas best and scariest haunted houses.

To learn more about Texas' Scream Hollow visit their websit below:
Austin, TX is known for being a vibrant, eclectic and dynamic city. Austin is proud of it's uniquenessand its tag line of "Keep Austin Weird". Austin, however, is about to get weirder and wicked!
There is a cold, seeping dread creeping amongst the moonlit forest of the Texas night... There is something evil in these woods, something ominous. Is it the reports of paranormal happenings at the Saint Adella mansion? Or maybe some biological freaks of a military experiment run amok? Or perhaps the eerie laughter of an insane clown as he wanders through a cannibal Circus from Hell?
Enter Scream Hollow, Austin's newest attraction, a nearly 20-acre Halloween theme park, located just 30 miles east of Austin, in Bastrop County. Scream Hollow is quickly becoming one of the top haunts in the country and is everything Halloween you ever wanted. Here are the top 10 reasons why you should visit Scream Hollow this Halloween:

1.
Scream Hollow is the brainchild of haunted-house guru Norm Glenn. Norm is a master of the scare, and an outstanding Halloween visionary. Norm has been scaring people for over 20 years, and has perfected the art to a science. Scream Hollow is the product of combining the next generation of the Mansion of Terror Haunted House, which reigned as the scariest haunted house in Austin for 7 years and voted the #1 haunted house in the nation by Lions Gate Films. His creative outlet is paired with a long-term vision of having a permanent location, the manifestation of 20 years worth of captured haunt ideas, and the masterful manipulation and creation by the Scream Hollow crew. "I am passionate about everything Halloween and Haunted Houses; my mission is to create a truly terrifying haunt experience.

Scream Hollow will provide a fun and safe environment for everyone to enjoy haunted houses, but they will leave terrified from an adrenaline-filled adventure! That's what people want. We spent 3 years on this project with a crew of 78 builders, carpenters, set designers, partners, prop designers, and lighting and sound technicians," said creator and owner Norm Glenn. "Scream Hollow is already one of the largest haunted houses in the country with over 70,000 hours invested in the project before we even open our doors." With that amount of planning, building and implementing, scares come guaranteed!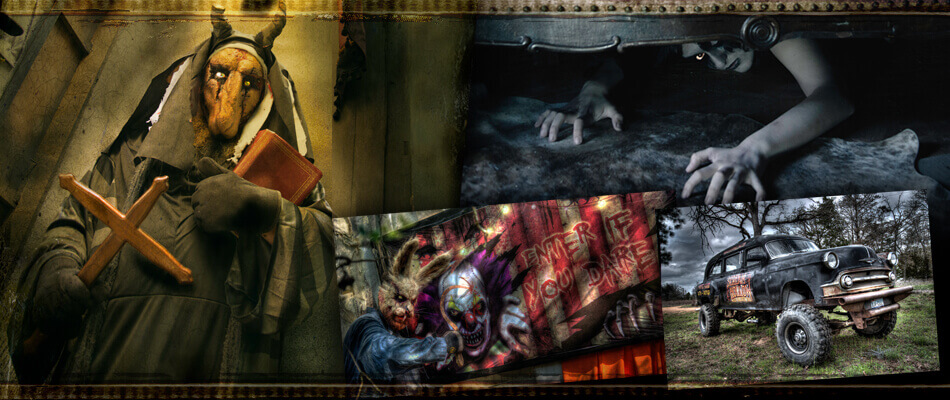 2. Mansion of Terror : Phantoms is one of three horrific haunted houses at Scream Hollow Halloween Park. Some may recognize the name, as this is a beefed-up incarnation of Austin's award-winning Mansion of Terror.

The creepy mansion is a two-story abandoned Victorian-mansion built inside an actual forest. Story has it that in late fall of 1842, a beaten wagon-train limped into the Bastrop area containing only the children survivors of a horrific journey. Adella, a local spinster, took in the orphaned children. She built an orphanage among the towering loblolly pines, yielding plenty of wilderness for the children to play. The locals called her Saint Adella; however this was far from the reality, as none suspected the terror that lay within the ornate walls of this enormous mansion, or of Adella's obsession with black magic and the conjuring of spirits from the other side. The truth of the situation became apparent with the mysterious disappearance of Adella, the discovery of children graves in the mansion's ghostly chapel, and the magical and paganistic items left behind in the mansion. The gates of the Mansion were closed long ago to protect unknowing travelers from entering accidentally. However, the locks have now rusted off and the mansion gates are open with no one to protect those who enter it's walls. Sounds are beginning to fill the grounds of the mansion again, and if you listen intently, you can hear the nursery rhymes coming through the walls and the faint screams of children from the basement below the mansion.

3. Lost Pines : Zombie City is the second of Scream Hollow's frightening haunted house experiences. Lost Pines is a small town in Texas which holds a deadly secret. The town of Lost Pines has been contained and abandoned for 20 years. For reasons unknown, Lost Pines was evacuated and locked away from the public following the installation of a military outpost surrounding the city. No one was allowed in or out, and the town became closed and abandoned…until now. Recently, one building started humming with some sort of activity.

A group of "cyber punks" hacked the security system, convinced that government was creating a deadly biological-weapon. They were half-right. Top-secret papers stolen from the military outpost show that something went wrong with experiments and weapons created in the city of Lost Pines, and that government feverishly tried to recreate the mysteries of their biological discoveries, attempting to control the weapon's effects. They wanted to develop a vaccination before releasing knowledge of the weapon. However, something went wrong in the process and the city was quarantined and secured, leaving so many questions unanswered. What happened to the people in the town? Where is everyone? Why is the military outpost abandoned? Can you discover the secrets in Lost Pines Zombie City? More importantly, can you survive and find your way out???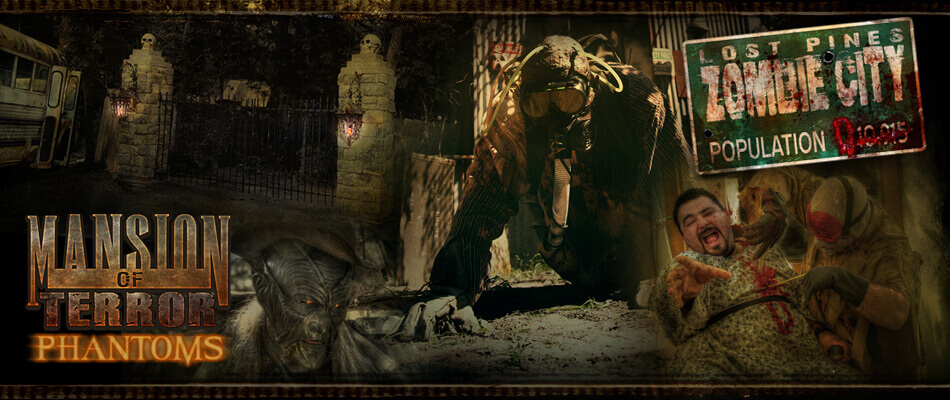 4. Slaughter Circus is the third haunted attraction at Scream Hollow. Slaughter Circus is the traveling entertainment extravaganza provided by Vicious T. Mangles and his crew of psycho clowns.

When we last saw Mr. Mangles and the Slaughter Circus, they were traveling city-to-city looking for a permanent location and a steady stream of unsuspecting victims. They eventually settled in the back woods of Bastrop, Texas. Tents and rides were set up amongst the tall pines and magnificen oaks providing a grand setting to lure the locals with a carny spectacle; Thrills and scares were contained within the curtain walls with bloody popcorn, tortuous acts, and the grand finale: DEATH.

But little did Mr. Mangles and his crew know that these woods were already occupied by the Palmer Family. The Palmer's dated back to the 1800s with a history of bloody cannibalism. For over two centuries, Native Americans avoided the area and set-up warning stones around the Palmer woods. The entrance to the Palmer's redneck Hell was adorned with human spines and fresh skulls impaled on trees. Local tribes whispered legends of wicked ghost screams coming from the woods in the dark of night. Multiple disappearances across Bastrop County point directly to the Palmers sacrificing their victims in their demonic rituals. When the Palmer Family discovered Slaughter Circus on their land, they were enraged. Their thirst for blood was overwhelming, and on the next full moon, they vowed to dismember and barbecue every last clown in sight along with anyone who got in their way.

The Palmer Family has surrounded the carnival, and is prepared for their epic massacre. However, Vicious T. Mangle and the Slaughter Circus are vindictive, ruthless, and ready to fight back. We dare you to enter the hallowed grounds of Slaughter Circus and come out alive!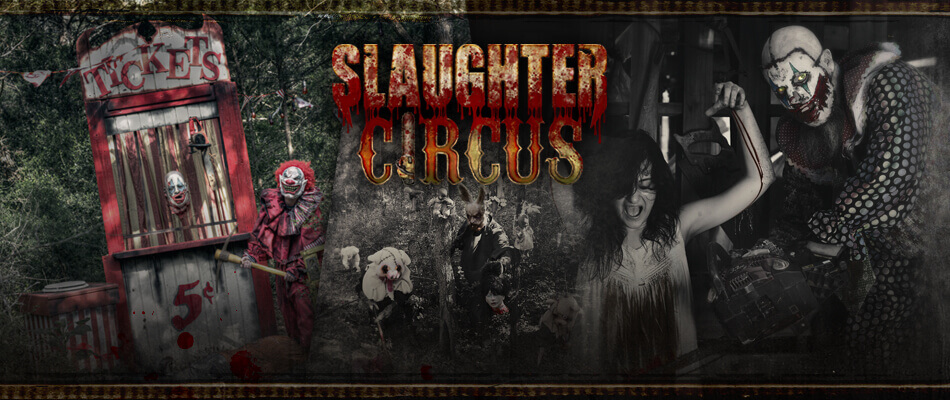 5. The Rabid Bat Vampire Bar : This is the place to rest, hang
upside
down and roost for the evening at Scream Hollow. This is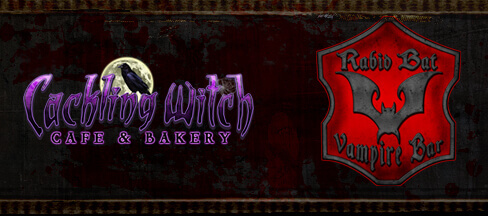 for all the
devious and
provocative creatures of the night. Come
explore the
lounge if you dare! We invite you to sip on a glass of blood red-wine, or some harvested cold beer on tap. The ambiance will take your breath away...and a free coffin ride if it really does!
6. Cackling Witch Café and Bakery : Come sit for a spell and see what Scream Hollow's Chef Kenny has conjured up with his delectable eats and treats to torture your taste buds! We have everything from Chicken and Waffles, to Turkey Legs, to Bacon Infused maple muffins, and everything in-between. Halloween- inspired foods to stimulate the senses and fuel-up guests between haunts.

7. Concessions and Vendors : Need some respite between haunts? Do you want to know if you will survive the terrors of the park? Visit one of Scream Hollow's many vendors, including Fortune Tellers and Tarot card readers to discover the answers to your future.

8. Live Music and Entertainment : Scream Hollow has its own stage and offers live music during the Halloween Season. With such proximity to Austin, TX: "Live Music Capital of the World", it goes without saying that exciting new bands and outstanding live music will be showcased at this entertainment destination.



9. Free On-site Parking 2015

– that's right FREE! Scream Hollow provides its patron's with free on-site parking with safety lighting, HD video monitoring, and uniformed officers. Scream Hollow considers the safety of its patrons first and foremost, so that fun can be had by all!
10. Affordable, fun entertainment for the whole evening. Scream Hollow provides its patrons with a choice of ticket pricing to suit every pocket. Scream Hollow is an evening destination, full of everything wicked and Halloween, but it won't leave your pockets feeling burned. You choose how many attractions you wish to visit. Tickets range from $5-$25 with discounts available for groups of four. Tickets can also be pre-purchased online for your convenience at ScreamHollow.com. What are you waiting for? Your Halloween adventure awaits you!
---
So there you go! These are the top 10 reasons to visit Scream Hollow this fall.
Opening September 18, 2015, come experience this wicked Halloween park for yourself to discover many more reasons to visit.
Are you prepared to be scared?!


Are you ready to get wicked this Halloween?!



For more information, tickets, location and upcoming events
visit http://www.ScreamHollow.com

You can also find Scream Hollow on Facebook Page: Scream Hollow Bastrop Texas 2015
and on Twitter and Periscope: @Scream_Hollow
Find the biggest and best haunted house suppliers, supplies, masks, zombies, monsters, animations, special fx and every thing between to build and create your own haunted house this Halloween season. Are you looking to build or create your own haunted house for profit, or for a charity event or anything between? Here at Hauntworld.com we help haunted house owners all over the World find the best and scariest animations, costumes, to illusions all the way to the best companies who build modular haunted houses. Are you looking for the best 3D blacklight haunted house, or simply someone to design or consult you on your next haunted attraction? Are you looking for companies that sell animation control systems, or companies that offer liability insurance for haunted houses? Maybe you need cob web guns, or fog machines? Do you need a company to print your haunted house t-shirts, or design a logo or create a haunted house website? Maybe you are looking for how to books, videos, dvd's, or need to locate the best haunted house tradeshows, events, and more. No matter what you are looking for to build and create your own haunted house from safety equipment like fire retardant to online ticketing companies to the best lighting and sound companies Hauntworld.com will help you find the best haunted house suppliers for your next Haunted Halloween Attraction.
You can find on these pages the best companies the industry has to offer we however strongly suggest you visit the vendors who are featured on the first page. There are many vendors over the years who did not supply companies what they paid for and or their equipment didn't live up to what was promised. That is why here on Hauntworld.com haunted house vendor directory you can find profiles for vendors and leave feedback. We strongly suggest you leave feedback especially when you have a postive transaction with vendors.
Our data base of vendors grows each day so check back often as our goal is to feature up to 1000 different companies which will provide haunted house owners the best products and services. Our system is the most advanced, updated and used system on the web for finding all haunted house vendors, suppliers, and events. Thank you for using our system and again please leave reviews for each vendor. Happy Haunting.
Find the best haunted house vendors, suppliers, and events here at www.Hauntworld.com.