Find the best haunted house vendors, suppliers, and haunted attraction supplies here using the biggest online directory of companies who create animations, zombies, monsters, props, to complete modular haunted houses. Are you looking for companies who supply special fx, to fog machines, and or companies who help you find haunted house insurance? You have found the best place on the web to find haunted house and Halloween attractions suppliers, supplies and vendors. Plus we help you find the best haunted house resources like magazines, how to dvd's to all the biggest haunted house Halloween tradeshows, events, seminars and haunted house tours. Our system is the most advanced directory on the web allowing our guest to search for what they need and leave feedback for each company they do business with. We strongly encourage everyone to visit their favorite vendor and leave positive feedback so new customers know they are a good company to do business with. Lastly we strongly encourage new buyers to do business with featured vendors to help ensure you will get the best products and services. If you own a haunted house make sure to list your haunted house at www.Hauntworld.com the webs biggest haunt directory and subscribe to HauntWorld Magazine at www.hauntedhousemagazine.com
DIRECTORY OF HAUNTED HOUSE SUPPLIES

| | |
| --- | --- |
| | Entertainment & Other Services For Hire |
| | Escape Room Game Designers |
| | Fog Machines, Fog Fluid & Scents |
| | Insurance |
| | Lighting & Sound, plus CD Soundtracks |
| | Make-Up & Supplies, FX Prosthetics, Teeth/Fangs, Contacts |
| | Magazines & Books |
| | Masks, Costumes, Supplies, Puppets |
| | Marketing, Social Media, Photo Marketing, PR, Advertising, |
| | Paint & Paint Supplies |
| | Paintball Supplies / Zombie Hayrides |

| | |
| --- | --- |
| | Payroll & Operations |
| | Props, Wall Panels, Monsters, Zombies, Decor |
| | Pyrotechnic Special FX / Water FX |
| | Safety Equipment, Fire Retardant, Crowd Control, etc |
| | Supplies & Tools for Theming: Foam Carving, Web Guns, Paint, Latex, etc |
| | Ticketing Solutions, ATM Machines, Supplies |
| | T-Shirts, Gift Shop, Photos, Promotional Items, |
| | Website, Graphic Designers, Custom Logos |
| | Zombie Event Designers & Suppliers: Laser Tag, Paintball, Runs, Etc |

Are you a vendor & want to list yourself in biggest directory of haunted house supplies,

click here

Existing vendor

login here

to manage your listing.
3-
UNIT 70
Columbus, Ohio


Views: 13541

Scare Products
Uploaded By:

Oak Island Creative


Created Date:

18 April, 2018

Scare Products
Uploaded By:

Oak Island Creative


Created Date:

18 April, 2018

JelcoProps
Uploaded By:

Kurt Jelinek


Created Date:

29 January, 2018

JelcoProps
Uploaded By:

Kurt Jelinek


Created Date:

29 January, 2018
The Darkness 2018 Transworld Haunted House Tour - Recap Video
Wed, May 02, 2018
The Darkness opened for the 2018 Transworld Haunted House and Halloween Tradeshow this past March. The Darkness was totally renovated between the months of November and March adding several new scenes, sets, special fx, and screams for the 2018 Halloween season. The entire haunted house industry came and visited The Darkness, Terror Visions 3D, Silo-X, St Louis Escape and the all-new Lemp Brewery Haunted House.

First up is a recap video of the all-new Darkness Haunted House. Hear the reactions of haunted house and escape room owners from around the World. Watch the video below and see what was new at The Darkness. The Darkness opens in September for the Halloween season 2018. Learn more at www.thedarkness.com



Transworld 2018 Halloween Tradeshow COMPLETE TRADESHOW FLOOR VIDEO
Thu, April 19, 2018
Watch our complete 2018 Transworld Halloween and Haunted House Tradeshow video. See what was new, hear from trendsetters its all here! Watch the video below and get a taste of what was happening including vendor interviews, and exclusive looks at new props, masks, and much more. Ne
Read More ...




Watch our complete 2018 Transworld Halloween and Haunted House Tradeshow video. See what was new, hear from trendsetters its all here! Watch the video below and get a taste of what was happening including vendor interviews, and exclusive looks at new props, masks, and much more. Next up is the MHC Show in Columbus, Ohio learn more at www.HAASHOW.com

Scare Products releases new product line 2018
Thu, March 29, 2018
Out with the old, in with the NEW! Scare Products has worked hard to bring you an all NEW website and shopping experience. Now you can easily browse your favorite products or take advantage of the new chat feature to ask one of our helpful team members any questions. You even have the ability to dow
Read More ...




Out with the old, in with the NEW! Scare Products has worked hard to bring you an all NEW website and shopping experience. Now you can easily browse your favorite products or take advantage of the new chat feature to ask one of our helpful team members any questions. You even have the ability to download the latest Scare Products catalog for all your shopping needs. We are proud to be your haunted event and prop destination. Let's scare America together! Learn more at
www.scareproducts.com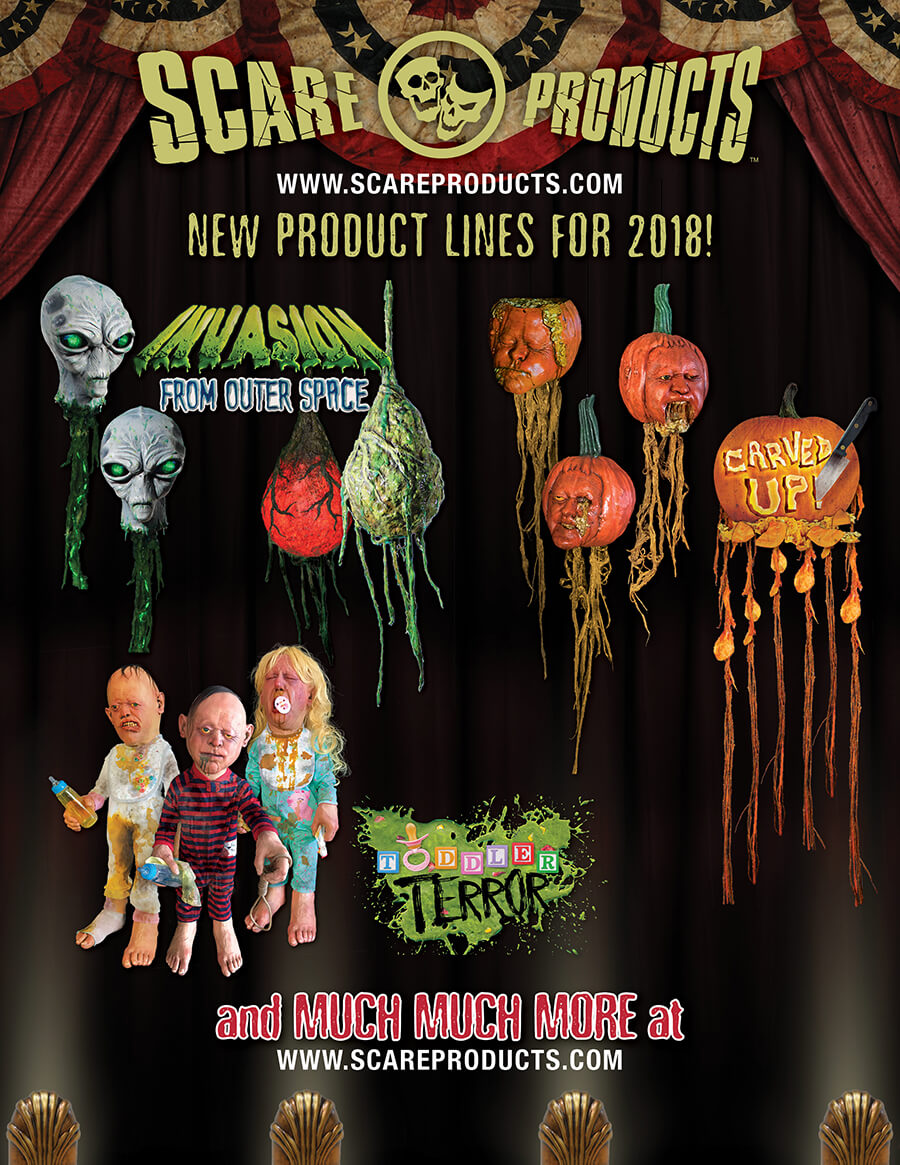 Queen Mary Dark Harbor - Los Angles California Biggest and Scariest Haunted House
Tue, March 20, 2018
The Queen Mary's Dark Harbor – Long Beach, California By Brian Luallen TO FIND MORE HAUNTED HOUSES IN CALIFORNIA CLICK HERE ... https://www.hauntworld.com/california-haunted-houses California's Haunted Houses are some of the scariest and best in America! Haun
Read More ...





The Queen Mary's Dark Harbor – Long Beach, California
By Brian Luallen
TO FIND MORE HAUNTED HOUSES IN CALIFORNIA CLICK HERE ... https://www.hauntworld.com/california-haunted-houses
California's Haunted Houses are some of the scariest and best in America! Hauntworld.com rates and reviews the best and Scariest haunted houses, haunted attractions, and Halloween events in America! The Queen Mary's Dark Harbor is located in Long Beach, California. Please share this page and leave your reviews of one of America's best and scariest Haunted Houses. When you find yourself in Long Beach go to The Queen Mary's Dark Harbor. Queen Mary Dark Harbor is the single biggest Halloween event in the entire Los Angles California area. Queen Mary Dark Harbor is also the scariest event hosted on the single most haunted ship in the World.
To learn more about Calfornia's Queen Mary's Dark Harbor visit their websit below:
The Legendary RMS QUEEN MARY hosts ghosts and ghouls, inspired by the ship's own haunted history, at one of the largest and most extreme Halloween events in the world!
---
Dare to spend an evening in Southern California's most terrifyingly authentic haunt? Look no further! The Queen Mary's world famous Dark Harbor features 7 ghoulish mazes, nonstop entertainment on multiple stages, electrifying drinks, secret bars, festival food, private tours and more all based on the ship's own legendary, ghostly tales.
Where it all began…

The RMS Queen Mary is the last ocean liner from the Golden Age of transatlantic travel. Rising from the fogs of Long Beach California, near Los Angeles, in stark black and white with "Cunard Red" smokestacks, she instantly brings to mind her "older sister," the ill-fated Titanic, though she's twice the size of that other famous liner.

Retired in the late 1960s, the massive ship was brought to Long Beach when inexpensive air travel replaced steamships as the most economical way to travel the globe. The original wooden finishes and art deco details of the Queen Mary's First Class areas have been largely preserved in this floating 24-hour hotel, event centre, and museum. Over 50 million guests have visited the ship since it reopened to the public in 1970; many in search of things that go bump in the night.

Time Magazine calls the ship one of the most haunted places in the world, and many would agree. Among the ghosts reportedly still hanging around are a crew member who died in the ship's engine room, a "lady in white" that haunts some of the ship's opulent ballrooms, and perhaps most famously, a spirit of an alleged "little girl" who drowned in the ship's pool. Even today crew members still report mysterious activity, and some of the house keeping staff won't even visit the ship's lower decks.

During WW2, an escort vessel collided with the ship causing a massive loss of life. During her sailing years, another 51 deaths occurred aboard. Illness, two cases of passengers falling downstairs and breaking their necks, and in one gruesome example, an officer named William Stark drank carbon tetrachloride (mistaking it for gin) and died from the poisoning the next day. Supposedly, people have seen the image of an officer walking around on Sun Deck and the Bridge early in the mornings and they believe it is his ghost.

The ship was facing hard times when it began turning to its darker history to generate revenue. It's a common joke that a boat is a hole you throw money in, and at over 81,000 tons, several operators have struggled to generate a profit with the massive ship. Ghost tours proved a fairly low cost, high demand offering for guests.

But in time, the Queen Mary launched its first Halloween event (then called Shipwreck) in 1995. Originally only one haunted maze took guests through the ship's labyrinthine Engine Room, and into its three-story Exhibit Hall for a massive rave dance party. That event would grow to include a variety of mazes, both on the ship and in the surrounding buildings before dwindling in size.

In 2010, a new creative team was brought together to reimagine the event, taking inspiration from the legends of reported ghostly activity. A decision was made to also embrace the surrounding port, with much of the new event being constructed with massive assemblies of shipping containers, and a decidedly industrial aesthetic. In time, this would grow into a full-scale festival of fear, combining the look and feel of a carnival, sprawling around the Queen Mary every fall.

And that was the beginning of Dark Harbor.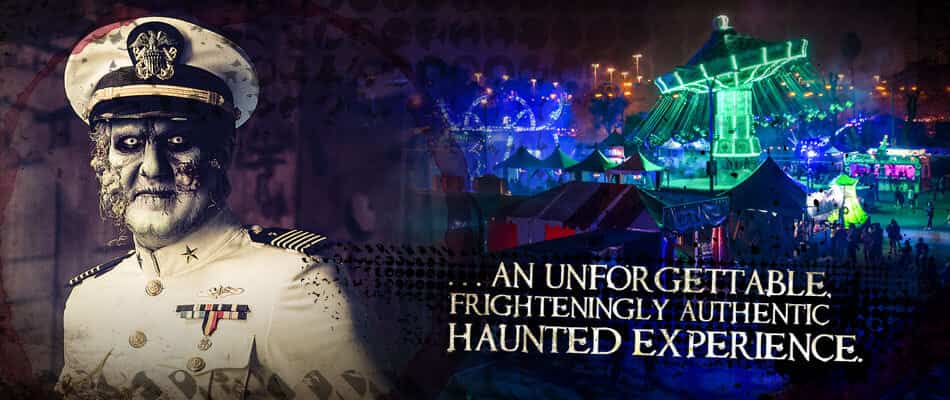 The Captain's Crew…



Since its inception, the event has grown to become the ship's most profitable, annual special event, hosting over 150,000 souls over the 2017 season.
Upon entry, guests are funneled through a security screening before reaching the event gates, where the ships ghostly Captain cheers the crowd, while massive 40 feet jets of propane fire ignite the night. DJ's spin exciting music, and frightfully sexy attendants mill around the crowd offering sinister potion shots.

And just behind the gates, our talent director, David Wally, drives the cast into frenzy. Watching the monsters dance, and psyche themselves up for a night of fright is an awesome sight. The energy is palpable, and the crowd on the other side of the gates thrills to the chants, howls and screams of the cast, thirsty for blood.

At the Captain's command, the gates are flung wide, and guests enter the event through a massive gauntlet of monsters, sliders, and our icon characters in an opening ceremony unlike any in the industry. The nightmares start with this monster run, but guests quickly spread to their favorite mazes, and to discover tequila tastings, cocktails, and unique food as the frightful park opens.
Dark Harbor attendees will never see Freddy Krueger or Jason Voorhees terrorizing our guests. All of the fearsome spirits of Dark Harbor are inspired by stories from the ship's past, brought to life in spectacular fashion.

The street cast is comprised of frightful spirits of every kind. Sailors, sliders, clowns, and artful circus sideshow performers entertain and scare guests at every turn. The most popular ghouls are the icon characters: The Captain, Graceful Gale, The Ring Master, Samuel The Savage, Half Hatchet Henry, Scary Mary, The Voodoo Priestess, The Iron Master and Chef.

Beyond the normal scare zones, Dark Harbor boasts a huge roster of entertainment. Wandering acts and stage shows delight the guests, creating a unique party and festival atmos-fear that is truly unique. A nightly fire show with multiple dancers thrills audiences, and circus aerialists delight crowds while flying through the air on hoops and silks. The nonstop entertainment creates a sense that the event is much larger than one might initially think, an important benefit when competing with massive events like Universal Studios' Halloween Horror Nights and Knott's Scary Farm.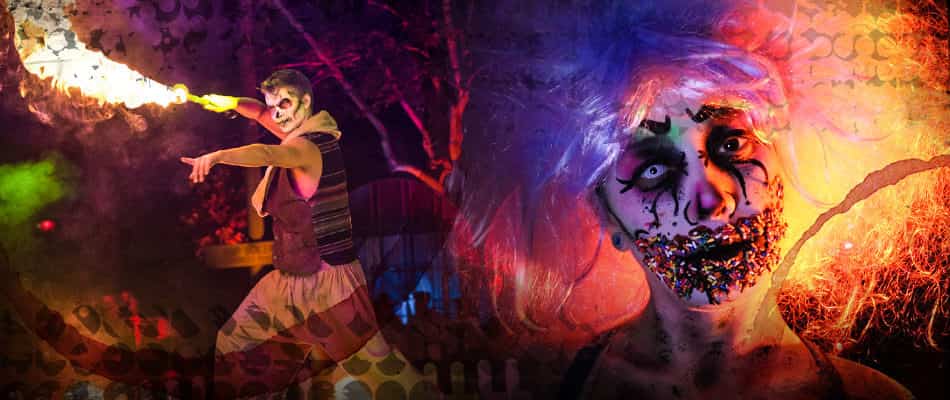 The Haunts…

Queen Mary's Dark Harbor features 7 frightful mazes, each inspired by those original stories of the ship's famous authentic hauntings.

In 2017, Dark Harbor debuted an ALL NEW maze on the ship called FEAST! The new maze is based on a new icon character, Chef, who originated from a popular legend about an army cook that was killed in his own ovens.

During WWII, the Queen Mary served as a troop transport ship, carrying hundreds of thousands of Allied soldiers to Europe for the D-Day invasion. According to legend, an enlisted cook rose to become a highly decorated Chef. Depending on the story, in either a reaction to notoriously bad food or as an act of revenge, the Chef was forced into one of his own ovens and cooked alive. In the new maze, our ghostly kitchen crew is found still at work, trapping new victims for some of Chef's diabolical recipes. In one pivotal scene, guests are forced to crawl through a hot oven tunnel, before coming face-to-face with the Chef.

In fan-favorite maze, Deadrise, guests are assaulted by the ghostly crew of a sunken escort ship that helped guide the Grey Ghost through WWII. Inspired by the true story of a fatal crash during war time voyages, Deadrise is home to the vengeful Half Hatch Henry. Half Hatch Henry and the sailors of Deadrise have been called up form the briny depths by The Captain to terrorize the living.
With Dark Harbor being known for its larger-than-life pyrotechnics, Deadrise takes guests frightfully close to jets of propane fire and massive water effects. The signs don't lie, you WILL get wet in this attraction! As guests exit, a team of energetic ghouls engage in parkour-like stunts off the exit containers, creating loud crashes and a show that guests love to watch.

In recent years, the industrial maritime horror has also been mixed with a unique turn-of-the-century circus aesthetic, inspired by a famous painting in the ship's original First Class restaurant, the Veranda Grille. In the painting, a Halloween-like masquerade complete with clowns, witches, and acrobats dance in a massive party scene. In this deep theme, the Captain has conjured the Ringmaster (the spirit that inspired this painting) to create a carnival of chaos in our popular Circus maze.

In addition to clowns, the Circus maze features classic fun house illusions, carnival acts, and a section where guests have to crawl through a giant ball pit crawling with creatures (and ADA bypass is offered). Last season, the crew also launched a new hidden bar concept inside the maze that proved hugely popular among fans and on social media. Fans found clues online that led them to speak to a fortune teller arcade game that revealed the secret entry if the riddles were answered correctly.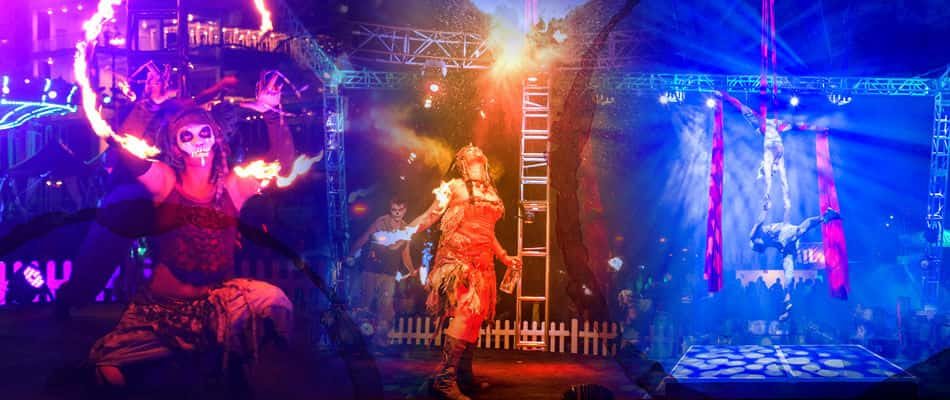 The intrepid maze was inspired by the Scottish shipyards that built the ship over 80 years ago. Drawing from a vintage industrial design and Scottish folklore, this maze located off the ship is hosted by the evil Iron Master, the mastermind behind the ship, and a ghostly train that takes guests from Dark Harbor deep into the dark crypts beneath Scotland.

Utilizing a portion of the footprint of a former maze called Voodoo Village; the maze is haunted by fearsome kilted warriors and mysterious plague doctors. Fading from shipyard, to train, to dark crypts and snowy Northern Scotland, this is a surreal experience unlike any of the other more linear mazes found on the ship, and has been a big hit with fans. The massive set pieces and the detail of the catacombs make it unlike any other maze in the event.

Another more traditional icon, the alluring Graceful Gale, haunts Soulmate located on the aft or rear portion of the Queen Mary. In her signature maze, Gale has been haunting the ship looking for a perfect dance partner since her mysterious disappearance. As guests explore the maze, they realize the spirit (styled as a beautiful blonde in a flowing white gown, soaked in blood) has taken to assembling her perfect partner from the pieces of less suitable partners. The creative team behind Dark Harbor has big plans for this maze, expected to be announced at Midsummer Scream convention in July.

Legend has it that the ship's most haunted room is B-340. In the maze of the same name, guests explore the background of our icon, Samuel the Savage, and what drove him to madness. Guests see the number 340 throughout the maze, in cryptic messages, clocks, numbers on endless doors, etc. The maze explores a popular myth that a man went mad on a voyage and murdered his family in the room.

This maze is an extreme experience, from padded walls to classrooms, where stern and terrifying nuns brutalized a young Samuel. The path carries back to the fateful night that Samuel went insane, joined by surreal hallways with bizarre sculptures, representing the twisted recesses of Samuel's brain. The maze also contains Dark Harbor's most jarring and effective gag. Guests explore a terrifying bridge over a 50 feet fall into the ships cavernous boiler rooms, when with a crack of electricity and a cackle of massive 3.4 million volt tesla coil lights the space, the bridge suddenly drops. While the pneumatics only drop the platform a short distance, the effect is sure to shake even the most hardened guest!

Finally, the last on ship maze, Lullaby, is hosted by Scary Mary. Inspired by perhaps the most famous ghost of the Queen Mary, a little girl who allegedly lost her life in the First Class swimming pool, this icon is both scary and playful!

Indeed, Scary Mary seems to appear from every corner, in surprising ways. In the most popular sequence, guests walk by the pool that is said to have a "vortex" in it. This gateway to another place is believed to be one of the most haunted in the world. Naturally, the art deco pool is also an extremely effective distraction, setting our cast up for amazing scares.

While the Queen Mary has been able to grow its Halloween event by embracing its unique haunted history, it's the extreme party atmos-fear that makes it truly unique. Most haunts and scream parks in Southern California have either stayed away from serving alcohol, or only begun to explore bars in limited ways. At Dark Harbor, the crew has embraced it, creating an event like an EDM music festival more than a traditional haunt.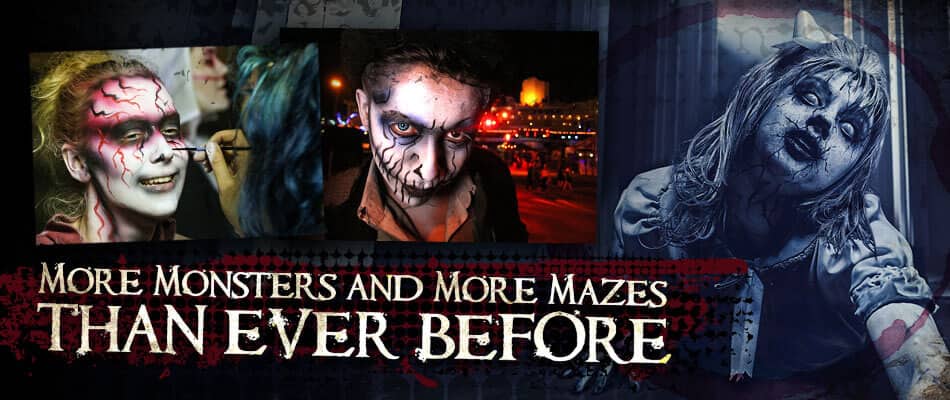 The Voyage Ahead…

Dark Harbor has been a monstrous success, inspiring a host of other popular events for the ship.
During her sailing years, the ship hosted literal and figurative royalty on voyages. Hollywood and entertainment has always embraced the ship. As such, it's fitting that the ship has embraced entertainment in its future strategy.

Elaborate plans are being developed for an entertainment zone with multiple restaurants and themed attractions on the waterfront surrounding the ship. Dark Harbor is a prime example that the right program can excite crowds and draw a new audience to visit the legendary liner. The producers of the Coachella music festival have also just announced a partnership with the ship to create a series of massive concerts in the shadow of the ship each year.

None of this would have been possible without the dark delights of Dark Harbor, and this haunt will continue to grow for many years to come.


Woods of Terror Greensboro North Carolina - Scariest Haunted House
Mon, March 12, 2018
Woods of Terror – Greensboro, North Carolina By Hauntworld Magazine TO FIND MORE HAUNTED HOUSES IN NORTH CAROLINA CLICK HERE ... https://www.hauntworld.com/north-carolina-haunted-houses North Carolina's Haunted Houses are some of the scariest and best in America!
Read More ...





Woods of Terror – Greensboro, North Carolina
By Hauntworld Magazine
TO FIND MORE HAUNTED HOUSES IN NORTH CAROLINA CLICK HERE ... https://www.hauntworld.com/north-carolina-haunted-houses
North Carolina's Haunted Houses are some of the scariest and best in America! Hauntworld.com rates and reviews the best and Scariest haunted houses, haunted attractions, and Halloween events in America! Woods of Terror is located in Greensboro, North Carolina. Please share this page and leave your reviews of one of America's best and scariest Haunted Houses. When you find yourself in Greensboro North Carolina go to Woods of Terror.
To learn more about Greensboro North Carolina's Woods of Terror visit their websit below. When you're trying to find the biggest, scariest, haunted houses you find them at Hauntworld.com
---

There's scary and then there's insane scary. Woods of Terror is insane scary and has been ever since it opened 27 years ago.
---
Woods of Terror, a haunted house production located on McLaurin Farm's 32 acres just off Church street in Greensboro, North Carolina, is the brainchild of Eddie McLaurin who designed and built all of the attractions. By day, Eddie is a mild mannered, 6-foot 4-inch haunt entrepreneur. By night he transforms into a 7-foot horror monster named Bone Daddy, with a red and black mohawk as well as a 6-foot python draped around his neck.

"Managing a staff of nearly 175 people, ordering supplies, handling finances, and constructing sets…that's the business side of things. Dressing up every night and scaring people is the fun side of things," said McLaurin.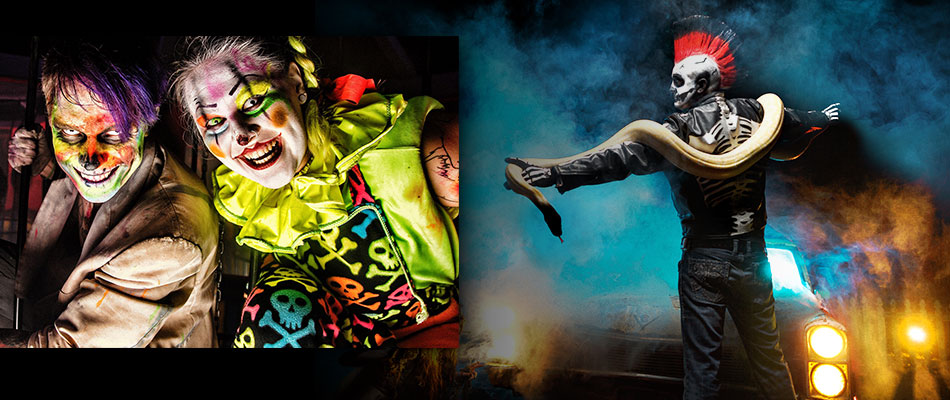 This past season Woods of Terror presented over a dozen frightening haunts:

"Arachnophobia" This haunted attraction features an assortment of live snakes, spiders, and other creepy crawlers.

"Creepersville" Fall is a time for harvest, but they won't be harvesting corn. The loathsome nightstalkers will be harvesting their favorite food…you!

"Industrial Nightmare" According to legend many years ago, a greedy company laid off scores of workers, and they still inhabit the shuttered plant. Every night they have a feast, and visitors are the main course.

"3-D Clown Town" This 3D haunted house is chuck full of scary clowns and childhood phobias, where guests go on a wild ride and wonder if the walls are really alive.

"The Blood House" Inside this haunted adventure, you'll find a building full of beautiful lady vampires, but don't be fooled. These creatures of the night are looking for a special donation.

"The Awakening" This extreme haunted house experience calls up wandering, hungry zombies who want to have you for dinner.

"Horror Movie Classics" No haunt would be complete without Jason, Michael and Freddy, and Woods of Terror puts them in the most surprising places, sure to scare you silly inside the Horror Movie Classics haunted house.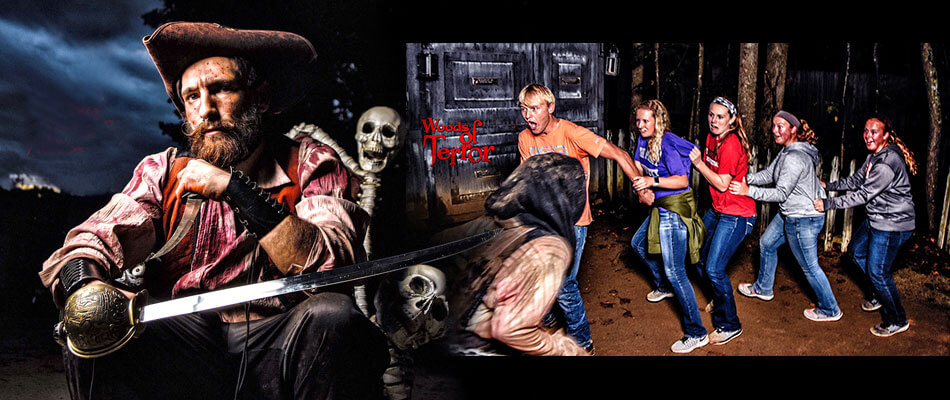 "Blackbeard's Revenge" is home to the famous and scariest pirate himself. Is he still alive after all these years? Are tales of his beheading just rumors? This ruthless haunt will play with your mind leaving you frightened, alone and wondering what's reality.

"Miners' Massacre" Once the site of a tragic accident, the evil dead now haunt every visitor who dares to enter.

"The Slaughter House" is another extreme haunt experience where the bloody meat cleaver becomes the least of your fears. Getting in is easy, but getting out…not so much.

"The Purge" The new founding fathers introduced an American tradition to build a better America by cleansing our nation. This is known as THE PURGE. Inside this haunt, you'll no longer fear the dead, you'll fear the living!

"Blackout Terror" creates fear of the unknown, whereby willing participants agree to don a black hood, then make their way through a completely dark house.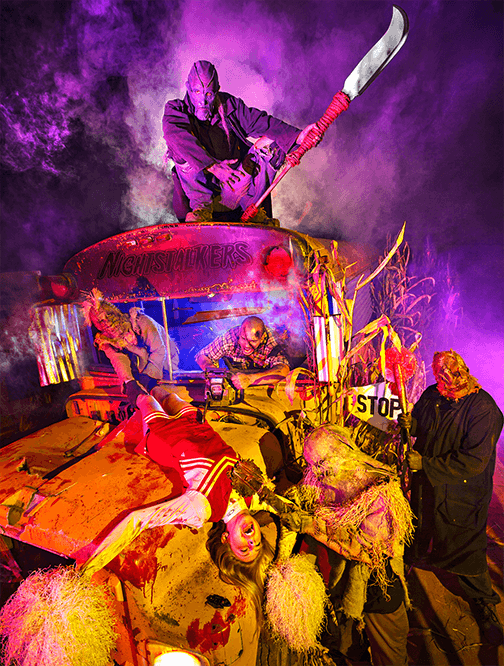 "Monster Midway" For this haunted midway, they start off every night with a parade of horrific monsters and then sing the National Anthem and end with fearsomely loud fireworks. While individual attractions may change from year to year, "Monster Midway" remains a perennial favorite and every night for the past 7 Halloween seasons, Woods of Terror has opened with this parade. Nearly 100 ghoulish monsters stomp the parade route, brave guests pose with them for photos, and the National Anthem is sung. "People just love our midway. It's a place for customers to shop in our Bootique, enjoy concessions, and stay for the music from our live DJ. It's fun and sort of sets the mood for the horrors to come", said McLaurin.

Don't let their midway fun fool you though. These haunts can be terrifying for children and adults alike. "Woods of Terror is so frightening that we rate our haunt as PG-13 and we do not offer child prices because we do not cater to children and no child under 5 will be admitted. In fact, I also tell adults who get scared easily not to come here, but that just makes them want to come here all that much more", says McLaurin with a sly grin.

With top notch entertainment and scary fun haunts, it's no wonder that year after year Woods of Terror is named one of the nation's leading haunted house hotspots and with thousands of visitors each night, Woods of Terror also has a significant impact on the area's economy. In addition, McLaurin Farms is host to a variety of annual fund raising events to benefit local charities. Even during the Christmas season, Woods of Terror morphs into the region's largest festival of lights.

McLaurin Farm has something going on all the time, from breast cancer awareness events to special parties for kids with multiple sclerosis. "It's a way for us to give back to others throughout the year," said McLaurin.
Question: Your farm location has been around for awhile...correct? Has that helped you or hindered you into transitioning it into an October ScreamPark?

Answer: Although the land has been in my family for 4 generations and passed down to me, I started the Woods of Terror from nothing 27 years ago. I had to take what was a cattle farm and turn into a haunted attraction.


Question: What do you attribute much of your success to? -AND- Who do you attribute much of your success to?

Answer: I don't know about the other guys, but my success is a result of hard work, and there's a long list of individuals who have helped me along the way. I have to start with Jesus because so many times when I was growing the haunt I was only one bad decision away from closing. So many incredible things have happened or have fallen into place that are unexplainable. You would not believe them if I I told you. Next would be family, starting with my grandparents who let me play out my entrepreneurship on their property. You could imagine their reaction when I told them my plans for a haunted attraction and how I planned to execute it. Next, my Dad: Although we do not agree on everything, he taught me to work hard and never quit. Also my Mom: She helps me to this day. My Girlfriend: She runs the day to day operations. And,the list goes on and on. My staff: I have a great maintenance man,great makeup artists, and some truly incredible actors. It takes a big team to make the dream work. And of course, it doesn't hurt to hire a great public relations/ marketing and media buyer.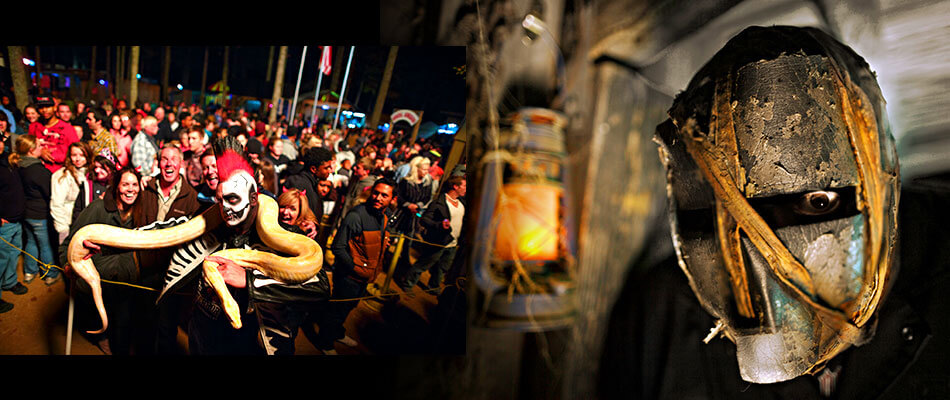 Question: Your haunt is well known in the haunted house community and throughout NC for giving back to the community. What specifically is your favorite or most memorable?

Answer: I have had several events, such as breast cancer awareness night, a trunk or treat for children with Muscular Dystrophy, a fund raiser for a local 14 year-old boy in our community who is battling cancer by supporting the "Do it for Johnny" Campaign to raise funds for medical bills. But my favorite way to give back is my scholarship program. Three years ago, I decided to give back to my staff so I launched a scholarship program for employees who "need a little extra help". Each scholarship is $ 1,000. My senior staff and I look for individuals who are deserving and are hardworking and dedicated to the Haunt World. The 1st year started with a 10-year veteran actor who was struggling to finish college. We also chose a 2-year actor fighting a medical battle but displayed courage and dedication by coming to work every night in spite of his illness. I have awarded these scholarships to individuals who are amputees who work harder than non- disabled employees and a staff member who is deaf. One year, a staff member who is wheel-chair bound needed assistance buying a new wheelchair. Basically, I give out two scholarships each year, one for a female employee and one for a male .

Question: Over many years, the haunted house industry seems to go through frequent trends sometimes as frequent as annually. Do you work with those ever changing trends or do you prefer to stay more traditional with your haunt events? and why?

Answer: People generally do not like change. However, I learned awhile ago that changing my haunted attraction is beneficial and profitable for me. I consistently change about one-third of my show each year and will continue to grow and improve every year. I like to think that I know my audience and I try and evolve the attractions to keep my customers coming back, because it is exciting and surprising and most of all fun to be scared! The trend of using Facebook and social media has absolutely helped my haunt. However, the trends of zombie paintball or paintball hayrides I avoided. It really just depends on what the trend is at the time. Some things water down my haunt, so I decide against them. I do one thing... I do Halloween and I do it right!


Question: What are your future plans for haunting North Carolina?

Answer: Just as I have done in the past 10 years, I will continue to bring in new things and exciting changes that have never been seen in a haunt before, and I will continue to train my staff so we provide the best actors in the Piedmont Triad which is a big part of Woods of Terror's success.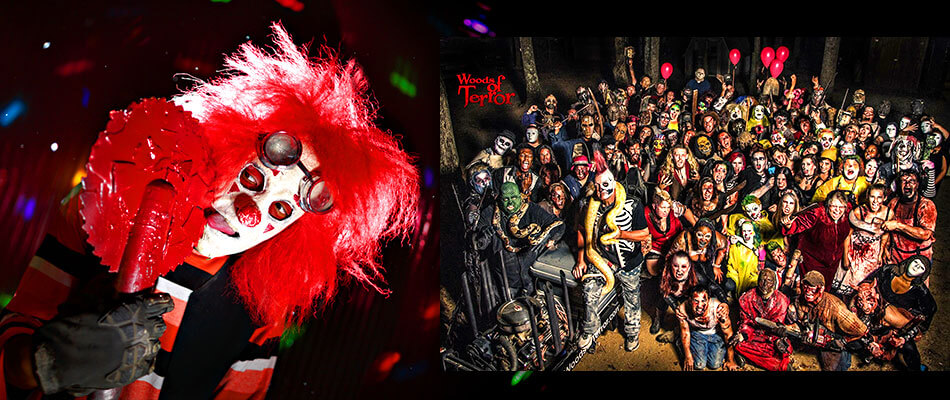 Find the biggest and best haunted house suppliers, supplies, masks, zombies, monsters, animations, special fx and every thing between to build and create your own haunted house this Halloween season. Are you looking to build or create your own haunted house for profit, or for a charity event or anything between? Here at Hauntworld.com we help haunted house owners all over the World find the best and scariest animations, costumes, to illusions all the way to the best companies who build modular haunted houses. Are you looking for the best 3D blacklight haunted house, or simply someone to design or consult you on your next haunted attraction? Are you looking for companies that sell animation control systems, or companies that offer liability insurance for haunted houses? Maybe you need cob web guns, or fog machines? Do you need a company to print your haunted house t-shirts, or design a logo or create a haunted house website? Maybe you are looking for how to books, videos, dvd's, or need to locate the best haunted house tradeshows, events, and more. No matter what you are looking for to build and create your own haunted house from safety equipment like fire retardant to online ticketing companies to the best lighting and sound companies Hauntworld.com will help you find the best haunted house suppliers for your next Haunted Halloween Attraction.
You can find on these pages the best companies the industry has to offer we however strongly suggest you visit the vendors who are featured on the first page. There are many vendors over the years who did not supply companies what they paid for and or their equipment didn't live up to what was promised. That is why here on Hauntworld.com haunted house vendor directory you can find profiles for vendors and leave feedback. We strongly suggest you leave feedback especially when you have a postive transaction with vendors.
Our data base of vendors grows each day so check back often as our goal is to feature up to 1000 different companies which will provide haunted house owners the best products and services. Our system is the most advanced, updated and used system on the web for finding all haunted house vendors, suppliers, and events. Thank you for using our system and again please leave reviews for each vendor. Happy Haunting.
Find the best haunted house vendors, suppliers, and events here at www.Hauntworld.com.