Haunted Scarehouse - Two Floors of Fear!! Regarded by Halloween enthusiasts as Jersey's most original and innovative haunted attraction, Haunted Scarehouse features two floors of heart-stopping entertainment. Rooms decorated like movie sets, jaw-dropping props, disorienting noises, actors heightening your tension, ratcheting up your fear—it's all here for your enjoyment. Your night of nonstop shock begins once you set foot on the eerie premises. The lobby, featuring horror memorabilia, TV screens, photo ops, and enticing merchandise, boosts your excitement for the award-winning show. Navigate the darkness, explore two gigantic haunted houses, journey through numerous rooms created by expert set builders, interact with special effects, animated walls, fearfully realistic set pieces and scenes—everything a professional haunted house should be, and much, much more. Inspired by the imaginative genius of pioneer Walt Disney and his theme parks, Scarehouse's creative team strives to match Disney's awe-inspiring levels of craftsmanship, detail, and live performance. Come and experience for yourself why Haunted Scarehouse was rated Scariest Haunt in North Jersey by Fright Tour 2013.


Website :
www.hauntedscarehouse.com/
105West Dewey Avenue
Wharton, New Jersey, 07885
Contact Phone : 862-244-4454
Email :

admin@hauntedscarehouse.com
This Attraction is miles
from your location.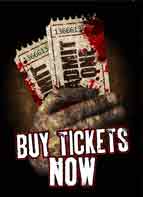 Select the feed you want to view


Tweet your comments and read reviews of this haunted house using
@HauntedScarehouse
LEAVE YOUR REVIEW NOW -
@HauntedScarehouse
Read The Latest Comments about
@HauntedScarehouse
ABOUT "HAUNTED SCAREHOUSE"
THE HOUSE OF NIGHTMARES: The fully interactive maze of terror is the largest of its kind in New Jersey. Movie-like props, bone-shuddering special effects, monsters galore haunt every step you take. Crazies inhabit every room, every corridor, every corner. And they don't take kindly to trespassers. You will be punished! Journey through blood-smeared scenes of hideous carnage, creatures attacking from above and below, one shock after another keeping you on edge - a harrowing extravaganza guaranteed to get your heart racing. Yet the show has only just begun. Your evening of chills and thrills is far from over.
CLIMB THE CREEPY STAIRCASE.

TAKE A DEEP BREATH.

ENTER...

THE ATTIC: A labyrinthine attraction packed with even more monsters, ghouls, demons, and psychos. The clown room -a fan favorite- sets a terrifying tone, daring visitors to journey farther into the unknown. Stalking visitors as they roam the eerie halls, tormenters lurk everywhere, jumping out from hidden crevices, from anywhere they can get at you. Then come face to face with creatures from popular horror movies, beasts and brutes from your most disturbing nightmares. Go deeper and deeper into the darkness, immersing yourself in an unforgettable Halloween experience. Certain to shatter your nerves are skin-crawling bugs, grotesque corpses, startling noises, mysterious walls, and numerous high-intensity scares. Horrors beyond comprehension, beyond description, await you. Get your tickets now!
TICKET INFORMATION & PRICES
TICKETS: $22.00
Price includes both attractions: The House of Nightmares & The Attic
 
Opening Weekend Discount of $2 off all ticket types! 
ID discount night on Thursday October 23rd. Just bring a college, military, police, or Fire ID and show at the ticket booth for $2 off admission!
 
Anyone with a large group of 18 or more, call (732) 485-2653 ahead for discounts. Tickets can be purchased on site at the ticket booth or can be purchased online now! Ticket booth closes at posted times but the haunts do not close until the last person goes through the attractions.
 
All tickets will be scanned. Do not duplicate. First ticket scanned will be admitted entry all others will be denied entry. Ticket valid one time and for date of purchase only.
 

  

 TICKETS: $22.00
Price includes both attractions: The House of Nightmares & The Attic 
DATE/TIME SCHEDULE
9/26, 9/27, 9/28, 10/3, 10/4, 10/5, 10/10, 10/11, 10/12, 10/17, 10/18, 10/19, 10/23, 10/24, 10/25, 10/26, 10/30, 10/31, 11/1

http://hauntedscarehouse.com/schedule/  
Haunted Scarehouse

Scare Factor


RATE IT:




9.5

Skulls

Monsters/Actors


RATE IT:




9.5

Skulls

Originality


RATE IT:




9.6

Skulls

Sets, Detail, Theming


RATE IT:




9.6

Skulls

Special FX


RATE IT:




9.4

Skulls

our guest rated this attraction


48

SKULLS OUT OF 50
DATES OF OPERATION IN COLOR
mouse over on COLOR DATE for hours.
TICKETS: $22.00 Price includes both attractions: The House of Nightmares & The Attic Opening Weekend Discount of $2 off all ticket types! ID discount night on Thursday October 23rd. Just bring a college, military, police, or Fire ID and show at the ticket booth for $2 off admission! Anyone with a large group of 18 or more, call (732) 485-2653 ahead for discounts. Tickets can be purchased on site at the ticket booth or can be purchased online now! Ticket booth closes at posted times but the haunts do not close until the last person goes through the attractions. All tickets will be scanned. Do not duplicate. First ticket scanned will be admitted entry all others will be denied entry. Ticket valid one time and for date of purchase only.



BUY TICKETS NOW CLICK HERE



TICKETS: $22.00 Price includes both attractions: The House of Nightmares & The Attic
REVIEW - Haunted Scarehouse
COMMENTS - WRITE A REVIEW