Find the Scariest Haunted Houses in OHIO also make sure to Join our Facebook Page

Click Here

or Join our Haunted House Forums to discuss the scariest haunted houses in OHIO

Click Here

. Also subscribe to Hauntworld Magazine

Click Here

.

Ohio Haunted Houses have grown over the years to feature some really amazing haunted houses some of which have been featured on Travel Channel. Several years ago when we visited haunted houses in the Cleveland, Ohio the haunted houses in Ohio seemed to be around every corner especially in the Cleveland, Ohio area haunted houses are very popular form of entertainment and more haunted houses in Ohio can be found at Hauntworld.com. On Hauntworld.com you will find every type of haunted houses in Ohio from a haunted hayride, haunted house, Halloween Attractions, ghost tours, to paranormal ghost hunting. Read all about the best and scariest haunted houses in the state of Ohio here at Hauntworld.com. Ohio has some of the biggest haunted houses in cities like Columbus, Akron, Mansfield, Toledo and Springfield Ohio.
When looking for a scary or the best haunted house in Ohio look no further than the area of Cleveland, Akron, Toledo and Columbus, Ohio because this is an absolute hotbed for haunted houses which would also include the Akron area. Ohio has more haunted houses than almost any other state in America, and not only do they have several haunts but they have some of the best found anywhere. Ohio has many cities with great haunted houses especially Ohio area which has more of the top rated haunts than any other city in America.
Do you want to know what we feel are the best haunted houses in Ohio? Do you want to know the Scariest Haunted Houses in Ohio? You will find Ohio haunted houses here at Hauntworld.com We want you to share your experiences on our Facebook page.l
Here are some of the Ohio haunted houses we've visited or have ranked as some of the best in America but also the best haunted houses in Ohio. Lets start with Dead Acres in Columbus, Ohio, this haunted house is one of the most unique haunted houses in Ohio but also America. They feature live in your face actors who are over the top hard core, with brains being blown out, to you name it but Dead Acres also features top notch sets, detail, animations and much more. The Haunted Schoolhouse in Akron Ohio is by far one of the biggest haunted houses in America spanning five stories of fear with amazing detail, sets, special effects and much more. Another one of our favorite Ohio haunted houses is in Mansfield, Ohio where you can visit the real Mansfield Prison same location where they filmed Shawshank Redemption the movie. Every October Mansfield Prison turns into a really creepy Ohio Haunted House.
Please be sure to rate and review haunted houses in Ohio leaving comments on this page or join our Facebook page and share your experiences. We look forward to hearing all about your best haunted experiences in Ohio.

UPDATE: New TYPE of haunted attractions in Ohio featured at many SCREAMPARKS are these zombie paintball hayrides, where guests get to shoot and kill zombies from hayrides. Zombies roam the fields of an old farm and you armed with paintballs blast away killing as many zombies as you can find! Lastly many farmers or Screampark owners have embraced the concept of MUD RUNS, ZOMBIE RUNS, and different kinds of themed races. You should really look at these haunted attractions often because they feature so many different kinds of events all year long. Your local farms are now a lot more than farms from pick your own pumpkins, zip lines, mud runs, zombie races, paintball hayrides, to pony rides and more. Lastly many haunted houses are NOW OPEN YEAR AROUND in Ohio opening for special events from a Friday the 13th to Valentines Day or Spring Break which now haunters call SCREAM BREAK! So do not think for a second that haunt season is only during Halloween its now year around for some haunts. In fact Ohio features many year around haunted houses located in tourist towns across Ohio. Check Hauntworld.com often to find the biggest, best and scariest haunted houses in Ohio!

Ohio Haunted Houses
There are countless areas and places throughout the country where strange occurrences and supernatural phenomenon seem to take place. And while it would be difficult to label one single state as the most haunted in America (bizarre happenings surely occur in every state), paranormal experts seem to agree that there's no doubt that the majority of hauntings and paranormal activity centers around once specific place in the U.S. – Ohio. The Midwestern state along with its neighboring states comprise a major paranormal hotspot in the country; chances are, you're never more than a stone's throw away from an area where something rather strange has happened.

From the original Native Americans who hunted in the dense forests to the early settlers cultivating the land, the great Buckeye state has been inhabited for hundreds of years. Its hills and valleys are chock full of mysterious and places, especially in the southeastern portion of the state along the Appalachian ridge. One of those places is known as Hocking Hill, an area known by locals to be particularly haunted. During the 19th century, Hocking Hill was bustling with small towns that were settled because of the rapid growth of the iron and railroad industries. Once the industries faded, so did the towns. Little remains other than a handful of scattered settlements, abandoned tracks, and dilapidated ruins, creating the perfect backdrop for haunted happenings.

If you're looking for a more immediate adrenaline rush, try one of many well-known Ohio haunted houses located in and around all the major OH cities like HAUNTED HOOCHIE haunted house at Dead Acres in Pataskala, the DENT SCHOOLHOUSE in Cincinnati, TERROR TOWN haunted house, GHOSTLY MANOR in Sandusky, the HAUNTED SCHOOLHOUSE & LAB in Acron, the HAUNTED PRISON EXPERIENCE in Mansfield, the HAUNTED CAVE at Lewisburg, LAND OF ILLUSION haunted house in Dayton, SPOOKY RANCH at Rockin R Ranch in Columbia Station, SCREAM ACRES at Leaders Family Farm, FACTORY OF TERROR haunted house in Canton, HAUNTVILLE haunted house in Elyria near Cleveland Ohio, BULL RUN FARMS haunted attractions in Lebanon, FEAR FOREST haunt & hayride in Lordstown, and especially the LEGENDS OF HORROR & HORROR ACRES in Springfield. Each of these haunts have unique reputations of being one of the scariest haunted houses in Ohio. Some are even ranked scariest in the world!

Another infamous haunted place in Ohio is the United States Air Force Museum located in Dayton. Night guards have reported seeing apparitions and hearing mysterious voices and sounds throughout the museum. For example, strange, unexplained lights have appeared in a B-24 plane and the ghost of a young Japanese boy has been seen standing next to the bomber that dropped an atomic bomb on Nagasaki. While you may not be able to visit during the night (when most of the occurrences are said to have happened), this notoriously haunted museum is definitely worth a trip during the day – admission is free!

Cleveland, Ohio's - The Fear Experience Haunted House
By Hauntworld Magazine
TO FIND MORE HAUNTED HOUSES IN OHIO CLICK HERE ...
http://www.hauntworld.com/ohio_haunted_houses
Ohio Haunted Houses are some of the scariest and best in America! Hauntworld.com rates and review the best and Scariest haunted houses, haunted attractions, and Halloween events in America! The Fear Experience is located in Cleveland, Ohio and has one of the scariest haunted houses in America! Prepare to scream! Sit back and prepare to scream through our review of The Fear Experience. This Halloween you can't miss the scariest and best haunted attraction in the entire state of Ohio, The Fear Experience. Their attraction features some of the scariest actors, crazies scenes, and amazing set design. Now sit back and read all about the best haunted house in the the Cleveland area, The Fear Experience. The Fear Experience is by far Cleveland Ohio's best haunted house and scariest haunted attraction and now rated and reviewed by Hauntworld.com. The Fear Experience features five different attractions in the same location and we will review the biggest, best and scariest haunted house in Cleveland Ohio.
To learn more about Ohio's The Fear Experience visit their websit below:
www.thefearexperience.com

TO FIND MORE HAUNTED HOUSES IN OHIO CLICK HERE ...
http://www.hauntworld.com/ohio_haunted_houses
---
From a backyard haunted house to tackling one of the toughest markets in the country, The Fear Experience has had to evolve to stay ahead. Their team has brought a new standard of quality to the Cleveland market which has captured people's attention. In 2011, the attraction was voted best in Cleveland, in 2013 it was named "Northeast Ohio's Premier Haunted House" and in 2014, the haunt set the stage for an internationally recognized music video.

The Fear Experience began years ago when the owners were just 12 and 15. Owners Max Simon and Nick Francis (now 19 and 22) are cousins and have been building haunted houses since they were kids. They first worked together in 2007 when Simon helped Francis operate an extensive haunted house Francis had constructed in his garage & backyard. They both had a passion for all things haunted and combined they became unstoppable.
---
Back then, the duo decided to build a massive home haunt and enter a national competition hosted by Good Morning America. They began building in the summer of 2008, and by fall they were putting the finishing touches on an elaborate 8,000 square foot attraction in Francis's backyard. "The haunt took up my entire yard; 7 years later the grass still hasn't't grown back," says Francis. "We spent days researching our favorite horror movies and haunted houses and tried to incorporate some of the ideas we liked. The end result left our families amazed by the terror we created. Nobody believed we could build something that impressive."

They hired a professional videographer to produce the video that would be submitted to Good Morning America for the haunted house competition. "Our video received the most votes nationally but didn't't manage to win. We found out on Halloween and were incredibly disappointed," says Simon. "It seemed like all our hard work was for nothing - that is until we opened our doors to the public later that night."

In just three hours of operation, over 500 people came to their haunt. Not bad considering it was in a residential neighborhood and they had no advertising. At 10 pm, the police showed up and shut them down, but by then Francis and Simon knew they were onto something. The two saw endless opportunity ahead. Of course, they couldn't keep running the haunt in Francis's backyard, so that night the young entrepreneurs decided they would open a commercial attraction the next year.

Fast forward to present day and their commercial haunted house attraction, The Fear Experience, has taken the Cleveland market by storm. "It hasn't't been easy; Cleveland is competitive. Sometimes it seems there's a haunted house around every corner and some have been around for over 20 years," says Simon. "But for us, the competition acts as a constant stimulus."



Francis adds, "We believe the only way to keep haunted house customers coming is to put on the best, scariest and most entertaining show in the market, and that is our exact focus all day, every day at The Fear Experience." Their dedication to excellence in haunting is unwavering.

The Fear Experience is located in a 90,000 square foot, retail location about half a mile from one of the biggest interstates in Cleveland. The entire event is indoors, protecting its guests from Cleveland's cold and rainy fall climate. Covered waiting has been a key differentiator in a market where most haunts are outdoors.

The Fear Experience haunted house didn't't start off in such a great spot, however. For the first few years the attraction jumped around to different temporary locations and the sets weren't quite on par with what Simon and Francis wanted. Simon commented, "We originally didn't't have the time, money or skills to build the kind of sets our customers enjoy today, but we always made sure our customers had a great time. Instead, we crafted as many startles as we could and focused on making the show scary and entertaining. We knew we had a long way to go to achieve our goal… being the best haunt in the Cleveland market."

A stroke of serendipity came in 2011 when Rick Thomas, member of internationally renowned band Mushroomhead, guest acted at The Fear Experience. Thomas saw potential, "I could tell they were ready to take this haunt to the next level, and I knew I could bring the level of quality they needed." By this time, Thomas had been designing and building haunted houses for more than two decades. Over the years he had acquired a lot of experience in set design and show production that would become an essential aspect of The Fear Experience's rapid development. Haunted houses have always been one of Thomas's greatest passions along with music. When he's not touring around the world with Mushroomhead, he's working day and night at The Fear Experience. Thomas credits his love for building and designing haunted houses as his motivation to constantly make improvements to the attractions.

With the addition of Thomas as lead scenic designer, the team brought a level of quality and realism that hasn't't been seen before in the Cleveland market. The haunts feature large, grand scenes and realistic, horrifying environments. The latest addition is a massive mausoleum style entrance that customers actually walk through to reach the box office. Francis described the thought process around the project, "We wanted to build an entrance that would amaze our customers the second they walked in the door. Now you're not just waiting in line to buy a ticket, you're walking through something you've never experienced before. It's probably one of the coolest sets we've built to date."


There's another very practical reason for the new entrance. Haunted houses have gotten expensive; it can easily cost $100 for a family of five. Francis and Simon wanted to assure their customers, before they paid, that they made a great choice by coming to The Fear Experience. The best way they could think to do that was to build an interactive scene right in the front door.
The incredible new sets have opened doors to amazing opportunities. Most recently, the band Mushroomhead chose to film their latest music video entirely at The Fear Experience. The band thought the haunt would be the perfect place to shoot the music video for one of the album's top tracks, Qwerty. Mushroomhead's new album, The Righteous and The Butterfly reached #1 on the Hard Rock chart and made the Billboard Top 20. "We were really honored to have such a recognized and loved band choose our haunt to shoot this video. It turned out amazing, we were blown away by the end result" says Francis.
Today, The Fear Experience features four haunted houses under one roof. Each attraction has its own unique theme, but they are all tied together by one riveting, overarching concept. The attractions reside in the city of Centralia, based off a real city in Pennsylvania that has a tragic and gripping past. Centralia was once home to the largest coal mines in the United States but is now a ghost town. In 1962, a few local residents accidentally started a fire in one of the mines and it's been burning non-stop ever since. The rampant fire has made the baron city uninhabitable and destroyed much of its infrastructure. Centralia has also been the inspiration for a number of famous horror movies including Silent Hill.
The latest addition to The Fear Experience, The Centralia County Fair, debuted in 2013 and was a crowd favorite. The first half of this haunted attraction is designed like an outdoor fair. It features a huge destroyed midway, a creepy back alley and rotten food truck. The guests are then chased through a giant clown's mouth into the circus section. Although it has its fair share of clowns, the team at The Fear Experience wanted to do something more unique. Their idea was to create a freak show and zoo that houses all of the circus' sideshows. All of the actors in this section are elevated above the customers' heads, creating a very intimidating effect. "The finished scenes terrify guests," says Thomas Thomas "We designed each room with the actor in mind. Actors can climb and jump around the rooms so quickly that people don't know where a creature might pop out from next."
When the team isn't working on building new haunted house attractions, they're working on marketing. They want their marketing pieces to identify The Fear Experience as the go-to haunt in Cleveland. Their first move was to hire one of the top horror photographers in the area, Blind 7 Photography also known as the "Godfather of Dark Glamour" to shoot their characters. Simon commented, "We wanted to use real photos on all of our promotional pieces; we felt that type of realism would capture people's attention." Another big step was their website,
www.TheFearExperience.com
. The site was designed to be simple and easy to navigate with all the most relevant information right at your fingertips. The site is also very mobile friendly. "We saw that about 50% of our traffic was coming from mobile devices and we knew our site needed to be just as easy to use from a phone" says Francis.

Their website is not their only online presence. The Fear Experience Facebook page has over 61,000 fans. "That's more than any other haunt in our market!" says Francis who manages the page. "I try to post and interact with fans daily." He strives to use Facebook to build real relationships with customers so that when haunt season rolls around, they know exactly which attraction they're going to.
Simon, Francis, and Thomas expect a bright future for The Fear Experience. The three are dedicated to improving the show every year through additions, scenic development and constant innovation. New, creative ideas fuel the changes made from year to year. They want to provide each haunt guest with an incredible experience that they can't get at any other Cleveland haunt or haunted house nationwide. Their goal is for each guest to leave remembering at least a few very concrete things that scared or amazed them. Francis and Simon closed by saying, "We will continue to bring true quality and the highest level production value to the Cleveland market. Cleveland is a great town and deserves the best haunted houses in the world, and we want The Fear Experience to lead the charge."
TO FIND MORE HAUNTED HOUSES IN OHIO CLICK HERE ...
http://www.hauntworld.com/ohio_haunted_houses
Ohio Haunted House near Columbus in Pataskala, Ohio - HAUNTED HOOCHIE

at Dead Acres


Written by: Nate Bolen
Are you ready to learn all the details about one of America's sickest, most over the top, craziest and most outragous haunted attraction then prepare yourself. Columbus, Ohio is home to Dead Acres aka Haunted Hoochie and this Halloween attraction is not only one of the scariest and best ultimate haunted houses in Ohio, and or Columbus Ohio but maybe all of America. When you visit haunted houses in Ohio you need to stop through Columbus Ohio to see one of America's most over the top haunted houses filled with hundreds of crazy actors trying to scary the life out of their customers. Ohio haunted houses are some of the best in America including real haunted houses to the scariest haunted attractions. Now prepare to enter the sickest haunted house in Ohio. To Learn more about Columbus, Ohio's Haunted Hoochie at Dead Acres visit their websit below:
---
Roaming with heavy footfalls through the haunted industry for decades is a haunt whose mere name sends bolts of controversy down broken spines. This gallery of gore stomps in the mouth of good taste and has embraced being a disgrace. It's a haunt that learned long ago…it's just too much fun being bad. Now, let's peal back the flesh of secrecy on this rogue haunted venue, and see what spews out. It's time to slice off your eyelids and get ready to gaze into the unflinching world of the infamous Haunted Hoochie near Columbus, Ohio in a town called Pataskala, Ohio.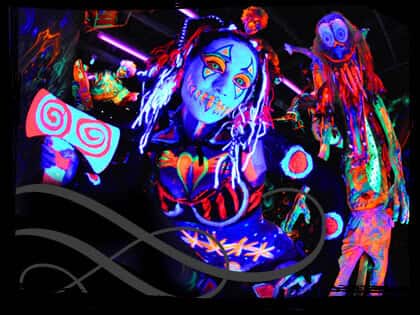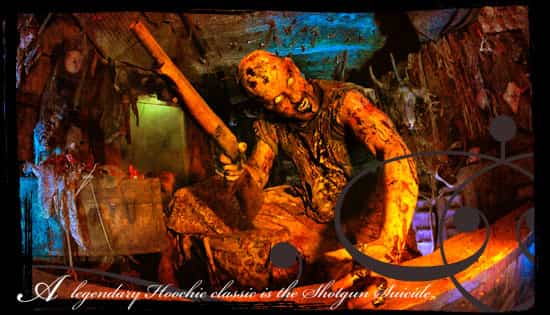 The Haunted Hoochie has been fracturing young hearts and minds for 20 years. Its origins are rooted fifty years into the past as one of the first haunted hayrides. This pioneering event in haunted history was produced by Dead Acres owner/operator, Frank Dixon, Tim May's grandfather. Taking the torch of terror into the next generation, Tim evolved the family tradition of haunting from a hayride into a haunted trail known as the Haunted Hoochie, and then eventually relocated it in 2003 into an enormous self-contained indoor haunt, simultaneously expanding the business into a complete fully functional Halloween festival scream park, aptly named Dead Acres, for its rustically aged farm location. Complete with hayrides, bonfires, Halloween themed parties and events, the face grinding Haunted Hoochie, as well as the all new mind bending 3D experience called Bad Trip 3D, Dead Acres has emerged as a perfectly realized total Halloween phenomenon. Manufacturing murder and synthesizing sickness for over 50,000 fanatically loyal Hoochie Heads each year, this intimidating October event quickly accelerated to the top of the haunting world. Recognized nationally as one of the best, Haunted Hoochie is unquestionably the most-extreme haunted house attraction in the nation.

Dealing out death in spades, Haunted Hoochie has become an old dog ever learning new tricks in a tireless journey of constant hell raising fun. Throughout the years, a code of misconduct has mutated into a sick fascination with suffering. Their shift from traditional spooky scares into a slick style of pain-induced fear shook the core of customers and painted each night red with gallons of blood. Long before Hollywood started pumping out their brand of pain in the likes of Saw or Hostel with the term "Gorno" coined, the Hoochie had been traveling down that flesh paved road for a decade. Their downpour of death rained down on the public in the form of their legendary sadistic stage skits.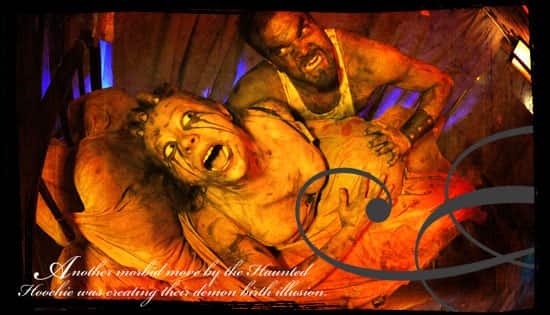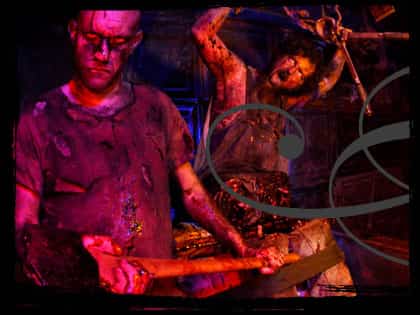 A young customer base heading into the 21st century was being fed a constant stream of brutality through the internet and violent video games, and they hungered for more from their annual Halloween entertainment. Through monstrous staged acts of gore and violence, the Hoochie satisfied the public's growing lust for gore, slamming their fragile brains through the window of morality and never saying sorry.

The Haunted Hoochie and their one-of-a-kind illusions are made onsite from inception to creation, all original. The shock and awe they present blows people's minds, literally! A legendary Hoochie classic is the Shotgun Suicide. A fan favorite, it had been performed then locked in the Hoochie vault only to be brought back for a new generation to enjoy. One intense actor dashes out from the darkness armed to the teeth with a shotgun. He badgers his guests before swallowing the barrel and compressing the trigger in an explosion of brains that plaster the wall behind him. The revolting result is always splat-tacular with cheers and screams from the crowd.

Another morbid move by the Haunted Hoochie was the creation of their Demon Birth Illusion. This destruction of decency entails a pregnant woman stretched out on a gurney, hoisted in stirrups. She screams out in pain to extract the spawn of Satan growing inside her. A psychotic doctor accelerates the deliver by smashing a sledgehammer onto the woman's swollen belly. In an eruption of afterbirth, the demon fetus flies out across the room. The doctor swings it from its umbilical cord. The graphic nature of this illusion strips away any shred of ethics and dips it in acid.

An obsession with CHAINSAWS has infested this titan of terror since its creation. The sound of a sharpened chain tearing through mangled flesh is a symphony of screams to their ears. A long tradition of dissections of death with these angry machines is alive and well. Each year brings a new incarnation of carnage. Picture a victim tied to a chair while thrashing to free himself as a chainsaw wielding maniac leaps forward taunting his rope bound victim before slicing through skull and brain matter. Guests fall witness to some good old fashion skull splitting. Then without mercy, the killer reaches deep into the newly exposed gore, ripping out the still twitching spine only to lick at the slowly dripping spinal fluid. At the Hoochie, you feel the bone chilling grind of the saw at your feet and the stench of fumes burning your nostrils. These murder machines are in abundance throughout this malicious matrix, but strategically positioned as to maximize mayhem. Flying chainsaws zip through the air grazing over unsuspecting heads, dropping guest to the floor only to have even more blasting up from unmarked graves.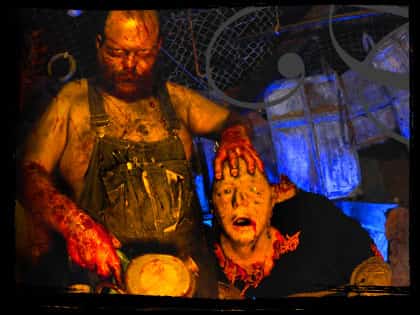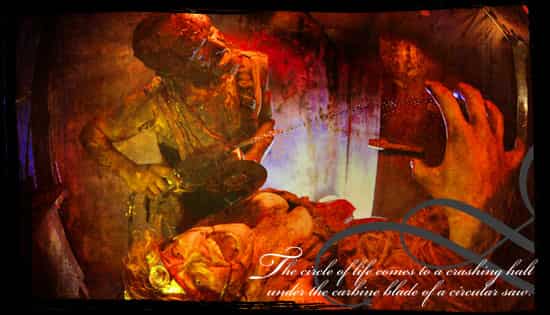 The circle of life comes to a crashing halt under the carbine blade of The Circular Saw. Another victim strapped to a table, inevitably his final resting place. His useless cries are overpowered by the screeching whine of the weapon that is his fate. The power tool rips through flesh and bone as it travels across his thighs, suddenly the cut through table falters to the floor taking with it two butchered legs, leaving only screams of pain and two bloody stubs.

Scenes like these have caused controversy and intense discussion in the industry, and at one time even had designers of the Haunted Hoochie questioning their corruptible conduct. But it was the fans that had and always will have the last say in what they want to see in their favorite haunted house. Not one complaint was filed. There were no pleas for more restraint. The extreme nature of this haunt is known far and wide. When people enter the Haunted Hoochie. they know what they're in for; they know what to expect. Anything less than over-the-top extreme gore would now be met with protest.

Here they do bad things to the human body in a glorified blood show, and that is what the Haunted Hoochie is known for nationwide. To lose any of that would be to lose their identity and betray the fans…no regrets, no apologies, no looking back. So many elite haunts have made their mark on this industry whether it be through characters, costumes, make-up, CGI, or dark religious undertones. The Hoochie's mark is branded into flesh and sealed with blood and gore. They choose to walk that path of pain and they do it oh so well! Extreme violence may be their trademark, but there is so much more to this haunt. The Haunted Hoochie is a well-rounded, fully functional mega haunt. With a 50,000 square foot haunt floor and over 100 trained actors, it packs the scares tight, one after the other…non-stop, and their onslaught is relentless, like a coiled snake ready to strike. With an army of animatronics from the best vendors in the industry, the actors pass the victims down the line like lambs to the slaughter.



Set design has always been essential too. Buckets of blood, black plastic and plywood simply won't cut it for Hoochie fans. Each of the over 50 scenes that reside at the Haunted Hoochie are meticulously constructed and drenched in realism. A team of 5 set designers work 10 months out of the year perfecting each individual underworld. They acquire relics from lifetimes lost to fill each scene, bringing patrons into the past, and simultaneously blasting them into the future of haunting.

Adrenaline rushing, this haunt delivers thrills, chills, and razor blade pills like no other. Dead Acres is one haunted attraction that is not afraid to cut you open just to see what makes you sick. Season after sinister season of record breaking attendance has verified the public's mania for murder, and Dead Acres has always been there to oblige. There's no substitute.

Dead Acres is the place to be for extreme haunting each Halloween season. Let gore's slimy grip possess you this year, and become one of the converted. Be a part of the legend that is the Haunted Hoochie at Dead Acres, the World's MOST EXTREME Haunted House. You may never be the same again!
To learn more details about this haunted house visit their website at www.deadacres.com

The Legend…
NETHERWORLD will be in its 12th season this year, so it was back maybe 7 or 8 years ago I first heard the legend. That was about the time that many of the Ohio actors like Geoff Beck and Jeff Glatzer started coming to NETHERWORLD to act on the weekends. Since of course I never got to travel during the season, I would always ask them about the haunts they had visited on their travels, eagerly devouring tales of the long lost Hades Haunted House of Chicago, or of the mighty Erebus in Detroit, or of Bloodview, the home of the Legion of Terror. Over the years that followed others came from Ohio and scared with us in Atlanta, and they also had tales to tell, tales of the Legendary Haunted School House and Haunted Laboratory! Now at the time none of the actors whom I spoke to had actually worked there, rather they had GROWN UP going to the place! The more I heard the more I wanted to see it, and several times over the years I had almost hopped on a plane to finally check it out.

Operating as a haunt since the 70's they had inspired generation after generation of haunters, literally inventing the way a haunt should be built. My actor friends told me many things, of a giant Tesla coil, of a huge multi floor pit with a massive Frankenstein lab, of tons of dirt brought inside for the graveyard, of a pool of nasty water where a giant "worm" would emerge to consume its prey, of floor after floor of killer sets with actors hidden in every imaginable way. Between the two haunts there were 7 floors it seems, a number I had become very familiar with. Many of the things I heard about the HSH and the HL fit very well into the legend of the seven story haunted house that was making the rounds back then, further firing my imagination. I would often talk to other haunters about the place, including Larry Kirchner, who used to travel the country hitting every haunt he could, but this was one he had never seen. One day a few years ago I was talking to Josh "Morgoth" Monroe, (a Cleveland haunt actor who later moved to Atlanta) about the biggest scare he ever had as a haunt patron. He told me in detail about a scene (I think it was in the Haunted Lab…) where a Pepper's ghost used as a distraction set up a massive shock. Little did I know that a few years later I would get a behind the scenes look at that very effect!

The Call…
It was on April of 2008 I got the call from Larry Kirchner. He was on his way up to Kennywood Amusement Park in Pittsburgh PA the following week to install the new Ghostwood Estates dark ride and wanted to know if I could come up and work on it for a few days - for free! Hmmm… Get a last minute flight, book an expensive hotel, leave the family and head up to Pittsburgh for a high pressure Halloween Productions install when I was just getting rolling on my own haunt…for free? Hmmm…. Well I explained I was actually pretty busy, but I could tell by his voice that there was more to this conversation than he was letting on. He told me things about the dark ride that actually sounded pretty cool, and he even said we might get a chance to see Scott Simmons SCAREHOUSE in its new location. Well that certainly got me interested, I had known Scott for years as we had both worked at TV stations, and the latest stuff from his attraction was looking fantastic. But I could still tell Larry was holding more cards than he was revealing. Then he hit me with it… He had gotten a call from the Haunted School House and they wanted to open their doors for Hauntworld Magazine. And Larry, knowing of my fascination for the place, wanted me to write the article.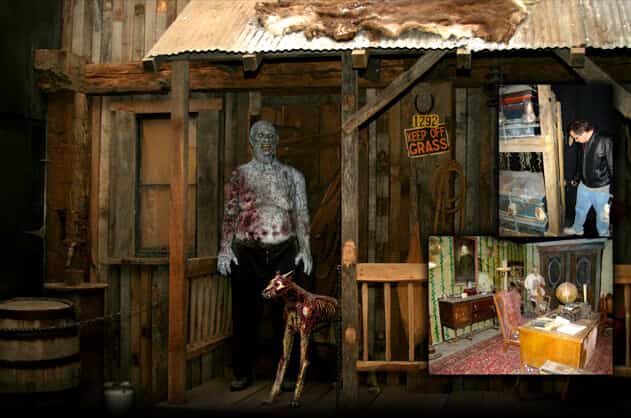 The Haunted School House and Haunted Laboratory - At Last!
A week later I stood in Akron Ohio, pelted by a cold light rain in the parking lot between the two amazing buildings that housed The Haunted School and Haunted Laboratory! The last few days had been a blur - late nights at Kennywood placing props in the Ghostwood Estates dark ride, a tour of the SCAREHOUSE (awesome!) and their "Secret Bowling Alley" but that is a tale for another day. Larry and I had just driven up and now we stood before the haunts I had heard so much about for so many years.
Greeted by Cindy Johns, Vice President of the event, we were taken to the backstage actor areas of the Haunted School House. Enormous detailed murals adorned the rooms featuring armies of ghouls emerging from the haunts. New custom creatures for this year's events were on display, along with assorted parts from the massive Tesla coils from the Haunted Laboratory, ready for off season servicing. Nearby stood a costume room FILLED with an amazing collection of premium masks and costumes, and across from it was the well equipped make-up area. Several actors in gory slime-drenched make-up awaited us, including their key creature creator Bill Morrison. Then accompanied by construction foreman, right hand man and set designer Paul Diefendorf we ascended three flights of stairs to begin our tour. Soon we would be joined by Don Johns, the owner of the event and delve deeply into the amazing secrets behind the Haunted School House and Haunted Laboratory!

The Design
From the beginning I could tell we were in for a special treat! The Schoolhouse/Lab had an old style design, with detailed sets on one side of a rail and the customer's path on the other. It was very different from most of the haunts I had seen over the recent years, and almost refreshing to see a style long abandoned for the now more common "walk through the scene" layouts. This design allowed very intricate monsters, set pieces and lab equipment to be used that would have been destroyed by guests in haunts without rails, and really focused the patron's attention on a specific angle of view, almost like a movie gives you a perfect "shot." They explained to me how the actors had a totally separate path from the guests to enter and exit the scenes, and how almost every set had a platform above it for management and security to watch the action from above. The amount of complexity in the back corridors and catwalks was amazing to allow almost three paths (Actors, Management, and Guests) to wind through and above the event!

The Actors
The use of actors seemed to be mainly by elaborate distraction, concealment, and sudden reveals taken to a whole new level. In many places realistically placed dummies and props allowed actors to blend completely with the sets, or in some cases, just parts of the actors. One example was a Scarecrow scene, as only half of the actor was visible (seen as the torso and arms of a ripped up scarecrow) while the rest of the character was hidden in the floor. That was the last prop in the room anyone would suspect! In another the actor's head protruded from a crate of pumpkins, and then the crate's side was used as a massive bust out. The focus on the scene behind the rail was also used in some cases to distract from a scare above and behind the guests, especially in cases where illusions or jaw dropping sets were used to create absolute distraction. It was clear to me that they had spent decades honing and perfecting the craft of concealing actors, almost assuring rock solid startles for the throngs of visitors attending every year. There were also some interesting uses of puppetry, my favorite being George the talking skeleton. He sits on a toilet in a detailed bathroom scene gibbering away at the guests, a cover for an unexpected surprise. Although my visit was in the off season without staff it was clear that the entire focus of this place was to set up the guests with great sets so the actors can scare the stew out of them!
The Monsters
Another area of absolute wow was the quantity and quality of unique monsters found in this event. Many haunters buy the same props and animations at the tradeshows every year, this is a common thread that binds many events together from a stylistic standpoint. Not so the HSH and HL! The vast bulk of their creatures and animations are absolutely custom items made in a very unique way. From small fragile things to massive giants these props and animations are hand built from foam, paint, resins and found items in such a way to create totally surreal yet somehow amazing realistic characters. Most of them are equipped with reflective eyes, wet looking skins and intense elaborate paint jobs sure to stun detail lovers everywhere. In the School House these beasts tend toward the more traditional - vampires, zombies, giants, twisted circus freaks and monsters of almost every description. In the Lab however they attain an absolutely other worldly style, with fragile appearing yet massive aliens, dozens of man sized pods suspended from the ceiling, a giant mosquito, odd snakelike tentacled lab experiments, multi eyed horrors, etc. At NETHERWORLD as many of you know, we are avid creature creators, collectors and modifiers so let me say I was very, very impressed! Just seeing this incredible collection of beasties would make a trip to this place worthwhile, but the sets they inhabited took the event above and beyond.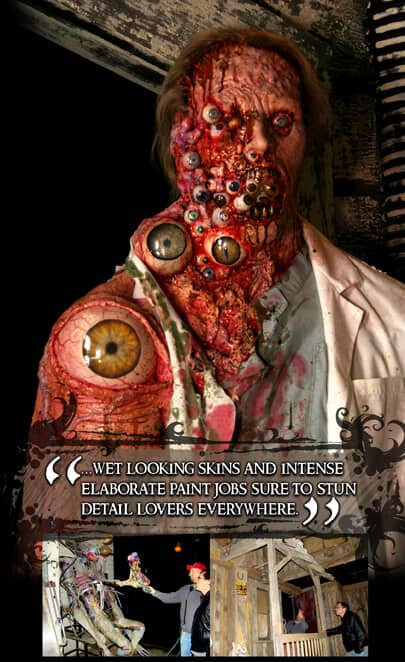 The Props
The style of propping out and designing the scenes was excellent. Rather than rely on new bought items, most of the things on display were old grimy antiques, or skillfully designed to appear that way. In more rustic style areas of the haunts worm eaten barn wood and rusted metal supported old ropes, rotten steamer trunks and ancient tools, providing an extreme level of realistic decay that resembled the outside areas of Haunted Hoochie in Columbus. On the entry level of the Haunted Lab for example, an entire barn had been built detailed to the bone, housing a grisly zombie farmer and his long dead dog, glowering at the queue line. In more fancy sets, antique desks and wardrobes were staged filled with actual period books and knick knacks creating an absolute sense of place and time, rivaling the antique collection at the Darkness in St. Louis. In the many lab and electronic scenes, the Jacob's ladders, extensive chemical glassware, strange equipment busting with vacuum tubes and truckloads of bizarre medical equipment reminded me of the famous Frankenstein lab at Rocky Point, the lab areas of Verdun Manor in Texas, or the new asylum at the 13th Gate in Baton Rouge. In the area of realism there was one sequence that had something I had never seen in a haunt before. They had a garage set with the back of a truck sticking out from under the half closed garage door (a trick to confuse guests, as around the following turn was a truck that honked and drove toward visitors. The first truck was there to make you think you had seen the source of the honking and conceal the next scare.) The details were great, hose and spigot attached to the garage, power lines running to the building, every bit of junk you might expect in a scene like that…and REAL grass planted on the lawn! Every year they plant fresh grass on that lawn, creating an earthy green smell and growth pattern that is absolutely real!



The Sets
All totaled there were 7 FLOORS full of haunted house sets, a staggering array of detailed scenes built up over many long years. In a general sense they stuck to no clear theme, although occasionally there would be a run of related rooms. Every floor it seemed had a few massive sets that really stood out as the big eye catchers, followed by tighter environments where you were much closer to the action.

Here are a few to chew on -
- The Giant Room - In the center of this tall room on the top floor of the HSH was a custom giant that made the classic Distortions Giant look small. Flanked by piles of bones and sporting a massive glob of green mucus it would rise up over the guests as a concealed actor busted out of a hidden door at them.

- The Graveyard - Midway through the HSH was a huge graveyard filled with dirt. There must have been truckloads of the stuff in the two story room, at one point creating a hill we would enter. A huge crypt building was set at one end and many custom monsters lurked in the darkness.

- Dracula's Castle - Another two story set features a grand staircase going to the upper level balcony, and a castle like setting in the lower level. Massive doors, a fireplace and an army of detailed creatures awaited guests.

- The Spawning Pool - In the basement of the HSH was an entire section built up like a castle dungeon. Realistic concrete coated rocks covered every surface, and a series of stunning scenes were revealed in the torch like lighting. One area had opening and closing iron gates, another had a deep sewer-like well and yet another conceals the watery home of a man eating monster! As guests look into a pool of murky water a huge worm emerges from the bubbling slime to snap at what is left of a corpse swinging just out of its reach!

- The Wind Tunnel - On the top floor of the HL is a scene that is unique among any that I have ever seen in a haunted house. From a catwalk you look down a huge FOUR STORY pit! Below are the remains of each story of the building, with desks, chairs, and other furniture literally clinging to the broken timbers sticking out. The effect is as though a huge meteorite crashed though the roof leaving a pit four floors deep and maybe 30 feet in diameter! The remaining parts of flooring have a checker board pattern, and well placed strobes make looking down at the carnage very disorienting. I am told that during the season, lasers and fog accentuate this wild display. At the bottom, almost out of view is a spinning vortex tunnel on the lowest level. Seen from above, the spinning metal disks and the black fabric look almost like a strange grinder, further removing any desire to look into the pit!

- The Tesla Lab - One of the things very well known about the HSN and HL is their use of massive Tesla coils. For those not familiar with these Frankenstein like devices, they are basically huge transformers capable of producing massive voltages (over one million volts), and firing blasts of electricity in the 10 foot + range on larger coils. This event has two of them! On the roof is one coil, a terrifying beacon to gather attention and a warning to those standing in line outside the event. The second resides in the massive Tesla coil scene located towards the end of the Haunted Laboratory. This is a vast multi story room filled to the brim with scientific instrumentation, and in the center is an solidly built circular Faraday cage that surrounds the coil. Thus guests must go completely around the coil as huge blasts of energy are directed at them, stopped only by the grid like framework of the Faraday cage. Having this level of elemental fury directed at you is an intense experience not to be missed!

After several hours of in depth exploration of this haunted facility, and a hearty meal provided by our gracious hosts it was time to head out into the rainy Ohio night and off to Pennsylvania and Kennywood. As always when I see an event of this caliber, my mind was swimming with all of the things I had experienced. The place was clearly one of the first major haunts to exist anywhere, and it was as if it had developed on its own, unaffected by the trends and styles of haunting that have come and gone over the years, an awesome self-made event with few peers. I saw in it many ideas and scares in pure forms that have doubtless been cloned by other haunts and vendors and spread all over our industry, making it one of the veritable progenitors of haunted houses across the country.

One thing was clear; it had surpassed its legend. The quality of props, the unique creatures, the wild sets and the sheer weight of history made it an icon every haunter should experience. Thanks again to the producers for allowing us this special glimpse! Oh and by the way…I didn't't tell you everything I saw! Some secrets must be kept…go and see it yourself…If you dare!