Carpenter's Mortuary Spook House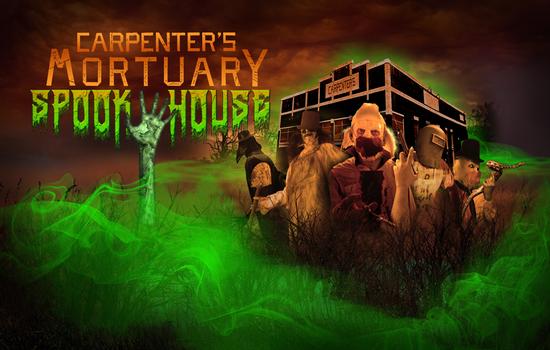 ABOUT "Carpenter's Mortuary Spook House"
Carpenter's Mortuary Spook House ~ the Haunted Attraction in Gentry, Arkansas that's Inside an Actual Mortuary! . . . Is the old MORTUARY in Gentry, Arkansas ACTUALLY HAUNTED?!?! ~ In 1990, local artists began to occupy the building that was once Gentry's mortuary and funeral chapel. They transformed the space into a project studio devoted to music, film, and many other art forms. Over the years, visitors, including paranormal investigation groups, have reported strange phenomena there. They've seen unexplained lights and noises. They've had the feeling that someone, or something, was breathing down their necks. . . . Now, each Friday & Saturday night in October, the artists of Mortuary Studios present "Carpenter's Mortuary Spook House." - The mad ghosts of the morticians, the gravediggers, and the evil undertakers of Carpenter's Mortuary have once again opened up for business. Come explore their haunted halls . . . if you dare.
136 East Main Street, Gentry, Arkansas, 72734

Haunted Houses

Recommended for Guests 12 and over (SCARY)
Join our email list to receive discount offers and updates.
Ticket And Price Information
Regular Ticket = $15 / Fast Pass = $25 . . . A 'Regular Ticket' purchased from the TICKET BOOTH at the attraction is often the best way to go early in the season. ~ A 'Regular Ticket' purchased ONLINE allows the visitor to skip the Ticket Booth line and join the Regular Ticket holders' line upon arrival. . . . If you are concerned about waiting in a long line (which is common during the final two or three weeks of the season), we recommend that you come to the event before purchasing tickets, assess the line length for yourself; and if the line is too long for your liking, purchase a 'FAST PASS' ticket at the Ticket Booth. FAST PASS tickets allow guests to skip the regular ticket holders' line and get to the attraction entrance much sooner (but not always immediately). . . . REMEMBER - ALL TICKET SALES ARE FINAL! Tickets may NOT be upgraded or downgraded.

VIEW CALENDAR
The 2022 season of Carpenter's Mortuary Spook House begins Friday, September 30th and continues each Friday and Saturday Night in October . . . plus Halloween Monday! ~ Open 7pm to 11pm
Carpenter's Mortuary Spook House VIDEOS
Carpenter's Mortuary Spook House PHOTOS
136 East Main Street, Gentry, Arkansas, 72734
ATTENTION! READ THE FOLLOWING BEFORE PURCHASING TICKETS:
Possessing a ticket with intent to enter "Carpenter's Mortuary Spook House" indicates that: YOU HAVE READ, YOU UNDERSTAND, YOU AGREE WITH, AND YOU AFFIRM all of the items contained within the WARNINGS and WAIVERS of LIABILITY posted in the Ticketleap Restrictions, at MortuaryStudios.com/WARNINGS, and on signage at the attraction!
Also, in the event that you buy a ticket, provide another person with money to buy a ticket, or deliver a ticket for use in "Carpenter's Mortuary Spook House" to another person, you agree to indemnify and hold harmless Carpenter's Mortuary Spook House LLC from any claims by those persons; and you agree to be responsible to make certain that those persons to whom you buy, give or deliver tickets are aware of all warnings and that they agree to all terms of this Agreement.
On certain nights in October, the veil between the world of the living and the spirit world grows thin; it is on these nights when the ghouls of Carpenter's Mortuary Spook House will be their scariest. We want everyone to have fun, so PLEASE remember these simple rules before visiting:
NO CAMERAS. Camera flashes and video lights ruin the atmosphere and are a dangerous distraction to our staff and to other visitors. However, please take lots of shots outside the Haunted House - the queue line room is a great place for selfies! All we ask is that you share them on Facebook (Facebook.com/MortuaryStudios) or Instagram (#CarpentersMortuary).
DO NOT ENTER IF YOU ARE INTOXICATED. Seriously, this creates a dangerous situation. If our outside staff sees evidence of this, you'll be asked to leave, and the police will be notified. Members of the Gentry Police Department are on site during all operating hours.
DO NOT TOUCH OUR ACTORS OR PROPS. Our actors won't touch you; this is our policy. PLEASE do not touch our actors or props. Very minor physical contact will occasionally occur in any public space. But we sometimes have adult men go through raising their fists and threatening to punch every actor they see. This type of person should consider this: If haunted houses frighten you that badly, you shouldn't go to one. What you're doing is not only an embarrassment to you and a danger to staff and nearby patrons, it's also illegal. Members of the Gentry Police Department are on site during all operating hours.
DO NOT ENTER IF YOU: suffer from asthma, have a heart condition, are prone to seizures, are pregnant, suffer any form of mental impairment including claustrophobia, have respiratory or any other types of medical problems.
DO NOT ENTER IF YOU: are wearing any form of cast or medical brace, are using crutches, or have any type of physical limitation. Do not enter if you are taking medications or using drugs of any type. You will not be admitted if any of these conditions are noticed by our staff.
DO NOT SMOKE, EAT, or DRINK inside the haunted house.
DO NOT RUN inside the haunted house.
NO CHILDREN UNDER 13 ALLOWED WITHOUT PARENT OR GUARDIAN. There are several great kid-friendly Halloween related attractions throughout the area. Carpenter's Mortuary Spook House is NOT ONE OF THEM. It is too scary for most children under the age of thirteen, and we recommend that preteen children not attend. Any parent who insists that his or her younger child enter the spook house must accompany that child. No refunds will be given to ticket holders who become too frightened. Additionally, CHILDREN MAY NOT BE CARRIED! This is a safety concern.
Your ticket is a revocable license and may be taken and admission refused. The ticket holder understands that there is inherent risk involved with attending this haunted house. The ticket holder voluntarily assumes all risks and dangers associated with participation in this haunted house. In consideration and acceptance of entrance into this attraction, the ticket holder agrees to release the operator, affiliates, employees, and landlord from any liability, harm, injury, death, or cost of expense whatsoever that may arise directly or indirectly, from attending this haunted house or any of the attractions at this location.
YOU WILL NOT BE ADMITTED AND WILL BE ASKED TO LEAVE THE PROPERTY IF ANY OF THESE RULES ARE NOT FOLLOWED.