Cinema Of Horrors Haunted House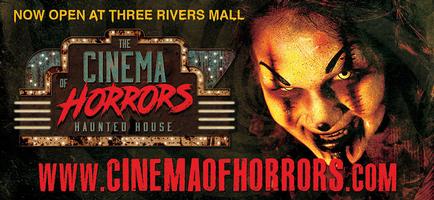 ABOUT "Cinema Of Horrors Haunted House"
The Cinema of Horrors is a unique Halloween event featuring two haunted houses at the old Three Rivers Mall theater in Kelso, WA. Featuring the "FarmHouse", our most terrifying attraction is a non-stop adrenaline rush inside of Ma's disgusting, dusty, demented 'ol house where the family always enjoys tormenting their visitors. Our second attraction, "Dark Legends of New Orleans", is an adrenaline rush in which you'll take a trip to New Orleans and come face to face with some of history's most dark and terrifying legends. The Cinema of Horrors is presented by Treadway Events & Entertainment and KUKN, KLOG & The Wave Radio Stations.
1301 Grade Street , Kelso, Washington, 98626
971-266-1781

Haunted Houses

Suitable for all guests and families (HALLOWEEN FUN)
Join our email list to receive discount offers and updates.
LOCATION: 1301 Grade St. Kelso, WA 98626 (Three Rivers Mall) DATES & TIMES: October. 5th-6th, 12th-13th, 19th-21st & 26th-31st, 2018. Friday through Saturday: 7:00pm-11:00pm & Sunday through Wednesday: 7:00pm-9:30pm
1301 Grade Street , Kelso, Washington, 98626