Doc Wilkes House of Horrors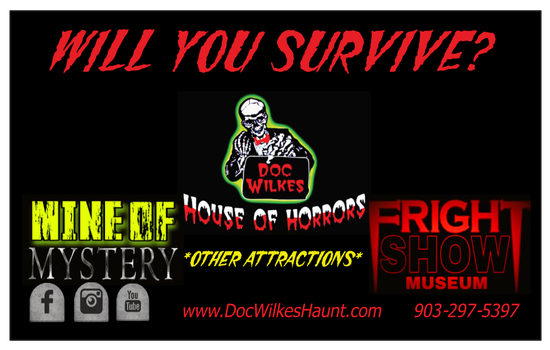 ABOUT "Doc Wilkes House of Horrors"
Doc Wilkes will scare the yell out of you with live ghouls or most likely some dead ones! Now in its 37th year in the area, and the past 20 years in its PERMANENT ADDRESS @ 1228 MARKET STREET OFF HARRISON ROAD IN LONGVIEW TEXAS. We have revamped the attraction for the 2022 season! Doc's House is Scarier than EVER, and we added 2 ATTRACTIONS this year "MINE OF MYSTERY & FRIGHT SHOW MUSEUM"! It's definitely BIGGER and BETTER! This is also our 20th year anniversary, so there is ALOT of extras/added events going on this season!! Tickets can be sold at gate on nights open and are $20.00 per person for general admission and $25 per person for VIP Fast Pass. For more ticket information you can call Doc Wilkes Ticket office at 903-297-5397. Check the Dates | Times | Tickets at www.DocWilkesHaunt.com and come out to visit us at Doc Wilkes House of Horrors, we would love to have some Fresh Victims!! Proceeds to benefit IBM Ring 286... Doc Wilkes House of Horror is sure to "SCARE THE YELL OUT OF YOU"! So bring a friend or a group Doc Always loves Fresh Meat!!!
1228Market Street, Longview, Texas, 75604
903-297-5397

Haunted Houses

Suitable for All Guests and Families (MILD SCARES AND HALLOWEEN FUN)
Haunted House
Museums
Live Music
Join our email list to receive discount offers and updates.
Ticket And Price Information
Doc Wilkes House of Horrors is back for it's 17th Year in Longview, TX. GENERAL ADMISSION: $20.00 VIP Fast Pass: $25.00 *ALL SALES ON LOCATION ARE CASH ONLY* Group rates available at gate of groups 12 or more! Call for details

Thursday: 7:30pm-10pm Friday: 7:30pm-mindnight Saturday: 7:30pm-mindnight
1228Market Street, Longview, Texas, 75604