Skeleton Crew Escape Games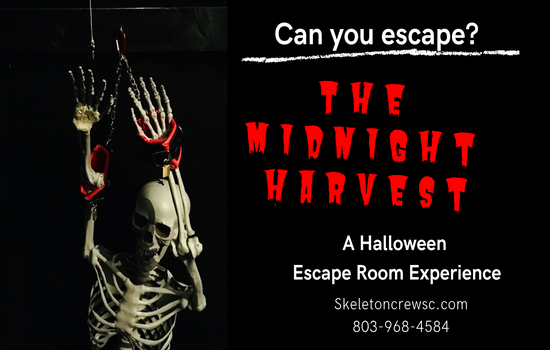 ABOUT "Skeleton Crew Escape Games"
Can you beat the clock? IT'S A GAME, during which, you and your group find clues and solve puzzles to "escape" from your room. You and your friends can choose which room you want to solve. All of the clues and puzzles that you need to get out are hidden somewhere in the room, you just need to find and solve them!
1224-D Alice Drive, Sumter, South Carolina, 29150
803-968-4584

Escape Rooms

Recommended for Guests 12 and over (SCARY)
Join our email list to receive discount offers and updates.
Ticket And Price Information
Night Nurse Mon. - Thurs. $20 Fri. - Sun. $25 The Invitaiton Mon. - Thurs. $20 Fri. - Sun. $25 The Midnight Harvest Limited Halloween Escape Room $15

Open all year Wednesday through Sunday. Book tickets online at www.skeletoncrewsc.com
1224-D Alice Drive, Sumter, South Carolina, 29150