URBAN DEATH TOUR OF TERROR: Haunted Theatre Attraction!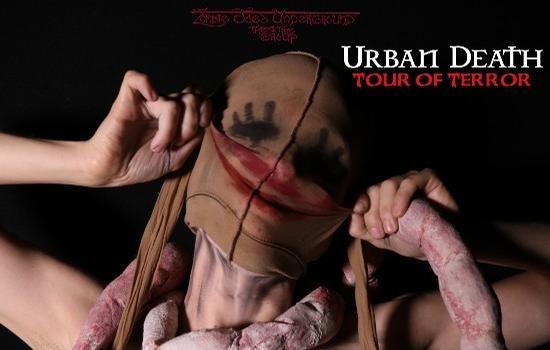 ABOUT "URBAN DEATH TOUR OF TERROR: Haunted Theatre Attraction!"
Zombie Joe's Underground Theatre is thrilled to bring Halloween must-see URBAN DEATH TOUR OF TERROR back to North Hollywood this October 2023. Part twisting haunted house and part badass theatre attraction, URBAN DEATH TOUR OF TERROR will reach into the depths of the darkest corners of the human psyche to bring you their most horrifying show yet. There's nothing family friendly about this haunt anymore, folks… The monstrous freaks are here to terrify and shock you to your core! After facing the spine-chilling and often risqué maze upon entrance, guests will be treated to a captivating live show consisting of a series of shocking and bloody wordless vignettes and mind-blowing physical performances. Guests will then face frightening new creatures hiding within a reversed version of the scream-inducing TOUR OF TERROR maze on their way back into the real world. A Halloween tradition for many in Southern California and beyond, URBAN DEATH TOUR OF TERROR was created by Zombie Joe and Jana Wimer, and has traveled the globe haunting audiences in Edinburgh, New York City, and Cape Town. URBAN DEATH TOUR OF TERROR has also been recognized by horror icon Joe Bob Briggs, receiving the Silver Bolo Award for "Excellence in Horror Media." Prepare for a raunchy, terrifying, and entirely unique experience. URBAN DEATH TOUR OF TERROR will shock and delight even the bravest of souls. Do not come alone!
4850 Lankershim Boulevard, North Hollywood, California, 91601
818-635-9153

Haunted Houses

Recommended for Guests 16 and over (VERY SCARY)
Haunted House
Open Year Around
Join our email list to receive discount offers and updates.
Fridays & Saturdays: October 6-7, 13-14, 20-21, 27-28, PLUS Sunday 10/29, Monday 10/30 & Tuesday 10/31 (Halloween) Shows from 7pm 11:30pm (approx. 35 mins.)
URBAN DEATH TOUR OF TERROR: Haunted Theatre Attraction! PHOTOS
4850 Lankershim Boulevard, North Hollywood, California, 91601
WARNING: Graphic content, trigger warnings, & full nudity. Ages 17+