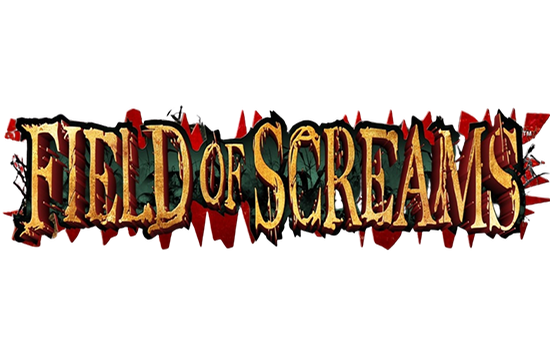 When it comes to terrifying thrills and spine-tingling chills, Field of Screams in Lancaster, PA, will give you more than you can handle! Celebrating our 30th Season with four world-class Haunted Experiences and an impressive Midway Area, Field of Screams provides the Ultimate AtmosFEAR ! After one visit you will soon realize why our Horrifying Haunted Hayride, Two Massive Haunted Houses, and Wicked Haunted Woods make Field of Screams America's #1 Haunted Attraction. Scaring over one million visitors to date from all over the world, Field of Screams was named #1 by USA TODAY, featured on the TRAVEL CHANNEL, the HOWARD STERN SHOW, TIME MAGAZINE, OPRAH MAGAZINE, and NEWSWEEK. Come be a part of the non-stop heart-pounding action that will leave you begging for the end to be near. With FOUR intense attractions and a fun-filled entertainment area, Field of Screams is unlike anything that you have experienced before. Since 1993 Field of Screams has been taking haunted attractions to the next level by providing the most heart-pounding, bone-chilling experiences year after year, and night after night. There are more gruesome scenes, horrifying sights, special effects, incredible details, and startling scares than ever before and the experience will leave you begging for mercy. No other haunt can compare to the atmosphere and experience at Field of Screams. Journey through the dark cornfields, where terrifying creatures live and horrific acts occur. Witness atrocities found only in your worst nightmares and experience the thrill of the walking dead. Experience terror like no other in a journey through the Frightmare Asylum where demented patients lie in wait for their next victim. Hear clown's giggling snarls echo through the halls as you try to escape the madness. Walk through the Den of Darkness, a haunted house that was abandoned many years ago but was never fully vacated by the twisted souls that inhabited it. They remain to terrorize guests and leave them screaming for the door. Even more fear awaits you as you trek through the Nocturnal Wasteland desolate forest where few survivors remain. Nocturnal Wasteland provides the most extreme haunted experience as you come face to face with its disturbing inhabitants deep in the middle of the dark woods. Field of Screams is the most popular and scariest haunted attraction destination for Lancaster, PA, and other nearby east coast cities such as Baltimore MD, Washington DC, Philadelphia PA, New York, New Jersey, and Delaware. People drive for hours and to the Original, one and only Field of Screams Farm in Lancaster PA to get the most blood-curdling, hair-raising terror they have ever experienced. Live in your nightmares as you journey through each attraction and be prepared for the most horrifying experience of your life because Field of Screams takes fear to a whole new level. Are you prepared to Experience the Chill of Field of Screams?
191College Avenue, Mountville, Pennsylvania, 17554
717 285 7748

Haunted Houses

Recommended for Guests 12 and over (SCARY)
Haunted House
Hayride
Midway (Games)
Haunted Forest
Haunted Trails
Pumpkin Patch
Corn Maze
Escape Rooms
Gift Stores
Live Music
Screampark
Krampus (Special Event)
Valentine (Special Event)
Join our email list to receive discount offers and updates.
Ticket And Price Information
Our Entertainment Area is loaded with TONS of special events, magic shows, live entertainment, bands, DJ's, competitions, celebrity appearances, contests, and much more.

VIEW CALENDAR
Open in September, October, and November, times and prices vary depending on the date. Open on Halloween Night - October 31 Experience the Extreme Blackout one night only - Friday, November 10 The annual 5k Zombie Fun Run - All day Saturday, November 11
191College Avenue, Mountville, Pennsylvania, 17554