Welcome to Amazing Acres!! We welcome you to start your family traditions with us. Bring the family and your friends for a day or even two and we guarantee you will have a blast. Here are just some of the fund activities we offer. corn, maze and haunted maze, pumpkin patch, fall, maize, outdoor recreation, haunted tour, haunted woods, ghost tour, cow train, hay jump and a slide.
34079 Impala Trail, Barnard, Missouri, 64423
This attraction is miles from your location. MAP IT NOW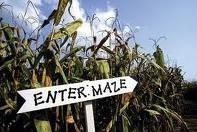 2013 AMAIZING-MAZE OUR HOME STATE AND YOUR'S: MISSOURI!!!! WE LOVE MISSOURI, IT IS OUR HOME AND AN AWESOME PLACE TO BE IN THE FALL. CELEBRATE FALL WITH AMAIZING-ACRES YOUR FALL FUN HEADQUARTERS 2012 Amaizing-Maze Northwest Missouri State University BEARCATS!!!!!! Northwest Missouri State has always been a fixture and a community stronghold for the city of Maryville and surrounding area. We spent our childhood riding bikes, sledding, and walking around the campus of Northwest Missouri State. When deciding on the 2012 Maze design we couldn't think of a better tribute to Northwest Missouri than the Northwest Missouri State Bearcat. 2011 Maze Pony Express 150th Anniversary The Pony Express was a mail service delivering messages and mail from St. Joseph, Missouri across the Great Plains, over the Rocky Mountains and the Sierra Nevada to Sacramento, California by horseback, using a series of relay stations. During its 18 months of operation, it reduced the time for messages to travel between the Atlantic and Pacific coasts to about ten days. From April 3, 1860 to October 1861, it became the West's most direct means of east–west communication before the telegraph was established and was vital for tying the new state of California with the rest of the country. Be sure to check out photos of these amazing mazes in out phtot gallery and on our website!! PICK-UR-OWN PUMPKIN!!! At Amaizing-Acres we let you decide what the best pumpkin for you and your family is. After paying admission to the park. Head on down to the huge pumpkin patch. Let the kids pick out their very own pumpkin from a whole field then bring it to the concession stand. Pumpkins are priced by size and will be paid for at the concession stand. Small and other decorative pumpkins will be available to purchase at the concession stand as well.
34079 Impala Trail, Barnard, Missouri, 64423