Dick and Bonnie Swank are owners of Swank Farms Produce, Inc. in Hollister California. They farm sixty acres at the home ranch, property that was purchased by Dick's grandfather Bill Maggini in 1929, along with 240 acres at a satalite location.
2600 San Felipe Road, Hollister, California, 95023
This attraction is miles from your location. MAP IT NOW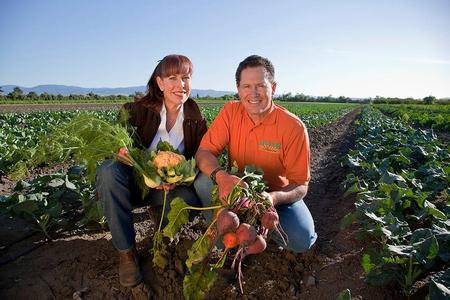 As more and more people are making healthy eating choices, Swank Farms is proud to be a supplier of quality farm foods for many Hollister, CA residents. Selling fresh produce, ornamentals and their famous salsa at local farmer's markets and produce stands, Swank Farms is proud to be involved with Hollister CSA (Community Supported Agriculture) programs. Both children and adults will not only enjoy the farm's produce but will find the farm an interactive place to enjoy educational, family fun. Farm Fresh Produce for Sale Offering many popular Hollister CA Farm Market goods for sale, shoppers attending local farmer's markets can recognize Swank Farms' produce stands by looking for their friendly employees. At each produce stand, employees will be wearing a Swank Farms uniform and can gladly assist buyers with selecting farm-fresh produce, seasonal ornamentals and tasty salsa. Interested customers can visit the following organizations to view each market's schedules, as Swank Farms is represented at the following association's markets: - California Farmer's Market Association (selling produce at Blossom Hill, Daly City, Moraga, Morgan Hill, Mountain View, San Francisco- Crocker Galleria, Saratoga) - Pacific Coast Farmer's Market Association (selling produce at Concord, Livermore, Valco, Jack London Square, San Mateo, Evergreen) - Hollister Downtown Association – Hollister CFM - Old Monterey Business Association – Monterey CFM - Swank Farms – Onsite in Hollister, California Swank Farms is also proud to present to you our Home Made Fudge made with REAL Butter!! It is a delcious treat to enjoy with the whole family, or just yourself. Home made Fudge is always the perfect gift for any occasion, so ask for a sample and fall in love with it's creamy rich flavor that melts in your mouth! October Fun Each year, Swank Farms opens their popular, Hollister CA Corn Maze to the public. Offering a choice of two mazes, the "Spookley Maze" is popular with young children while the "Maniac Maze" offers a more challenging course. Mazes grow more complex annually and each year offers a different course. After completing the maze, if interested in other California Haunted Ranch activities, allow guests to choose age-appropriate experiences. Preparing for October fun means Swank Farms plans for guests well in advance. From growing acres upon acres of corn, to growing 21 varieties of pumpkins, gourds and Indian corn, the farm uses and sells a variety of fall produce for this well-known event. Producing a diverse CA Pumpkin Patch, some of the other activities families can enjoy include: - Giant Jumping Pillow - Pedal Karts - Pumpkin Sling Shot - Corn Cannon - Sumo Wrestling - Mining for Gemstones and Fossils October field trip opportunities are also available for pre-school aged children and up. Whether a class is interested in a fun, fall experience or requires a hands-on lesson in agriculture, Swank Farms welcomes school-aged, educational groups. Lessons presented are age-specific and younger children will enjoy learning about Spookley. Attractions BUY NIGHTTIME EVENT TICKETS NOW! 2013 CORN MAZE & PUMPKIN PATCH open October 4th - October 31st Towards the end of September our gates will open to thousands of people looking for their own special fall adventure. For some it will be trip to the pumpkin patch with cameras in hand. Others may go into the field to find their perfect pumpkin. Maybe you would enjoy the challenge of "Maniac Maze" with confusing twists and turns. Try to find all 27 hidden spots to complete the story on your GAME MAP. Maybe you like to be scared? Come at night and experience TERROR IN THE CORN, ALIEN INVASION located deep in the cornfield. This haunted event is not for sissies. From daytime fun to nighttime thrills there really is something for everyone at Swank Farms. To learn more CLICK HERE KIDDY CORRAL We created this special place just for young children and their parents. The older kids and adults have the Maniac Maze and the younger children have the Spookley Maze and activities designed just for them. They can play in the Corn Box, visit the Chalkboard House, jump of a haystack and fish for goats. To learn more CLICK HERE NEW FOR 2013...... Our Kiddy Corral is going through a make-over this year. We are building a NEW Chalk Board House, adding a slide to our Hay Jump, expanding our play area, building new Corn Boxes, adding bouncing horses and we are even giving our Spookley maze a facelift. FIELD TRIPS Plan a school field trip to Swank Farms this October. To learn more CLICK HERE HAUNTED ATTRACTION Opens after dark week-ends only.
SWANK FARMS TERROR IN THE CORN ALIEN INVASION Are you a believer? View Roswell's hidden alien tape Join us on October 19th for our ALIEN ZOMBIE NIGHT Come dressed as an alien or zombie and join in the fun! - Swank Farms Produce, Inc. Office 831-637-4704 or 877-979-2659 Fax 831-637-1463 info@swankfarms.com dick@swankfarms.com bonnie@swankfarms.com Please note Swank Farms home ranch and the San Felipe location are two separate properties. Due to the confusion in October we have only listed the address for the corn maze and market, both seasonal operations. For home ranch location please contact the office. Market & Corn Maze location: 2600 San Felipe Road Hollister, CA 95023 San Benito County
2600 San Felipe Road, Hollister, California, 95023