Welcome to CornFusion Crop Maze & Fall Festival!! Come join us this fall at our Family Ranch for a fun filled day at CornFusion Crop Maze & Fall Festival. At CornFusion, you will find about 20 acres of fun for all ages! This includes our 8 acre Crop Maze. We also have added some new, exciting things to do in 2013, including an improved Pumpkin Patch!
13444 Moore Road, Lakeland, Florida, 33809
This attraction is miles from your location. MAP IT NOW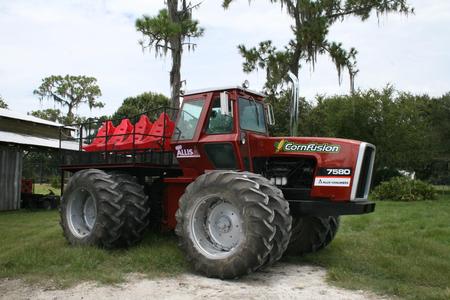 Fall Festival activities include: Crop Maze, Paintball, hayrides, Cornhole, Farm Animals, Feed the Cows, Corn Ball, Air Cannons, Swings, Duck Races and MORE!!! Welcome to CornFusion Crop Maze & Fall Festival! Ticket Prices (general admission, including Pumpkin Patch. Some activities may have an additional cost): Adults—$11 Children 5 to 10 years old—$9 Children 4 years and Under—FREE *Call for Field Trip & Birthday Party Rates Courtesy of Sports Central of Lakeland. Although our Corn Maze didn't grow well due to the rain last year, we still had a good turn out and everyone still had a blast. This year it rained too much as well, but that didn't stop our Crop Maze from growing! We were able to work with it, and now it's high enough to get lost! And if you're not keen on getting lost in the Maze, there's plenty of other activities to enjoy. See the calendar for our hours of operation for the Crop Maze & Fall Festival. **Field Trips can be booked Monday through Friday only. Be sure to check the weather before coming out, all activities are weather permitting. "Big Allis" is one of our new editions this year. She is a big 'ole monster tractor that we fixed up just so we can take you on a bumpy ride around our ranch. But beware, she may end up in a swamp and she likes to smash into cars! Zombie Farm Painball What is ZombieFarm Paintball Hayride? It's a 20 minute Hayride, in the dark, that takes you through ZombieFarm's Infectious Zones. But be careful and use caution—there have been reports of the living dead lurking in the night, especially around swampy areas!
The Smith Family Presents: A Country Christmas Hayride Get in the Christmas Spirit and join us in the month of December to celebrate the holiday season. At A Country Christmas Hayride, all ages are welcome to take part in our festivities. Festivities Include: * 30 Minute Lighted Hayride (blankets limited; you may bring your own) * Cowboy Santa Claus * Fire Pits for Marshmallow & S'more Roasting * Bounce Pillow * Christmas Movies (viewing starts at 7 PM) * Live Nativity Scene with Farm Animals * Concession Stand * Vendors (vendors may charge a fee for their product and/or service) - WHEN? Fridays (2PM - 6PM), Saturdays (9AM - 6PM), Sundays (12PM - 6PM). September 28 - November 3, 2013 TICKET PRICES Adults—$11 Children 5 to 10 years old—$9 Children 4 years and Under—FREE HALLOWEEN - HAUNTED MAZE!! October 31, 7PM - 10PM. ZOMBIE PAINTBALL HAYRIDE - We supply the paintball guns and you get approximately 200 rounds of paintballs to shoot from a Hayride at our Zombies! WHEN? Friday and Saturday nights from 7PM - 10PM, September 28 - November 2, 2013. Help support Florida Agriculture & your local Farmers. WEATHER PERMITTING. BE SURE TO CHECK THE WEATHER BEFORE COMING OUT! www.CornFusionmaze.com www.facebook.com/CornFusionMaze www.facebook.com/ZombieFarmPaintball
13444 Moore Road, Lakeland, Florida, 33809