Dell'Osso Farm was founded in the 1920's by three brothers from Italy who started farming asparagus. Rudy Dell'Osso, the son of one the original brothers, took over the farm in the 1950's and diversified into growing tomatoes, beans and alfalfa. In the mid 1970's, Ron Dell'Osso, Rudy's son, joined the business and added pumpkins, melons and sweet corn to the crop rotation. In 1997, Ron and his wife Susan, started the first Corn Maze and the Halloween event has grown into a Haunted House, Pumpkin Blaster and much more. The Dell'Osso Family Farm October event has grown into one of the most popular Halloween season destinations in the nation, with close to 125,000 people visiting the site each October. The event still remains a family operation, with the entire Dell'Osso family participating. We hope your family will enjoy our farm as much as we do.
26 Stewart Road, Lathrop, California, 95330
This attraction is miles from your location. MAP IT NOW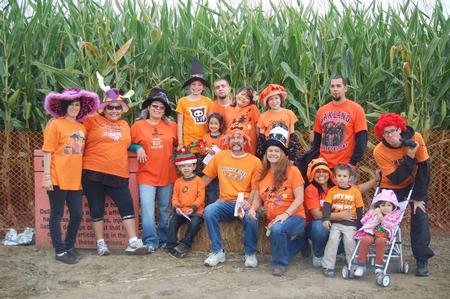 Our legacy is our corn mazes. These one of a kind originals were designed and created by our family. Until 2007, every aspect of these mazes were done by hand and farm equipment. No shortcuts with computers. They were all home grown. Corn Maze • Dell'Osso Express Train • Pumpkin Blasters • Pumpkin Princess • Pumpkin Prince Gem Mining •Jumping Pillows • Spinning Pumpkins • Kiddie Land • Pony Rides • Petting Zoo • Face Painting Tram • Tractor Train • Scarecrow Ride • FREE Hay Ride • FREE Speedway • FREE Tire Pyramid Country Store • Maze Bridges • Picnic Area • Food Court • Seasonal Decorations • Photo Opportunities And much, much more!
RAISE MONEY for your organization at DELL'OSSO FAMILY FARM. Pre-Sell Tickets to the Corn Maze Event and EARN 20% of every ticket sold. We have three types of Combo tickets for sale. Two include an unlimited one day entrance into the Corn Maze and Haunted House. One is geared toward the younger children with an unlimited one day entrance into the Corn Maze and Kiddie Land. For a complete sales package see below. Please go to our website to complete and submit the form to register for your organization. - From the Bay Area - take I-580 east to I-205 toward Tracy. After the I-5 merge to Sacramento, take the first exit at Mossdale Road. Turn right at stop sign, then make first right and go under the freeway. Turn right onto S. Manthey Road. We are on the left. You are there! From Sacramento - take I-5 south through Stockton/ Lathrop. Take the Manthey Road exit, turn right at stop sign. Follow approximately .41 miles to the PumpkinMaze on the left. From Modesto - take SR-99 to SR-120 to I-5 South. Take the first exit (just before I-205) Manthey Road, turn right at the stop sign. Follow approximately .41 miles to the PumpkinMaze on the left..
26 Stewart Road, Lathrop, California, 95330