Come out to our farm and get lost in our 5 acre corn maze and see if you get trough all the twist and turns to find your way out. While in the process you and your family can play Maize-o-poly! Let the kids ride the cow train and jump on our 70ft jumping pillow. We also have pumpkin patch, petting farm and more...
15990 Stur Street, Masaryktown, Florida, 34604
This attraction is miles from your location. MAP IT NOW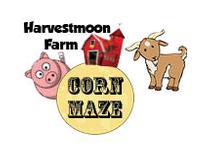 Come get lost in our 5 acre maze Featuring a new design each year, this years maze design has been cut into the field just for you. The 5-acre corn maze features more than 3 miles of twists, turns and decision points and the Farm features a variety of other activities including mini mazes, 70 ft jumping pillow, pony hopping, riding a cow train, a petting farm, arts and crafts, and more. There is also a pumpkin patch onsite. Open from 10:00 a.m. until 5:00 p.m., free for kids 2 and younger, $11.95 plus tax ages 3 and up!
15990 Stur Street, Masaryktown, Florida, 34604