Uesugi Farms Pumpkin Park

Welcoms to Useugi Farms Pumpkin Park where we offer • FREE Admission• FREE Live Entertainment• GREAT Food• TONS of Pumpkins• Train• Cow Train• 2 Children's Corn Mazes• 2 Hayrides• Carousel• Pony Rides & Petting Corral• Pumpkin Pyramid• Hay Jump • Pumpkin Lab We hope we get the chance to see you here!! Updates: World Record Pumpkin! On Saturday, 10/12, we weighed the World Record pumpkin at our Annual Giant Pumpkin Weigh Off. It weighed 2,032 lbs. and was grown by Tim Mathison of Napa, CA. I'd like to congratulate the top five winners: 1st place: Tim Mathison - 2,032 lbs. - Current world record heaviest weight pumpkin Napa, CA 2nd place: Pete & Cindi Glasier - 1,784 lbs. - Napa, CA 3rd place: Russ Pingrey - 1,564 lbs. - Santa Rosa, CA 4th place & Heaviest Local Pumpkin (Santa Clara County): Vincent Zunio - 1,514 lbs. - Los Altos Hills, CA 5th place: Leonardo Urena - 1,503 lbs. - Napa, CA Best Looking Pumpkin: - Vernon Blaziek - Napa, CA Check us out on the Kelly Ripa & Michael Strahan show on Thursday 10/17. The pumpkin will be featured at The New York Botanical Garden's Haunted Pumpkin Garden exhibition through Halloween. It will be carved by Ray Villafane on October 19-20. The master carver, featured on the Food Network, will transform humongous pumpkins into zombies and other unearthly creatures. Click here to watch Tim's World Record pumpkin being weighed!
14485 Monterey Road, San Martin, California, 95046
This attraction is miles from your location. MAP IT NOW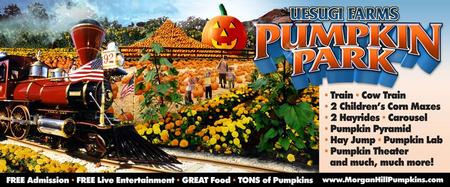 Get Lost in Kayla's Corn Maze Take a stroll through this 2 acre corn maze and try to find your way out. Interactive trivia cards will help you navigate through this aMAIZEing Corn Maze. Fun for the whole family. Children under the age of 10 need to be accompanied by an adult. Operates Mon.-Fri. 1pm-closing. Sat. & Sun. 9am-closing. Pumpkin Pete's Enchanted Hayride Meet Pumpkin Pete and travel through some of the most beautiful and awe-inspiring lands of Uesugi Farms. Visit Pumpkinland, our gorgeous Sunflower Gallery, and the spectacular Marigoldland, filled with over 100,000 hand-sown flowers. This one of a kind hayride is completely narrated and complimented with charming music. It's a must see! Operates 9am-6:30pm daily. Train Take a nostalgic ride aboard our Allan Herschell Iron Horse or our blue and yellow Arrow Streamliner trains. Visit Morgania, where our scarecrows live. Operates 9am-closing daily. Pumpkin Blasters Come and shoot targets with mini pumpkins out of this gun… at 90mph. What a blast!! Safe for all ages. Operates 9am-closing daily. Bootsie's Honey Hut Bee sure to stop by Bootsie's Honey Hut. You can see live bees in their hive working away. You can purchase all kinds of bee-made goodies such as jars of honey, honey sticks, candy and candles. Get your honey all year long by visiting www.allhoneystore.com. Operates 9am-closing daily. Bootsie The Bee Follow the corn path to discover all of Bootsie's colorful, textured friends, and learn fascinating 'bee-facts' too. Be sure to visit Bootsie at night. All the storyboards are lit up with blacklights. Operates 9am-closing daily. Hay Jump Have the kids jump on this gianormous jumper made of giant haybales. What a great way for the kids to burn some energy! Operates 9am-closing daily.
Get a down home welcome on your visit to Uesugi Farms Pumpkin Park as you journey through our Park learning fun facts and creating memories. Morgan Hill Pumpkin Patch Tours Tour Includes: A personal bus greeter and tour guide A seat in The Pumpkintime Theatre – Learn how pumpkins grow A visit in our Pumpkin Lab – See first hand the many stages of the life of a pumpkin A journey on our Train – travel through Morgania, where our scarecrows live! The Hay Jump – A great way to burn some energy! A perfect pumpkin of your choice (one per child) A stroll through our corn maze to visit Bootsie the Bee and all her colorful, textured friends, and learn fascinating "bee facts" too. To schedule your tour, please call (408) 778-7225, Monday through Friday between 9AM and 5PM starting Sept. 3rd. Note: 10 person minimum on all tours! Please have the following information ready: Name of your school Name of the contact teacher, phone number and email address Date and time of field trip Number of students and adults attending Tour Pricing: October 1st-4th $6.50 per student & adult October 7th-18th $7.00 per student & adult October 21st-31st $7.50 per student & adult SPECIAL – ALL MONTH!! Mon.-Fri. after 1:00 PM $5.50 per student & adult
14485 Monterey Road, San Martin, California, 95046