A family-owned farm providing local produce, fall activities for families such as corn mazes, pumpkin park & U-Cut Christmas Trees. Be sure to look for the big red barn and join us!!
8705 Marsh Road, Snohomish, Washington, 98296
This attraction is miles from your location. MAP IT NOW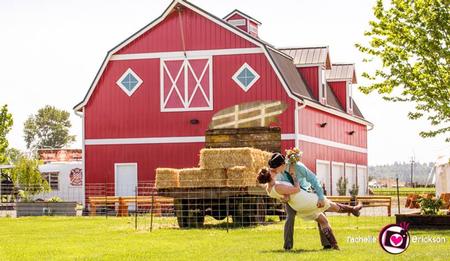 In October, the maze will be open every Tuesday through Sunday. Please check out website for more information on the hours and dates of the corn maze. Weekends in October include our Giant Pumpkin Patch and Family Pumpkin Park with "down on the farm" fun family activities for everyone. "Family Fun They'll Never Forget" Group Rates & Info Groups are entitled to some special benefits. First, groups of 20-49 save $1.50 off admission. Groups of 50 or more save $2.00. Second, your group can take advantage of our express admission gate. All groups need to pay as one to take advantage of these benefits. Don't Wait In Lines! We get busy at night. You can save money and avoid waiting in our ticketing line by clicking on the Buy Now button on the right. You can print your e-ticket at home and bring it directly to the Customer Service window at our ticket booth. Remember that this is a corn field. The ground can be uneven and muddy. We encourage you to dress appropriately for the weather, bring a flashlight for evening outings, and please leave your pets at home. Note: We do not allow open containers, backpacks, purses or handbags into the maze after 6:00 p.m. Please leave these items at home or in your car. Stocker Farms is "Pumpkin Central" - we grow acres and acres of pumpkins of all shapes and sizes. We have two sites for you to select your pumpkins from on our farm. 2pumpkin sm Our farm market is open daily with a traditional pumpkin patch as well as a lawn area with pumpkins sorted for your convenience. Across Highway 9 from our farm market we have our weekend Family Pumpkin Park complete with a ten acre pumpkin patch and 10 acre corn maze. The Family Pumpkin Park includes hay rides, corn crib, trout fishing, face painting, air jumpers, human hamster wheels, pumpkin launching, craft booths and much more with your $9.95 admission. Your little pumpkins two years old and under are free. We provide red wagons for your use and picture taking. We have acres of free parking. Please dress for the weather.
Stocker Farms is nestled in the beautiful Snohomish River Valley, just outside historic downtown Snohomish, with stunning views of the Cascade Mountains. Our wedding and events venue offers rustic simplicity, and features a classic red barn, wide-open spaces and plenty of country charm…the perfect place to gather with friends and family. Our special occasion canopy seats up to 150 at our own wooden tables; we have a flower garden area that is perfect for ceremonies under the sky. Children welcome! There's plenty of room on the grounds for kids to run and play and have a great time! We are Snohomish's newest wedding venue, but our spacious grounds offer unlimited options for gatherings of all types and sizes. We host weddings, receptions, reunions, festivals/fairs, company picnics, corporate events, and other private gatherings. We are currently giving tours and booking events for 2014 and 2015. - Easy to find! Look for "the Red Barn" on HWY 9 near the entrance to historic downtown Snohomish. You are welcome to tour our venue. Please phone or email us to schedule an appointment We hope you will choose to make some of your happiest memories at 4th generation Stocker Farms in Snohomish, Washington. For more info, contact us! 425-238-1678 or Events@stockerfarms.com
8705 Marsh Road, Snohomish, Washington, 98296