Norton Farms' mission is to provide our customers with fresh, high-quality produce and other products at prices you can afford. Our commitment to quality is evident in our associates. Every Norton Farm employee takes pride in their job, and strives to make your shopping experience enjoyable. Norton Farms has been selling farm fresh produce for 23 years (since 1992)!
39W369 Route 64, St. Charles, Illinois, 60175
This attraction is miles from your location. MAP IT NOW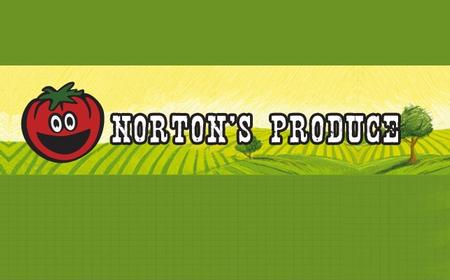 About Norton's Maze How does the maze work? Our Corn Maze covers five acres. When you enter the maze, you will receive a map of the maze just in case you get lost. As you navigate the maze, you will try to find various checkpoints. When you find a checkpoint you will also find a paper punch to punch your map. If you find all the checkpoints, you can turn in your card and be entered in a drawing to win a giant pumpkin of over 100 pounds!! New in 2013 - Live GPS GAMES! Turn your smartphone into a GPS easily with the newest version of our smartphone games. We have some really cool new technology that will allow you to get your maze map, punch card, trivia, and GPS enabled maze map right on your smartphone. Simply head on over to mazetrivia.com/nortons for more info on how to "Use GPS". MAZE RULES Purchase ticket before entering maze. NO SMOKING on the farm. Dry corn does not mix with fire! All children 12 and under must be accompanied by anyone 13 or older. Do not pick, pull, throw, or damage the corn or other objects within the maze. Do not take any corn from maze. We will harvest the corn in November. Please stay on the maze paths. Cheating ruins the corn for everyone. Do not cross any rows of corn and ruin the fun for other guests. Paths are bumpy. Watch your step. ...Come On Out & Enjoy With The Entire Family! Norton's Hollow - Fall Fun for the Family! Q:What is Norton's Hollow? A: Norton's Hollow is our fall season play area designed for children ages 2 - 10. It has straw mazes, corn bundle tunnel, animals to feed, picnic tables, a straw mountian and other activities. Q:When does Norton's Hollow OPEN and CLOSE for the SEASON? A: We try to have the Hollow open by Labor Day weekend (Sept. 1) depending on the "build" time for us to set everything up. Check this website for exact opening date in September. The Hollow will be OPEN through HALLOWEEN (Oct.31st). The Hollow is open every day in the fall (weather permitting). If is is raining or there is a possibility of rain we need to cover all the straw and close the Hollow for safety precautions. Q: What are the hours for the Hollow? (Sept. 1 - Oct. 6 ONLY) A: Norton's Hollow play area is open 9 am until 6 pm on Mondays through Fridays; 9 am - 5 pm on Saturdays and 10 am - 4 pm on Sunday's. We recommend allowing yourself and children at least an hour of fun. (We still have to charge a fee if you come within the last half hour before we close). Everyone is welcome to stay in the Hollow until the produce stand closes for the day which is 6:00 pm Monday's through Friday's, 5:00 pm on Saturday's and 4:00 pm on Sunday's. EXTENDED OCTOBER HOURS (October 7-30th) Monday - Friday 9 am - 6 pm Saturday 9 am - 6 pm Sunday 9 am - 6 pm Q: What is the admission price? A: General Admission is $3 per adult and $3 per children 3 years of age and older. Admission for adults 60 and older is $1. Children 2 years old and younger are FREE! (The primary reason we charge anything at all is to cover the expense of all the straw, materials and labor used to set up and take down the Hollow each season) It is the cheapest fun you and your children can have and enjoy together! General Admission COMBO TICKET (Hollow & Corn Maze): $8.00 (Save $2) Senior 60+ COMBO TICKET (Hollow & Corn Maze): $4.00 (Save $2) You can purchase discounted Hollow tickets for $2 NOW and SAVE $1! Discount ends on Labor Day. Great for Cub Scouts, Brownie Troops, and birthdays! Q:Are PETS allowed? A: Due to insurance regulations we cannot allow pets in the Hollow or anywhere on the farm. Please do not bring any pets (or they must stay in your vehicle at all times). Thank you. Q:Are we allowed to bring food, snacks, and beverages? A: You are more than welcome to bring any food, snacks or NON-ALCOHOLIC beverages into the Hollow or onto the farm. We have picnic tables in the Hollow to eat on. We offer for sale soda, bottled water, and juice drinks. On weekends we also sell fresh made popcorn. Apples, Caramel apples, peanut brittle and peanut brittle popcorn are also available. We occasionaly have cotton candy available and on cooler days we offer hot cider, coffee and hot chocolate for sale. No alcoholic beverages are allowed on the farm or in the Hollow. No smoking or fires are allowed in the Hollow or on the farm. Q:How long can we stay? A: Everyone is welcome to stay at Norton Farm and in the Hollow as LONG AS THEY LIKE until the farmstand closes for the day. Norton's Hollow is not open during the summer. Q: Are there animals in the Hollow? A: We try to have some animals for children to feed each year. We must borrow animals from friends of ours because we do not have the capability of taking care of the animals in the winter time and because veterinarian costs are too much to maintain farm animals throughout the year. We may not have animals for the first several days that the hollow is open because the people we borrow them from have not brought them to our farm yet. They bring them as soon as possible, depending on their personal schedules. Due to insurance regulations there is no DIRECT feeding from you or your childs hand to any animal. We use a tube feeding system where you or your child places the feed in a PVC tube which delivers the feed into the animals feed pan in their pen. Q:Are there hay rides? A: In the Fall, Norton's Produce offers FREE hayrides out to the pumpkin patch where customers may pick their own pumpkin. The Hayrides operate ONLY on 3 weekends in October (weather and field conditions permitting). The hayrides run approximately every 15-20 minutes during these hours and also can take you out to our 5 ACRE CORN MAZE! Sat. Oct. 12 (9:00 - 5:30) Sun. Oct. 13 (9:00 - 4:30) Sat. Oct. 19 (9:00 - 5:30) Sun. Oct. 20 (9:00 - 4:30) Sat. Oct. 26 (9:00 - 5:30) Sun. Oct. 27 (9:00 - 4:30) Q:Does Norton's Produce offer field trips? A: We offer fall field trips for pre-school, kindergarten and 1st grade school children. Schools and teachers should contact Norton Farm at (630)377-8118 for information. Field trips are offered Mondays through Fridays the weeks of September 23 - October 25. The cost per child is $5.00. It is recommended to schedule as early as you can because dates fill up fast! For 2014 we may begin to offer AFTERNOON field trips for Webelo, Cub Scouts, Daisy, Brownie and Girl Scout troops. Scout and Troop leaders please call us in 2014, summer or fall for information. Q:What types of payment do you accept? A: We accept cash, credit, debit, personal checks. Visa, Mastercard, Discover, American Express and Norton's Gift Cards.
39W369 Route 64, St. Charles, Illinois, 60175