Brad's Produce is a fully operational, family run farm located in Churchville in beautiful Harford County, MD. We're open from mid-April through October and offer all the best of local produce each season. We live and work on the farm and raise our family here. We're helping to build a healthy community for our children and yours! We open in mid-April with our own greenhouse grown annuals and perennials as well as asparagus, spinach, lettuce and other early spring offerings. Then in May we add u-pick and pre-picked strawberries. Before we know it we're sliding into summer with sweet corn, tomatoes, melons, squash, green beans and all of our local summer produce. We finish out the season in the fall with u-pick pumpkins, a Maize Quest corn maze, mums, apples and apples cider and all kinds of school field trips.
550Asbury Road, Churchville, Maryland, 21028
This attraction is miles from your location. MAP IT NOW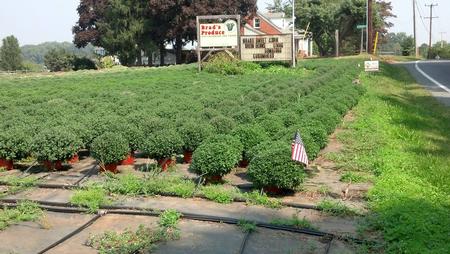 Corn Maze...Get Ready For Some Fun! Travel through our paths of corn back in time to the beginning of farming in the United States. Discover who designed the first plow and which president thought agriculture was "a science of the very first order". Learn the importance of farming while navigating through our fields. Will you conquer the corn?!?! fall corn maze at Brad's Produce Brad's Corn Maze is a great activity for scouts, schools, youth groups and corporate parties. Maize-o-Vision secret decoders help you navigate the pathways through the puzzle. We have special activities designed just for our younger Questers - our own straw maze. Summer reading passes will be accepted again for free admission through September 30, 2013. Maize Quest is located at Brad's Produce, where it is a Fall Festival every weekend in October. You'll find Mums, Pumpkins, Apples, Fall Decoratives, and lots of family fun activities! Bring the family for a weekend to remember!
Events and Activities Brad's offers lots of events and activities here on the farm, from spring through fall, for "kids" of all ages! Mother's Day Weekend Extravaganza (May) Hanging Baskets Strawberry Festival (May) U-Pick and pre-picked berries Fall Festival (September - October) Fall Hardy Mums (Assorted colors & styles) Pumpkin Picking Apples Hayrides Fall Decorating items (Straw Bales, Cornstalks, & Indian Corn) Farm Parties Birthdays Scouts Corn Maze Events (Fall) Birthdays Contests - From Baltimore & Points South: 1. Take 95 North 2. Take MD-543 exit towards Churchville, exit #80 3. Turn Left on Rte 543. Travel approximately 2 miles to Calvary Road (Route 136) 4. Turn Right on Calvary Road (Route 136) 5. Turn left on Asbury Road (550 Asbury Road) From Towson & Points East: 1. Take 695 East 2. Merge on 95 North 3. Take MD-543 exit towards Churchville, exit #80 4. Turn Left on Rte 543. Travel approximately 2 miles to Calvary Road (Route 136) 5. Turn Right on Calvary Road (Route 136) 6. Turn left on Asbury Road (550 Asbury Road) From Pennsylvania & Points North: 1. Take I-95 South / US 202 South towards Baltimore/Delaware Memorial Bridge 2. Merge on 95 South 3. Take the MD-22 exit towards Aberdeen/Churchville, exit #85 4. Turn Right on Churchville Road 5. Turn Left on Grafton Lane 6. Turn Left on Calvary Road (Route 136) 7. Turn Right on Asbury Road (550 Asbury Road)
550Asbury Road, Churchville, Maryland, 21028