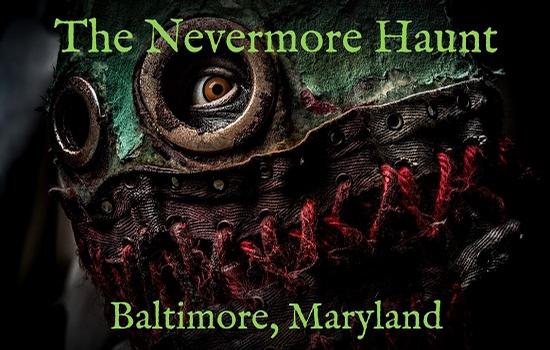 ABOUT "The Nevermore Haunt"
The Nevermore Haunt is located in the heart of Baltimore, Maryland. Open 13 nights in October, it is consistently among the highest-rated haunted houses in Maryland. The Nevermore Haunt is known for its elaborate sets, terrifying characters, and state-of-the-art special effects. The haunted house themes draw from local Baltimore history. It is also known for its sideshow performances, which feature bizarre and over-the-top acts. Bizarre creatures, terrifying visions of the past and heart pounding horrors torment visitors brave enough to enter. Historically themed and extraordinarily scary, The Nevermore Haunt is unlike any haunted house you've ever seen! Featuring Sideshow performances including magic, strongman and fortune tellers, free on-site parking, concession and outdoor bar.
450 Mott Street, Baltimore, Maryland, 21202
4106963313

Haunted Houses

Recommended for Guests 12 and over (SCARY)
Haunted House
Midway (Games)
Join our email list to receive discount offers and updates.
Ticket And Price Information
Doors open at 7:00pm each night, we stop selling tickets at 10:00pm or 11:00pm depending on the night, check our calendar for details. You may arrive anytime within that window. You must be on site and checked-in at our ticket booth or check-in booth (if you purchased your tickets in advance) before the closing time. As long as you are checked-in, you are guaranteed to enter the event. ***If you purchase tickets online be sure to see the check-in booth before getting in line to get your wrist band***

The Nevermore Haunt PHOTOS
450 Mott Street, Baltimore, Maryland, 21202
WARNING: This event is not intended for children or the faint of heart. Children under 4ft tall will not be admitted, anyone under 16 years of age must be accompanied by an adult. Please read our Rules, Warnings and Waiver before purchasing tickets. All sales are final.
The Nevermore Haunt is considered to be the scariest in Baltimore. This is because it is known for its intense scares and its realistic special effects. The Nevermore Haunt is not for the faint of heart, but it is sure to provide a memorable Halloween experience for those who dare to enter.
Buy your tickets now for the fright of a lifetime!