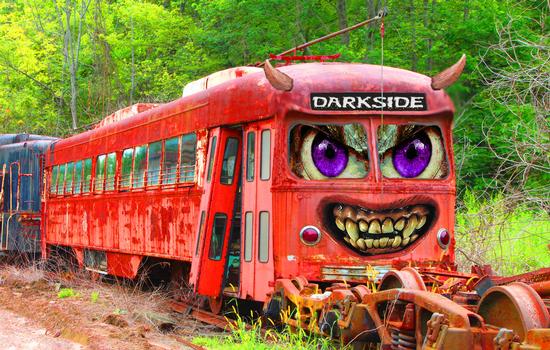 ABOUT "Rails to the Darkside"
As the fall chill fills the air, on the darkest of nights, mournful cries of the abandoned dead are heard on the tracks at the Connecticut Trolley Museum. Come for a scare if you dare...the next trolley ride is an express to the Darkside! During this haunted experience, ride vintage trolleys into the dark woods for a fear that you will never forget. Listen to the tale of yesteryear, as you learn of a hastily moved cemetery whose bodies were left behind...their angry souls seeking their revenge. Will you survive? The event will be held on Friday and Saturday nights starting October 4th. This experience is rated PG-13 and may be too intense for the squeamish. Hours are 7pm-9:30pm (gates open at 6:15pm for ticket sales) and reservations are not needed, tickets can be only purchased on the night you attend up until 9:30pm. Admission is $20 per person and recommended for ages 16+.
58 North rd, East Windsor, Connecticut, 06088
860-627-6540

Haunted Houses

Recommended for Guests 16 and over (VERY SCARY)
Haunted House
Haunted Forest
Haunted Trails
Museums
Join our email list to receive discount offers and updates.
Every Friday & Saturday night during the month of October from 7pm-9:30pm
58 North rd, East Windsor, Connecticut, 06088