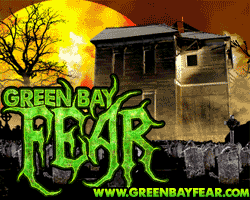 Green Bay Fear Haunted House brought to you by the Beja Shriners in Green Bay, Wisconsin. Will you survive or become another victim to the haunt? Click this profile for directions, information, photos, videos and more.
1950 Bond Street, Green Bay, Wisconsin, 54304
This attraction is miles from your location. MAP IT NOW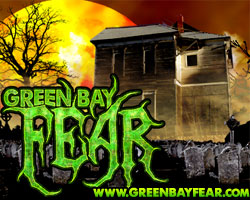 Shawano Manor presents Green Bay Fear 3-D Haunted House. This is North East Wisconsin's original 3-D Haunted Attraction. A must see for any Halloween Victim! See the recreated horrors of long ago. R.I.P UPGRADE!! Guests will recieve a grab bag loaded with over $20 worth of goodies. This is the only way to get your 2010 event T-Shirt.
October 21st and 22nd Purgatory Hill and Johnny Lowebow will be performing at the GB Fear RIP Experience. Back by popular demand Bonzai McPhearson had become better known as our GB Fear Band and will be playing on the stage all other Friday and Saturday nights.

September 22 October 5-7, 12-14, 18-21, 24-31 - 7-11PM
1950 Bond Street, Green Bay, Wisconsin, 54304