Nightmare Dungeon Haunted Attraction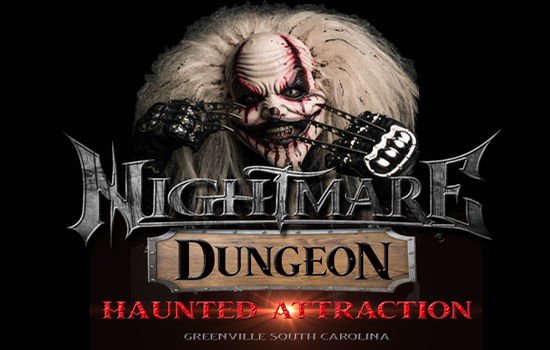 ABOUT "Nightmare Dungeon Haunted Attraction"
A NEW NIGHTMARE IS BACK, THE ALL NEW NIGHTMARE DUNGEON... ALL HELL IS ABOUT TO BREAK LOOSE COME MEET ''ICKYZ" OUR NEW LEAD ACTOR and he's gonna be all up in your Nightmare this Halloween Season in Greenville South Carolina !!! This year Nightmare Dungeon has changed, its taken a "Wrong Turn" and now has somehow Twisted the outside walls from an old white farm house into a old Creepy 2 Story "Cabin In The Woods"....What once was a Creepy Erie blue glow that came from the old 114 year old white farm house at night has now became a Blood Red Glowing Log Cabin in the woods ! Also the old Cabin has grown even bigger and even more Twisted Drafty tunnels, Rooms, Passages, and best of all.... there's no more tour guides to guide you through the old 2 story cabin, Its all self guided and its up to you to find you're own way out now but good luck because this old cabin is packed full of nothing but pure Horror, Terror, & Creepy Twisted Creatures ! This tour is NOT for kids like other Haunts.... THIS HAUNT IS THE REAL DEAL, if you cant handle pure intense scares or the sinister feeling of fright shooting up your spine then stay home because this year the Dungeon has changed its roots and the crew here is ready to twist your soul into the worst Nightmare you'll ever have !!!! It all starts Sept, 14th every single night through Nov, 3rd !!! Visit www.nightmaredungeon.com for all the details !!! Tell all your friends !!
645 Old Anderson Road, Greenville, South Carolina, 29611
864-905-2289

Haunted Houses

Suitable for all guests and families (HALLOWEEN FUN)
Haunted House
Haunted Trails
3D Haunted House
Screampark
Join our email list to receive discount offers and updates.
Ticket And Price Information
$30 per adult and $20 kids under 10

VIEW CALENDAR
Opens this year 2019on Sept 13h --thru-- Nov. 3rd Every single night, light rain is nothing to us we have you covered the dungeon is open....EVEN SUNDAYS.
Nightmare Dungeon Haunted Attraction VIDEOS
Nightmare Dungeon Haunted Attraction PHOTOS
645 Old Anderson Road, Greenville, South Carolina, 29611
Read This Warning Before Entering Nightmare Dungeon Haunted Attraction!
Nightmare Dungeon Haunted Attraction reserves the right to refuse admission to anyone. You will experience intense audio, extreme visibility, strobe lights, fog, damp or wet conditions, special effects, sudden actions, and an overall physically demanding environment. You should NOT ENTER this haunted house if you suffer from asthma, heart conditions, are prone to seizures, physical ailments, respiratory or any type of medical problem, or are pregnant or suffer any form of mental disease including claustrophobia.
DO NOT ENTER Our attraction if you are intoxicated, wearing any form of cast, medical brace, using crutches, or have any type of physical limitations. Do not enter Our attraction if you are taking medication or using drugs of any type. You will not be admitted if our staff members observe any of these conditions.
DO NOT ENTER IF YOU SUFFER FROM ASTHMA HEART CONDITIONS SEIZURES OR ANY TYPE OF MENTAL, PHYSICAL, RESPIRATORY AND/OR MEDICAL PROBLEMS.
DO NOT smoke, run, eat, or drink inside the attraction. Additionally there is no touching of actors, customers, or props inside the attraction. No video or flash photography may be taken inside the attraction. You will not be admitted and asked to leave the property if any of these rules are not followed.
THERE ARE NO REFUNDS! ENTER AT YOUR OWN RISK!