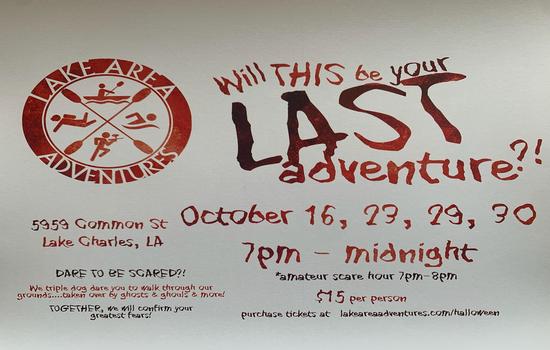 ABOUT "Haunted Adventure"
This could be your last #adventure LAKE AREA ADVENTURES is passionate about creating fun and exciting adventures within our community that entire families can enjoy! Our goal is to bring family fun and community together like our area has never seen before by using our very own beautiful and lush land and waterways, that are rich with potential for a truly fantastic adventure! We opened in Lake Charles in 2016, and have expanded our range of services, rentals, & products to enhance the rich potential our area has for outdoor experiences!
5959 common st, lake charles, Louisiana, 70605
(337) 310-1681

Haunted Houses

Suitable for All Guests and Families (MILD SCARES AND HALLOWEEN FUN)
Join our email list to receive discount offers and updates.
Ticket And Price Information
$15

5959 common st, lake charles, Louisiana, 70605