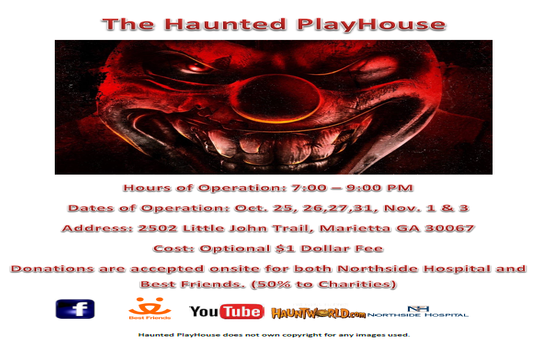 ABOUT "The Haunted PlayHouse"
Over the past 5 years, Jacob the killer clown has lured his victims into the Haunted PlayHouse. Every year we tried to stop his reign of terror, but we have failed. This year we got a report that Jacob the clown was hunted down and killed. We do not know who killed him, but we do know he is gone for good. After his death, we thought the terror has ended, but it appears new terror is just beginning.
2502Little John Trail Southeast, Marietta, Georgia, 30067
6787780894

Haunted Houses

Suitable for All Guests and Families (MILD SCARES AND HALLOWEEN FUN)
Join our email list to receive discount offers and updates.
Ticket And Price Information
$1.00 Optional Donation Fee. (Cash Only - Onsite)

We are a couple that manage and operates a local haunted house. Hours of Operation: 7:00 9:00 PM Dates of Operation: Oct. 25, 26,27,31, Nov. 1, & 3. Address: 2502 Little John Trail, Marietta GA 30067 Donation Fee Optional: $ 1.00 Half of all proceeds will be donated to Best Friends - Atlanta & Miracle Babies.
The Haunted PlayHouse VIDEOS
The Haunted PlayHouse PHOTOS
2502Little John Trail Southeast, Marietta, Georgia, 30067