SPOOKY ACRES HAUNTED HAYRIDE 2019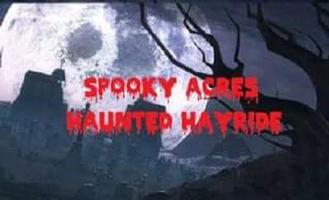 Haunted Hayrides

Suitable for all guests and families (HALLOWEEN FUN)
Join our email list to receive discount offers and updates.
SPOOKY ACRES - TRAIL OF TERROR (Haunted Hike) October 18th & 19th 7:00pm - 10:00pm $15 Regular Admission (CASH ONLY AT DOOR) (Not for the faint of heart .....muhahahahaha) - SPOOKY ACRES - HAUNTED HAYRIDE October 25th & 26th 7:00pm - 10:00pm November 1st & 2nd $15 Regular Admission $20 R.I.P. (FAST PASS) Ages 4 and under FREE (CASH ONLY AT DOOR) The Millbury Youth Camp Inc. 23 Herricks Lane Millbury, MA 01527
23 Herricks Lane, Millbury, Massachusetts, 01527
WARNING
This attraction reserves the right to refuse admission to anyone at anytime
Read this WARNING before purchasing ticket & participating in this event
*There is NO SMOKING ALLOWED once you have entered the gate, and out of respect for our other guests we ask that smoking be limited to the parking lot area.
ENTER AT OWN RISK
While attending The Millbury Youth Camp Inc.s SPOOKY ACRES TRAIL OF TERROR/HAUNTED HAYRIDE you may experience intense audio, loud sounds, sudden movements from props and or actors, intense bright lighting, extreme low visibility, strobe-lights, artificially generated fog, and or real fog depending on weather conditions, moving and or uneven flooring materials, including uneven earthen surfaces, with or without inclines. Please keep in mind this is an outdoor haunted attraction and THERE MAY BE MUD, and or other special effects, including foul smells designed to enhance your sensory experience, and this could be an overall physically demanding environment. This haunted attraction is exposed to the outdoor environment. Proper footwear is also strongly recommended.
You should NOT ENTER this haunted attraction if you suffer from asthma, heart conditions, prone to seizures, physical ailments, or any type of physical limitations, if you do you do so at your own risk. Do not enter the attraction if you are taking medication or using drugs of any type. You will not be admitted if any of these conditions are to be noticed by our staff.
NO WEAPONS, LIGHTERS, PHOTOGRAPHY, FLASHLIGHTS, SELFIE STICKS or LASER POINTERS are permitted.
DO NOT smoke, run, eat or drink once inside the attraction. Additionally, there is no touching of the actors, customers, scenery or props inside the attraction property. You will be asked to leave the property, and admission fee will not be refunded if any of these rules are not followed.
Flash photography and video ARE PERMITTED in the waiting area, ONLY before entering the the attraction.
NO VIDEO OR FLASH PHOTOGRAPHY may be taken once inside the attraction.
TURN OFF ALL electronic devices including any vaping devices, cell phones as these devices emit light. **If it's dark, we have designed it that way, we strongly suggest that you move at a slower pace to allow your eyes to adjust to designed areas of DARKNESS.
We undertand that this attraction may be too intense for some, so AT ANYTIME, if you find that this haunted attraction is TOO INTENSE and you wish to end your experience, you are asked to STOP WHERE YOU ARE, RAISE and WAVE YOUR HANDS IN THE AIR and tell I QUIT!!!! or I WANT OUT!!!! and a member of our STAFF will escort you out of the attraction to the front waiting area. SORRY THERE ARE NO REFUNDS.
*****Your ticket is a revocable license and may be revoked and readmission refused. Holder of this ticket understands that there is inherent risks involved with attending this attraction. Holder voluntarily assumes all risks and dangers associated with attending this attraction. In consideration and acceptance of entrance into this attraction, holder agrees to release the operator, it's parent corporations, affiliates, officers, directors, employees, volunteers, and landlords from any and all liability, harm, injury, and or death, cost of expense whatsoever that may arise directly or indirectly from attending this attraction or any attraction at this location.