Climb aboard the Jeepers Creepers Truck & Trailer... we'll drive deep into the woods. Once you think we are far from anything, a light appears, Elvira's Rack. Guests may snag one last drink for courage before it's time to face the trail. With multiple routes and a variety of creatures to face, it's up to you to make it through...
3400 W. Fern Mountain Rd, Muskogee, Oklahoma, 74401
This attraction is miles from your location. MAP IT NOW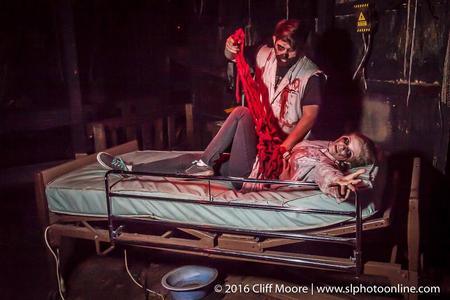 This haunt rates 5 SKULLS on the Castle's Scare meter. Guests will board the trail's transport and listen to Cappy's tales of lore and legend while leaving the safety of the village and driving out to the woods. Once arrived, you'll be greeted by Elvira, who sells spirits and tonics from her pub, "Elvira's Rack". When ready to venture into the Trail, you'll say goodbye to the comforting light of the Rack and descend into the labyrinth that many locals have learned to avoid, the TRAIL OF BLOOD. Over the next 30-45 minutes, you'll choose your own path. Many spirits and ghouls have been trapped in these woods and have been waiting for the chance to meet you.... This haunt contains many themes and allows you a chance to catch your breath, but moments of of peace and quiet are few and far between on this haunt. Get ready to run for your life!
3400 W. Fern Mountain Rd, Muskogee, Oklahoma, 74401