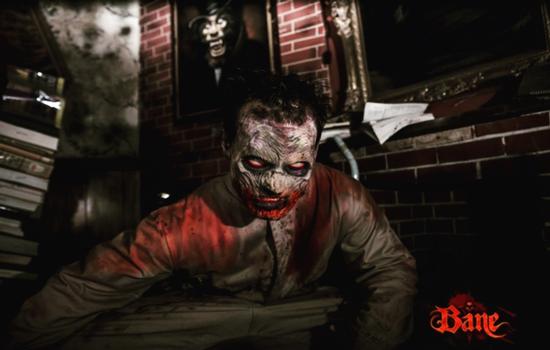 ABOUT "Bane Haunted House"
Bane has moved across the river to The Big Apple! Bane Haunted House is NYC's Largest and Scariest Haunted Attraction! With over 100 live actors every night, no animatronics and over 35 themed rooms, Bane is putting the Hell back in Hell's Kitchen!
618 West 46th Street, New York, New York, 10036
212-707-8530

Haunted Houses

Recommended for Guests 12 and over (SCARY)
Haunted House
Escape Rooms
Laser Tag
Join our email list to receive discount offers and updates.
Ticket And Price Information
General Admission: Basic Ticket VIP: Allows you to skip both the cue line and the ticket line! Happily Haunted: For kiddies 12 and under. - Gen. Admission: $35 VIP: $55 Happily Haunted: $10

September 2019-November 2019
Bane Haunted House VIDEOS
Bane Haunted House PHOTOS
618 West 46th Street, New York, New York, 10036
BANE utilizes strobe lights, extremely loud noises, fog effects, realistic props, cinematic gore, tight spaces, and in some cases no lights at all. It is intended to be extremely frightening and alarming. Our actors are trained to scare you. Be Warned!! We are a haunted house so please don't complain if you or anyone you're with chooses to leave midway through the attraction. Remember, we are here to scare you!!! BANE might play on any and all of your fears such as separation anxiety, fear of the dark, and the fear of tight spaces. ONCE AGAIN, YOU ARE WILLINGLY PAYING US TO SCARE YOU!!! IF YOU BUY A TICKET AND DO NOT ENTER, THERE ARE NO REFUNDS NO EXCEPTIONS!! IF YOU BUY A TICKET AND CHICKEN OUT MIDWAY, THERE ARE NO REFUNDS NO EXCEPTIONS. YOU MUST FOLLOW OUR RULES AT ALL TIMES, IF YOU DO NOT, WE WILL ASK YOU TO LEAVE IMMEDIATELY. NO REFUNDS NO EXCEPTIONS!!! WE ARE A HAUNTED HOUSE!! OUR JOB IS TO SCARE YOU! IN ORDER FOR EVERYONE TO EXPERIENCE THE SAME ATTRACTION, WE WILL NOT DISCLOSE ANY OF OUR SCARES. BANE IS DESIGNED TO BE EXTREMELY SAFE WHILE PROVIDING THE HIGHEST QUALITY SCARES. ONCE AGAIN, YOU CAME HERE TO GET SCARED IN A SAFE AND CONTROLLED ENVIORNMENT AND THAT'S WHAT WE WILL DO! Any child under the age of 15 MUST BE ACCOMPANIED BY AN ADULT!! Anyone under the age of 12 IS NOT ALLOWED IN! Women who are pregnant and individuals who suffer from heart conditions, high blood pressure, asthma, seizures, light sensitivity, claustrophobia, or any other health condition that could be aggravated by these special effects should consider this warning before purchasing a ticket to our Haunted Attraction. BANE is not responsible for lost or damaged items in the attraction or around the building, including the parking areas. NO REFUNDS NO EXCEPTIONS!!!!!