Halloween Haunt Nights – House of Terror 3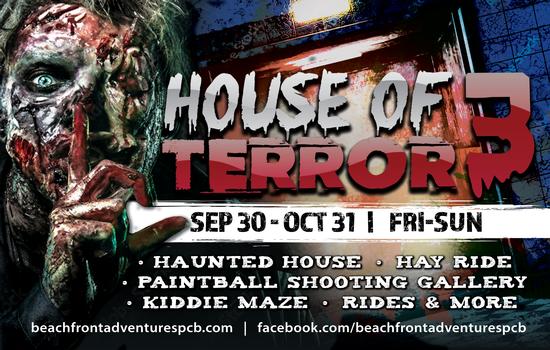 ABOUT "Halloween Haunt Nights – House of Terror 3"
Thrills, Chills and Wicked Fun abounds at BeachFront Adventures. We offer experiences and attractions for the faint of heart and thrill-seekers alike. Rely on your wits as you pass through the spine-tingling House of Terror 3 - try not to let your phobias get to you! House of Terror 3: Enter the House of Terror 3 at your own risk! Once inside the house, enter the elevator to your doom and despair. The elevator transports you to a nightmare with monsters and murders running amuck. Scream in fear and delight as your traverse through the different sinister rooms in the house of terror. We encourage you to stick to your group as you navigate the nightmarish and ghoulish haunted house. Monster Paintball Shooting Gallery: A Monster Runs amuck trying to wreak havoc on the beach. It is up to you to pick up your paintball and ensure the monster doesn't escape to achieve a master plan of destruction. Choose from a paintball war of 20 or 40 balls and defend BeachFront Adventures in our Monster Paintball Shooting Gallery. Buried Alive Coffin Experience: Take one last "ride" and put your bravery to the test in our Buried Alive Coffin Experience. This burial simulator is a solo horror experience that will push your senses to the limit. Submerged in complete darkness and encased in a coffin as you ride to your final resting place. Lay face up in the coffin, consumed by darkness, hear sounds, feel movements, and smell the roses or decay of your untimely demise. Fun For the Whole Family: Bring your whole family to BeachFront Adventures and enjoy the House of Terror 3, kiddie maze, hayrides, monster paintball shooting gallery, burial coffin experience, 360 flip & spin bumper cars, go-karts, mini golf, and Boardwalk Pizza & Brew!
12500 Front Beach Rd, Panama City Beach , Florida, 32407
850.775.4083

Haunted Houses

Suitable for All Guests and Families (MILD SCARES AND HALLOWEEN FUN)
Haunted House
Hayride
Zombie Paintball
Corn Maze
Mini Golf
Amusement Rides
Join our email list to receive discount offers and updates.
Ticket And Price Information
Haunted House $15 Armband + Haunted House Above 54 $40 Armband + Haunted House Under 54 $30 *Armband = Unlimited Mini Golf, Go Karts & Bumper Cars* Paintball 20 paintballs $5 40 paintballs $8 Buried Alive Coffin Experience $8 Hayrides and Kiddie Maze FREE

Sept. 30th 7-10 Oct. 1st 7-10 Oct. 2nd 7-10 Oct. 7th 7-11 Oct. 8th 7-11 Oct. 9th 7-10 Oct. 14th 7-11 Oct. 15th 7-11 Oct. 16th 7-10 Oct. 21st 7-11 Oct. 22nd 7-11 Oct. 23rd 7-10 Oct. 28th 7-12 Oct. 29th 7-12 Oct. 30th 7-11 Oct. 31th 7-11
12500 Front Beach Rd, Panama City Beach , Florida, 32407