As you approach an old, dilapidated shack in the cornfield, your heart rate starts to increase. There is a dim light on in an upper window and you catch a glimpse of a shadow. Someone or something is lurking up there. As you get closer it feels as if the corn is closing in around you and you are being forced towards the front door. Will you be brave enough to enter the shack and survive a half mile trek thru the ghoulish cornfield and terrifying woods? Not Recommend for under 13.
11321 S. Dransfeldt Road, Parker, Colorado, 80134
This attraction is miles from your location. MAP IT NOW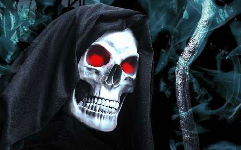 Outdoor Haunted Attraction walk through Corn Maze and haunted Woods!
$30.00 Per person. No Refunds. Tickets can be used a different night if you decide to turn around at the entrance. Cash or credit at the booth. - $30.00 Per person.

Subject to the weather. Check web site for any closings. - Open September 29th, October 5, 6, 7, 11, 12 ,13, 19, 20, 26, 27, 28 and Halloween
11321 S. Dransfeldt Road, Parker, Colorado, 80134


This Outdoor Haunted Attraction in NOT Recommended for the following: Under the age of 13, due to the scare factor, pregnant women, people with heart condtions, epilepsy or asthma. Strobe lights and smoke in use. We have had people suffer here.