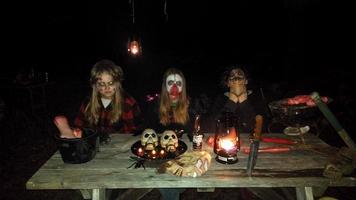 ABOUT "The Haunting @ Backwoods"
The Haunting @ Backwoods-------Halloween Hay Rides Starting October 2nd-4th Then every Weekend till Halloween. Looking for some bone chilling fun? Well,Join Backwoods farm for a thrill of a lifetime. Our beautiful groomed farm becomes scattered with wicked monsters and screaming lost souls by night! Jump in with our Zombie Response Vehicle,Protect the Farm the Zombie Takeover. The taunting old farmer is back with his twisted family for thirteen nights of horror to reclaim what is "THEIRS!" They haunt the ravines, orchards, and lonely winding roads searching for others, (YOU) to entertain them. While waiting for your ride sip on a cup of coffee or hot cider and warm yourself by our fire. It may be the last bit of comfort you will ever get! Let the Haunting @ Backwoods begin!!!! The hauntings begins at 7pm and The "last" wagon leaves at 10pm. $15.00 Adults 12 and under $8.00
470Route 25, Rumney, New Hampshire, 03266
6032543276

Haunted Hayrides

Suitable for all guests and families (HALLOWEEN FUN)
Join our email list to receive discount offers and updates.
The Haunting @ Backwoods PHOTOS
470Route 25, Rumney, New Hampshire, 03266