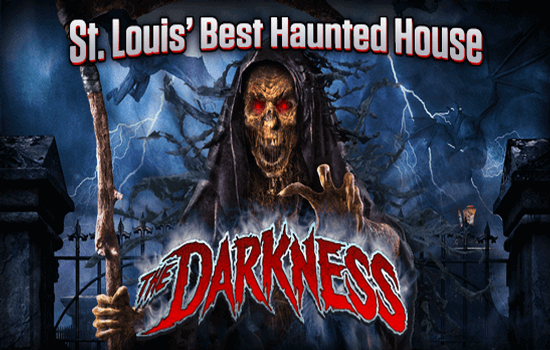 The Darkness is one of the single longest all-indoor haunted houses in America. The Darkness features FIVE attractions in one location including Two Floors of Fear Darkness, Terror Visions 3D, Outdoor Scream Zones, 5 Minute Coffin Escape Room, Monster Museum Party Room and Gift Store plus St Louis' best Escape Rooms located next door to The Darkness www.stlouisescape.com To complete the entire Darkness Horror Complex will take over ONE HOUR! The Darkness has been hailed as America's Best Haunted House featured on national TV shows such as Modern Marvels, Myth Busters, Travel Channel, Shipping Wars, and featured in USA TODAY! Each year the crew behind The Darkness spend hundreds of thousands on expanding the attractions adding new sets, and screams around every corner. Learn more about The Darkness 2021 by visiting www.TheDarkness.com
1525 South 8th Street, Saint Louis, Missouri, 63104

Haunted Houses

Suitable for all guests and families (HALLOWEEN FUN)
Haunted House
Midway (Games)
Escape Rooms
Mini Golf
Gift Stores
Museums
Join our email list to receive discount offers and updates.
Ticket And Price Information
The Darkness now features several different attractions in the same locations. The Darkness is $28.00. St louis Escape is located next door and features 7 different Escape rooms, pinball arcade, and blacklight retro mini golf learn more at www.stlouisescape.com

VIEW CALENDAR
The Darkness is one of the best haunted houses in America. Below find an interactive calendar showing the times and dates when the attraction is open and closed along with prices. The Darkness is located in downtown St Louis Missouri next to Soulard Market. - The Darkness opens 2022 September thru parts of november The Darkness will also open for one night in December (Krampus Christmas) and Love Kills Valentines (one night in February)
1525 South 8th Street, Saint Louis, Missouri, 63104
READ THIS WARNING BEFORE PURCHASING TICKETS OR ENTERING ANY OF THE ATTRACTIONS
This attraction reserves the right to refuse admission to anyone. You will experience intense audio, lighting, extreme low visibility, strobe lights, fog, damp or wet conditions, moving floors, special effects, sudden actions, and an overall physically demanding environment. You should NOT ENTER this haunted house if you suffer from asthma, heart conditions, areprone to seizures, have physical ailments, respiratory or any type of medical problem, are pregnant or suffer any form of mental disease including claustrophobia.
DO NOT ENTER: the attraction if you are intoxicated, wearing any form of cast, medical brace, using crutches, or have any type of physical limitations. Do not enter the attraction if you are taking medication or using drugs of any type. You will not be admitted if any of these conditions are noticed by our staff.
DO NOT ENTER: IF YOU SUFFER FROM - ASTHMA - HEART CONDITIONS - SEIZURES OR ANY TYPE OF MENTAL, PHYSICAL, RESPIRATORY AND OR MEDICAL PROBLEMS.
DO NOT smoke, run, eat or drink inside the attraction. Additionally there is no touching of the actors, customers, or props inside the attraction. No video or flash photography may be taken inside the attraction. You will not be admitted and asked to leave the property if any of rules are not followed.
THERE ARE NO REFUNDS! ENTER AT YOUR OWN RISK! Your ticket is a revocable license and may be taken and admission refused upon refund of purchase price. Holder of this ticket understands that there is inherent risk involved with attending this attraction. Holder voluntarily assumes all risks and dangers associated with participation in this attraction. In consideration and acceptance of entrance into this attraction holder agrees to release the operator, it's parent corporations, affiliates, officers, directors and employees and landlord from any liability, harm, injury or death, cost or expense whatsoever that may arise directly or indirectly, from attending this attraction or any of the attractions at this location
Buy Tickets to the best haunted house in St Louis, Missouri - The Darkness
The Darkness is one of the best haunted houses in the country get your tickets online NOW and save time waiting in lines! - The Darkness in St. Louis, MO is considered one of the best haunts in the Nation. It's received national attention on shows like Travel Channel, Modern Marvels, & National Geographic Channel. The Darkness has amazing detail, horrific sets, Hollywood quality special FX, & more throughout two floors, 27,000 sq ft of SCREAM! The Darkness now features 3 attractions all for one price.