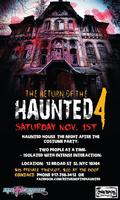 ABOUT "Return of the Haunted"
*STATEN ISLAND'S PREMIERE HAUNTED HOUSE EXPERIENCE IS BACK* Two story walk-thru! 3,000 square feet of horror! Prizes and raffles awarded each of 10 nights! Local celeb appearances! *ADMISSION* Kids under 14 - $10 - Must be accompanied by an adult Students with ID - $12 General Admission - $15 All proceeds will go towards the NycArtsCypher, a non-profit organization on Staten Island that caters to troubled youth through arts & entertainment! *PRESS/MEDIA* http://www.nycartscypher.com/#!ReturnoftheHaunted/cq6o
12 Broad St., Staten Island, New York, 10304
917-750-3412

Haunted Houses

Suitable for all guests and families (HALLOWEEN FUN)
Join our email list to receive discount offers and updates.
Ticket And Price Information
$15 pre-sale (on Facebook). $20 at door.

Return of the Haunted VIDEOS
12 Broad St., Staten Island, New York, 10304