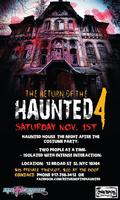 The Return of the Haunted 4 is a special, one night attraction taking place on Saturday, November 1st, 2014 from 7PM-Midnight (post-Halloween). This will be immersive as it is intense, and we plan to abandon everything you ever knew about our first three years or other lewd haunts in the area. Your mission is to ultimately survive with no rules, actors, or escape - just a tortuous trio to guide your group of merely two along our two-story, 3000 sq. foot building. Limited tickets are now available online on a first come, time-appointed basis so don't be turned away & end up paying $20 at the door.
12 Broad St., Staten Island, New York, 10304
This attraction is miles from your location. MAP IT NOW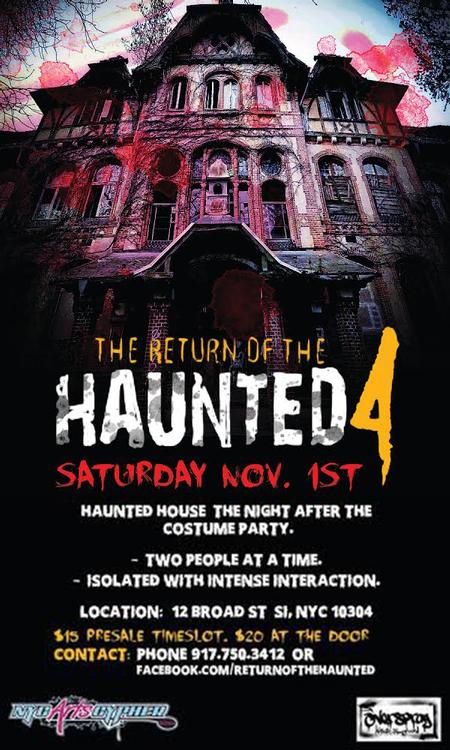 *STATEN ISLAND'S PREMIERE HAUNTED HOUSE EXPERIENCE IS BACK* Two story walk-thru! 3,000 square feet of horror! Prizes and raffles awarded each of 10 nights! Local celeb appearances! *ADMISSION* Kids under 14 - $10 - Must be accompanied by an adult Students with ID - $12 General Admission - $15 All proceeds will go towards the NycArtsCypher, a non-profit organization on Staten Island that caters to troubled youth through arts & entertainment! *PRESS/MEDIA* http://www.nycartscypher.com/#!ReturnoftheHaunted/cq6o
$15 pre-sale (on Facebook). $20 at door.

12 Broad St., Staten Island, New York, 10304
Return of the Haunted VIDEOS