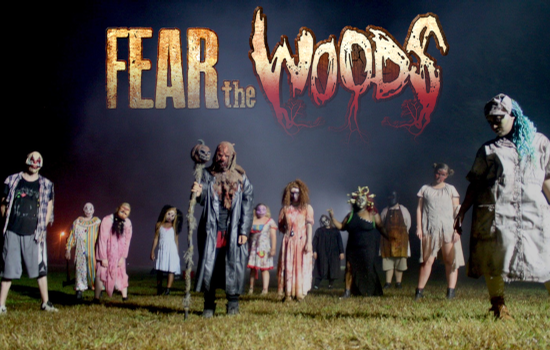 The woods will once again become alive October 1st, when the sun sets over the 16.5 acres of the Yule Forest farm. Fear the Woods is a professional haunt that offers three haunting experiences: The Haunted House, the Terror Transport and Trail, and Infestation, the 80,000 ft2 interactive laser combat haunt. Are your survival skills good enough to save yourself and those around you? Don't wander too far from the light as new creatures come to feast on the screams of those that come to the farm after dark. Fear the Woods was opened in October of 2011 for the Halloween season and instantly became a success and garnered attention from the public as a haunted attraction destination that had the unique distinction of being on a real farm and had a close proximity to Atlanta. Each following year, Fear the Woods would add new, larger haunts and features to keep its attractions fresh and everchanging for its guests. With a focus on not only on new immersive attractions and animatronics to generate scares, but also on hiring a vast group of local talented performers, Fear the Woods has built a reputation that only few other haunted attractions in Georgia can compete with.
3565 Hwy. 155 N., Stockbridge, Georgia, 30281
770-954-9356

Haunted Houses

Recommended for Guests 12 and over (SCARY)
Haunted House
Haunted Forest
Haunted Trails
Join our email list to receive discount offers and updates.
Ticket And Price Information
Go to fearthewoods.com and get your tickets NOW while they are available. You will not be able to purchase tickets at the gate, as we have switched to ONLINE TICKETING ONLY.

VIEW CALENDAR
Opening Night: October 1st. Open every Friday, Saturday, and Sunday in October. Friday - Saturday: 7:00 PM - 12:00 AM Sunday: 7:00 PM - 11:00 PM
3565 Hwy. 155 N., Stockbridge, Georgia, 30281
The Following Rules Apply to ALL Patrons (without exception):
DO NOT TOUCH ANYTHING, INCLUDING PROPS AND OR ACTORS.
Fear the Woods has a Strict No Touching Policy for both the Actors and the Patrons. The Actors will not touch you. Anyone caught touching props or the actors will be denied entry and/or get pre-mature removal by the Henry County Sheriff's Department from the attractions.
NO FIREARMS AND/OR WEAPONS OF ANY TYPES, NO EXCEPTION!
To create a safe environment, ALL customers are required to walk through a metal detector and are subject to being searched by the Henry County Sheriff's Department. Large purses, bags and book bags are not allowed on the property. Those items are to be left in your vehicle (at your own risk). Please plan accordingly.
NO ALCOHOL OR DRUGS OF ANY KIND ALLOWED ON PROPERTY
Alcoholic Beverages and Illegal Substances are not to be consumed or carried on the premise (or in parking lot) of Fear the Woods. Likewise, Fear the Wood's staff reserves the right to deny entry to and/or pre-maturely eject, any individual(s) from a Fear the Woods attraction who appear to be and/or display questionable behavior that would affect the safety and/or enjoyment of theirs and/or others' experience.
NO SMOKING, VAPING OR OPEN FLAMES OF ANY KIND
Anyone caught smoking or with an open flame (Lighter,matches, ect.) during a Fear the Woods attraction (parking lot included) will not only be immediately ejected from the show.
NO PHOTOGRAPHY OR VIDEO RECORDING ALLOWED WITHIN THE ATTRACTIONS
Photos and Videos can be captured while waiting in line or on The Annihilator; however, cell phones need to be put away in a secure place while going through the attractions. If you are caught recording or taking pictures you risk denied entry or pre-mature removal from the attractions of the Fear the Woods due to copywrite infringement. If you lose your cell phone while going through an attraction, please report it to the front desk and we will make an attempt to recover your device; however, the show will not stop. You are not allowed to walk back through the attraction to look for your device. PUT THEM AWAY!
Flashlights
Other than staff, no one is allowed to use flashlights, laser lights and/or any other forms of illumination including cell phones within the attractions of Fear the Woods.
Pets
Pets are not permitted at Fear the Woods, with the exception of registered service animals. This is to ensure safety of all our guests and staff, as well as, for your pet.
BE SCARED BUT, BE SAFE.
Fear the Woods prides itself on providing an entertaining thrill and chill fest while maintaining a higher standard of patron AND staff safety. Any individual(s) who get caught jumping the line, running, horsing around, fighting and/or behaving in an unsafe manner will be denied entry and/or pre-mature removal from the attractions of the Fear the Woods by the Henry Country Sheriff Department.
REFUNDS
NO REFUNDS and NO TRANSFERRING OF UNUSED TICKETS ALLOWED AND ALL SALES ARE FINAL. Unfortunately, if you or your child can't make it through an attraction, leave early or feel you have reason to ask for a refund after the fact, you will not be given one. ALL SALES ARE FINAL!
Final Call for Tickets
Last ticket of the night will be accepted and/or sold 15 minutes before closing time. The last ticket for Friday and Saturday will be sold and/or accepted at 11:45pm (close at 12am) and the last ticket for Friday will be sold and/or accepted at 10:45pm (close at 11pm). The event stays open until every customer (that has paid) has experienced all of the Haunted Attractions.
Arrival and Leaving
We want you to come back and enjoy the Fear the Woods year after year. So, please drive safely both to and from our Haunted Attraction. People do have the ability to be dropped-off and picked up; however, loitering in the parking lot is prohibited (strictly enforced by Henry County Sheriff Department).
On behalf of the entire staff of Fear the Woods, we would like to THANK YOU in advance for following these simple rules which will allow Fear the Woods to provide you and yours with the best shows possible!
Happy Halloween!
Fear the Woods is not responsible for any loss, stolen and/or damaged possessions of patrons while on the premise of the Fear the Woods. In addition, we make all possible reasonable efforts to maintain a safe and enjoyable experience for our patrons. However, the nature of this event may produce certain neglectful behavior in a very small percent of its attending patrons. For those few, the above mentioned entities are NOT liable for personal injury due to neglectful behavior of patrons such as running (either within or outside the attractions), horseplay and/or any other forms of unsafe behavior on the part of the patrons that could result in injury. In short… ENTER AT YOUR OWN RISK.