An outdoor haunted woods open on October weekends. Sponsored by Van Wert City/County D.A.R.E. and Van Wert Community Club.
Hospital Drive, Van Wert, Ohio, 45891
This attraction is miles from your location. MAP IT NOW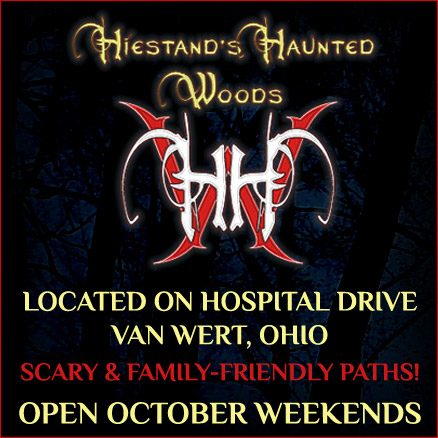 Come, if you dare, and venture into the depths of terror. Be warned, this event is NOT for the feint of heart! We utilize strobe lights, fog, moving floors, and other extreme effects. Creatures and scares await around almost every corner. Proceed with caution, if you D.A.R.E.!
Spookfest 2012 This event is for kids and families! From 1 p.m. to 3 p.m. on Saturday, October 20, 2012, we will hold our annual "Spookfest" for those whose FUN involves a little less fright. The event will be complete with trick-or-treat, games, pumpkin painting, and more! Get those costumes ready and participate in our "Best Dressed" competition for ages 0-12! We will feature reduced admission during this time with entry being just $2.00 per person!

Hospital Drive, Van Wert, Ohio, 45891